on January 15, 2021 Mr. Nice Guy wrote:
NRA files for bankruptcy
The National Rifle Association of America, the nation's foremost gun lobby, has filed for voluntary bankruptcy in Texas, the organization said Friday.
The group said it plans to leave New York and reincorporate as a Texas nonprofit, in an move it is calling "Project Freedom."
The NRA said it's in its "strongest financial condition in years," but the restructuring will help to "streamline costs and expenses."
The Chapter 11 announcement follows leadership shakeups and allegations of financial mismanagement at the NRA in recent years.
New York Attorney General Letitia James filed a lawsuit last summer accusing the NRA's senior leadership of violating laws governing nonprofit groups and using millions of dollars from the organization's reserves for personal use and tax fraud. James responded to the group's bankruptcy announcement Friday, saying: "The NRA's claimed financial status has finally met its moral status: bankrupt."
This story is developing.
The NRA was chartered in 1871 in New York. Its first president was Civil War general Ambrose Burnside, who famously lamented that only one out of ten of his soldiers could hit the broad side of a barn. Union Army records show that for every 1,000 bullets fired, one Confederate soldier was hit. The organization's goal was to improve the population's marksmanship skills, in anticipation of the next war.
The NRA has changed its focus somewhat since then, but this bit of history turns out to be important. Because the organization was chartered in New York, fraud and self-dealing within the organization fall under the purview of New York AG Letitia James. And it turns out the NRA has had quite a lot of that under its current leadership. Consequently, James filed a lawsuit against the group last August seeking to dissolve it. The suit accuses the leadership of squandering $64 million in the past 3 years on private jets, luxury hotels, and fine dining. If it had simply spent $63 million on negative ads attacking Democrats and $1 million on fine dining for the leaders, all would have been hunky-dory.
Pat Bagley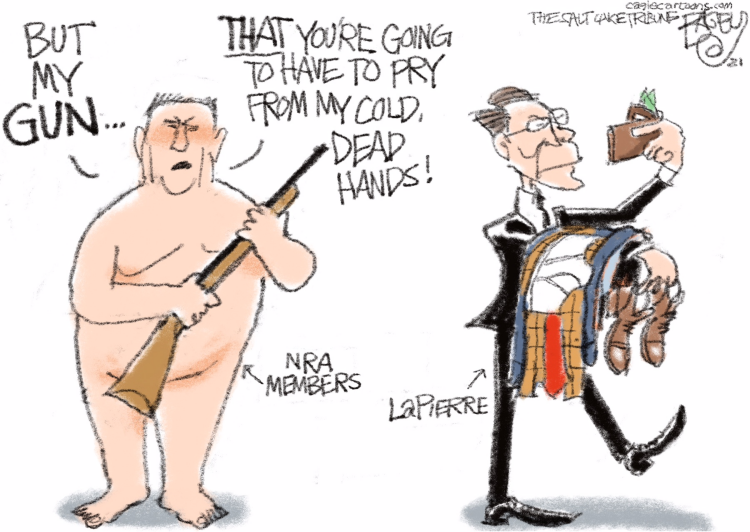 The NRA responded by filing for bankruptcy in New York and trying to recharter itself in Texas. The thought here: That will show James and keep her grubby hands off our guns. The bankruptcy ploy didn't work. On Tuesday, a federal judge in Texas, Harlin Hale, rejected the bankruptcy petition, saying that it was in bad faith and simply intended to get out from under James' lawsuit. The NRA has plenty of money and is nowhere near bankruptcy. Hale felt that for a solvent organization to file for bankruptcy in order to avoid being sued in a different court is not what the bankruptcy law is for. Hale is a respected judge with years of experience in bankruptcy law. He received an award from the American Bankruptcy Institute in 2019 for judicial excellence. He has also received awards from the Dallas Bar Association and the Texas Bar Association, so it is clear he is not some anti-gun zealot with an axe to grind.
The NRA's de facto leader, Executive Vice President Wayne LaPierre, was not happy and said: "Although we are disappointed in some aspects of the decision, there is no change in the overall direction of our Association, its programs or its Second Amendment advocacy." Adam Levitin, a professor who teaches bankruptcy at Georgetown University Law Center, doesn't think the NRA has much of a chance on appeal. If that fails, it is unlikely the Supreme Court will take the case, since it is about bankruptcy law, not the Second Amendment. In that event, James may well be able to win her case and have the NRA be disbanded and possibly fined a large amount of money for malfeasance.
John Cole