There's a defense that some Republicans, notably Sen. Lindsey Graham (R-SC), are taking out for a test spin right now. It goes like this:

"What I can tell you about the Trump policy toward Ukraine: It was incoherent, it depends on who you talk to, they seem to be incapable of forming a quid pro quo, so no I find the whole process to be a sham and I'm not going to legitimize it."

In other words: This might be a crime in the hands of some other administration, but not in the hands of the Trump administration, because they are so incompetent they are incapable of pulling it off. Needless to say, that doesn't quite square with reality—plenty of folks involved here were 100% convinced that an act of extortion was underway. Schiff might also get a lawyer or two to take the stand and point out that incompetence is not actually a valid defense. It's still attempted murder, even if the perpetrator forgets to load the gun.
Lindsey Olin Graham is an American politician, affiliated to the Republican Party, who serves as the senior United States Senator from South Carolina, a seat he has held since 2003. Since 2019, he has been the Chair of the Senate Committee on the Judiciary.
Born:
July 9, 1955 (age 64 years), Central, South Carolina
Height:
5′ 7″
Office:
Senator (R-SC) since 2003
Previous Office:
Representative, SC 3rd District (1995–2003)
Clay Jones
Kevin Siers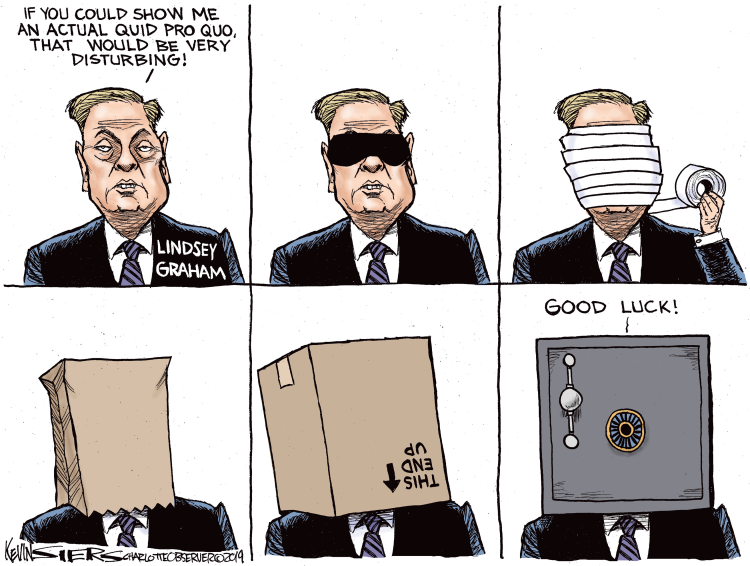 Tom Toles
Bill Bramhall
John Cole