Kamala Harris ends 2020 presidential campaign
Sen. Kamala Harris ended her 2020 presidential campaign on Tuesday, in an abrupt departure for a candidate who was once seen as a leading contender for the Democratic nomination.
Steve Bullock Exits Democratic Presidential Race
Another day, another Democratic presidential candidate down. On Monday it was Gov. Steve Bullock (D-MT), who—as a curious blend of economic conservative, social liberal, and folksy populist—never had much of a lane, and never gained much traction. He made a grand total of one debate cut (the second one), was averaging 0.5% in national polls, and raised less than $5 million (a.k.a., about as much as Michael Bloomberg has in the cushions of his couch). With winter upon us, he apparently didn't much relish the thought of freezing his Bullocks while trying to scrape together votes in Iowa. So, he's out.
Bullock's departure from the race might have been very happy news for the Democrats, as he is now available to run for the U.S. Senate against Steve Daines (R-MT), against whom the Governor would probably be even money. The problem, however, is that Bullock—despite being plenty young enough at age 53 to wait out the 15-20 years it takes get seniority in the Senate—is just not interested. That means that Daines will almost certainly get to keep his job, and the Democrats will have to look elsewhere for the three or four seats they need in order to recapture the upper chamber. Since Bullock will be ineligible for the Montana governor's mansion for eight years once his current term is completed in 2021, his political career is presumably nearing its end. He has a J.D. from Columbia University Law School (with honors), so it seems unlikely that he would want to become a simple country lawyer, but maybe he has something else in mind.
Joe Sestak, We Hardly Knew Ye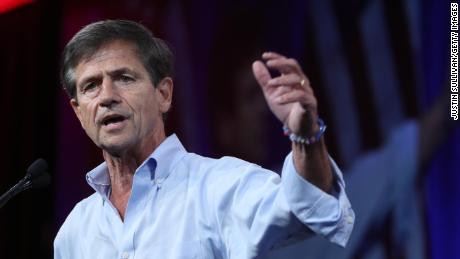 While the third-tier Democratic candidates try desperately to make the next debate stage, a fourth-tier (or maybe fifth-tier?) candidate has decided to throw in the towel. Former Pennsylvania representative Joe Sestak figured out that it's quite difficult to win with approximately 0.0% of the vote, and issued a statement announcing his withdrawal from the race.
Sestak's main selling points were his successful military career (he would have been the highest-ranking naval officer, and the only admiral, to serve as president, had he won) and his willingness to do the hard work of retail campaigning, often staging "walks" where he would trudge across a city, a county, or a whole state over the course of days/weeks, pressing the flesh with voters. The problem is that while his approach worked for his races for the House, it did not scale well in two races for the Senate, and it definitely did not scale as he waged a late-to-the-party presidential bid. Not only did he fail to make any debate cut, he raised virtually no money, and never got above 1% in any poll.
The departure of Sestak, Steve Bullock, and Wayne Messam from the race leaves Sen. Michael Bennet (D-CO) as the longest shot left in the Democratic field, if you only count candidates that pollsters actually ask about. He is averaging 0.4% in national polls. If you count candidates that pollsters no longer bother to ask about, then the longest shots left are former representative John Delaney and author and faith healer Marianne Williamson.