A little hump day trivia:
The Bizarre Mating Practices of the Arabian Camel
The famous hump is comprised of fat and fibrous tissue, the former of which is metabolized to provide the camel with energy during times of deprivation. Camels have made other adaptions for their dry environments, as well, including rarely sweating, having extremely concentrated urine and exceptionally dry poo, and kidneys and intestines that are good at helping their bodies retain water.
However, of all their adaptations, the grossest is probably the male dromedary's proclivity to blow up a portion of his soft palate with air to the point that it protrudes up to a foot out of his mouth –
as a sign to the ladies that he is hot to trot.
Scientists don't really know how the camels puff up the diverticulum, but some think that, while exhaling, the males close off the nostrils, forcing the air into the pharynx and soft palate.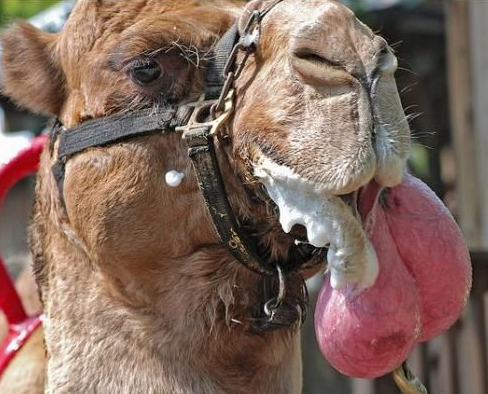 Whatever the case,
with large, repugnant sacks hanging out of their mouths, male dromedaries begin the courtship. Using their spit to make a low gurgling sound that results in foaming at the mouth, they also mark their territory by rubbing their necks (where they have poll glands that produce a foul, brown goo) anywhere they can, and even pee on their own tails to attract a lady with their urine's "female-attracting pheromones".
A dominant male (male camels become mature at about six years) will collect a harem, with anywhere from 10-20 females, but challenges are many. A fight will typically start with low noises, then proceed to various head movements, then biting at each other's legs, and finally chomping on the opponent's head with sharp teeth.
This last often results in injuries to the soft, squishy dulaa, which can be still hanging outside of the mouth. In addition to cuts, ulcers and bruises, bits of food can even become lodged in the dulaa, and each malady can lead to bleeding, as well as inflammation and swelling. Each of these can contribute to either an inability to the withdraw the dulaa back into the mouth, or a dulaa that is completely trapped within it.
When these injuries are severe, brave veterinarians must remove it, although first putting the animal under deep sedation. According to one study (Sobayil), most male camels that had their dulaas removed had no decline in sexual desire after the operation (21 out of 26, with no follow-up information provided on 4 subjects).
SEXY!!!