Alice Cooper is surprisingly best pared down in a show that still has all the thrills
By Daniel Durchholz Special to the Post-Dispatch
15 hrs ago
Alice Cooper performs at Hollywood Casino Amphitheatre in Maryland Heights on Thursday, July 25th, 2019.
Photo by Jon Gitchoff
It might seem odd to suggest the best moments of Alice Cooper's performance Thursday night at Hollywood Casino Amphitheatre involved straightforward, no-frills rock and roll.
Cooper, after all, is the man who brought theatrical frills — and chills — to rock, and his concerts would not be complete without some of his famous routines involving a straitjacket, a guillotine and his Frankenstein monster puppet.
The Hollywood Amphitheatre crowd got all of those and more, but when the Rock and Roll Hall of Famer's bandmates dispensed with all that and simply lined up behind him and played, Cooper's "Ol' Black Eyes Is Back" show truly kicked into high gear.
Some of those moments came early in the 85-minute performance, during Cooper classics such as "No More Mr. Nice Guy" and "I'm Eighteen." But one song that truly stood out was the newest one in the set: "Fallen in Love," from his most recent album, 2017's "Paranormal." The band laid down a smoking blues-rock groove while Cooper honked on a harmonica and growled the humorous chorus, "I've fallen in love and I can't get up."
For the 71-year-old shock rocker, the real shock is that he's still got it.
It certainly doesn't hurt that Cooper always stocks his band with excellent musicians, and this go-round includes guitarists Ryan Roxie, Nita Strauss and Tommy Henriksen, each of whom was given time to shine. Strauss got her own solo spot, as did drummer Glen Sobel. The band also performed an extended jam during a Cooper costume change.
The big theatrical moments included the opening "Feed My Frankenstein" and "Teenage Frankenstein," both of which brought out the giant puppet; "Roses on White Lace," for which Cooper's wife, Sheryl, played a bloodied bride; and the climactic "Steven"/"Dead Babies"/"I Love the Dead," during which Cooper appeared as a murderous lunatic who eventually gets guillotined.
Over the decades, Cooper's acolytes have taken his horror show and surpassed it in terms of outrage and gore, but he's still the O.G., and the guillotine bit is big reason why.
So let's give props to his props. But they're not the whole story of Cooper's continued success.
The encore featured celebratory takes on "Under My Wheels" — which found Cooper sporting a customized Blues sweater with "Cooper 19" on the back — and "School's Out."
Midbilled band Halestorm blazed through its hourlong set, playing a handful of tracks from its most recent album, "Vicious," but also bringing out plenty of favorites, including "Love Bites (So Do I)," "I Get Off" and "Freak Like Me."
Noting the band was honored to open for Cooper, vocalist/guitarist Lzzy Hale recalled bringing one of his albums to a childhood slumber party — a faux pas at the time, apparently, but a portentous one.
Hale was invited to return for the finale of Cooper's set.
Chris "Motionless" Cerulli, frontman for opening act Motionless in White, encouraged early arrivers to go buy some alcohol and get back before the end of the band's brief set. "The more you drink,
the better we are gonna sound," he said.
To its credit, the goth/metalcore band worked hard and managed to win over a good portion of the crowd with songs from its new album, "Disguise," including "Brand New Numb" and "Voices."
Alice Cooper and Halestorm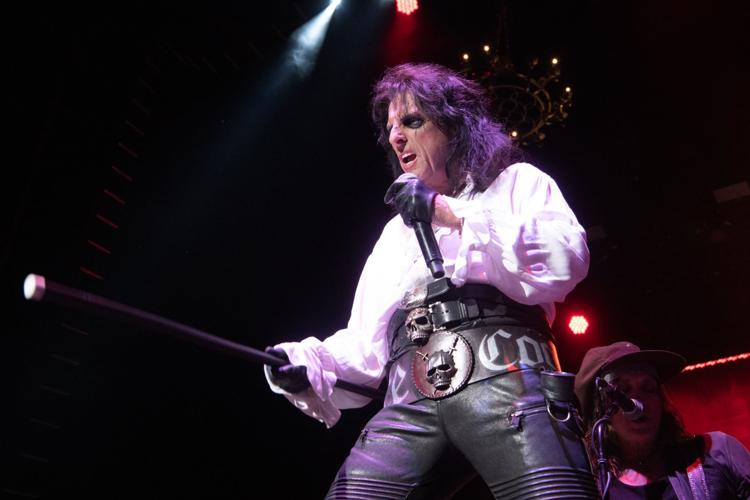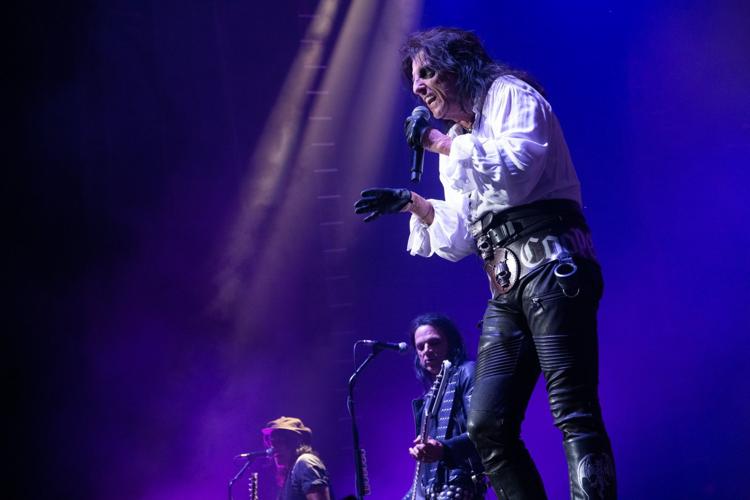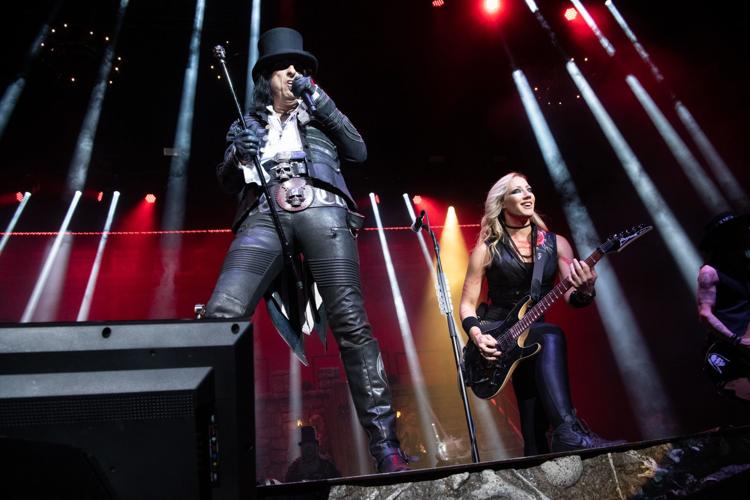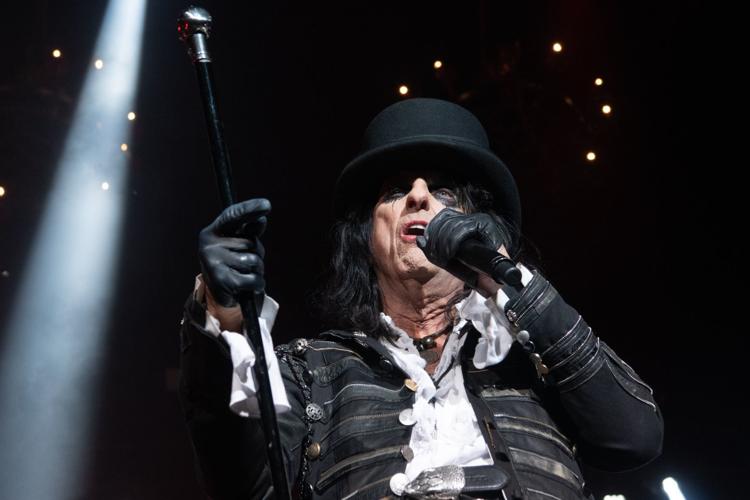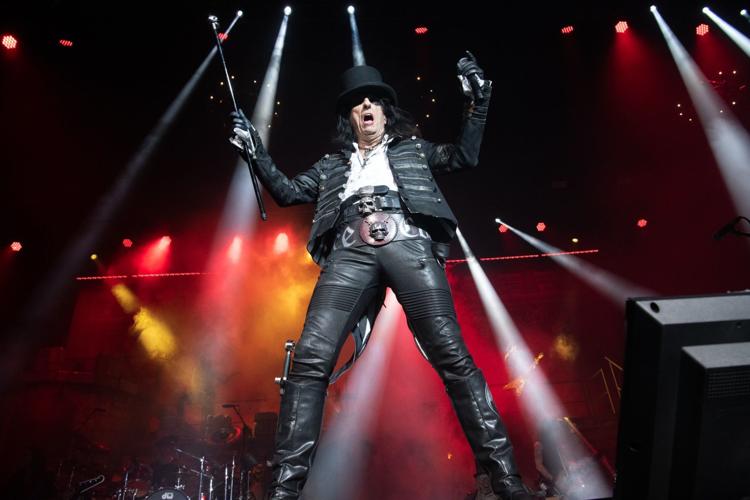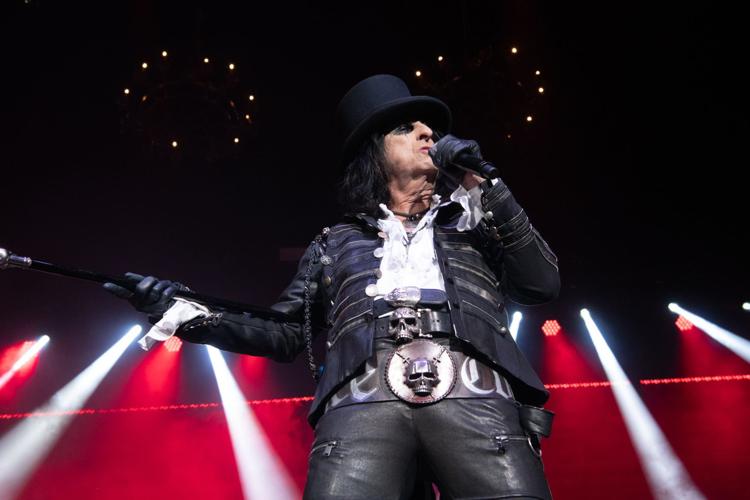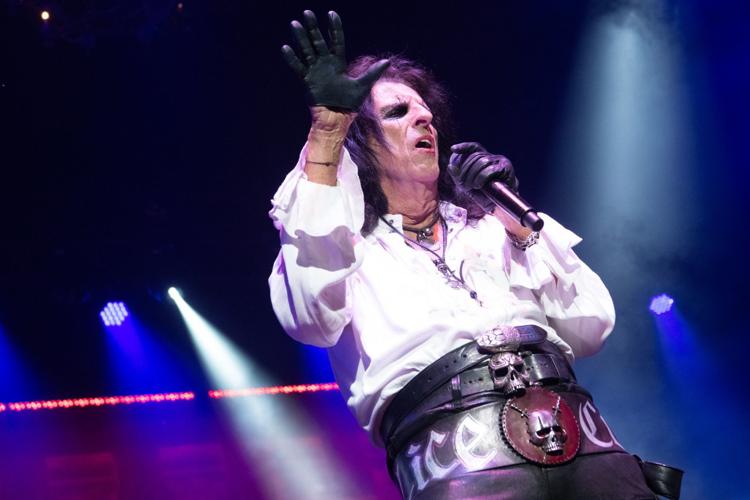 Set list
"Feed My Frankenstein"
"No More Mr. Nice Guy"
"Bed of Nails"
"Raped and Freezin'"
"Fallen in Love"
"Muscle of Love"
"I'm Eighteen"
"Billion Dollar Babies"
"Poison"
Guitar solo
"Roses on White Lace"
"My Stars"
"Devil's Food"
"Black Widow Jam"
"Steven"
"Dead Babies"
"I Love the Dead"
"Escape"
"Teenage Frankenstein"
Encore:
"Under My Wheels"
"School's Out"
here for more pic's video and stuff
https://www.stltoday.com/entertainment/ ... 91.html#12