another childhood hero bites the big one
like a baby
All Blacks great Sir Colin Meads dies after battle with cancer
Last updated 15:41, August 20 2017
All Blacks legend Sir Colin Meads has died following a year-long battle with cancer. He was 81.
Meads was diagnosed with pancreatic cancer in August last year and died at Te Kuiti Hospital on Sunday morning.
In 133 matches for the All Blacks between 1957 and 1971, the tough-as-teak King Country lock played 55 tests - 11 as captain - and became recognised throughout the world as the face of New Zealand rugby.
He was a colossus of a bygone era, well before the advent of professionalism led to a huge increase in the number of tests played each year.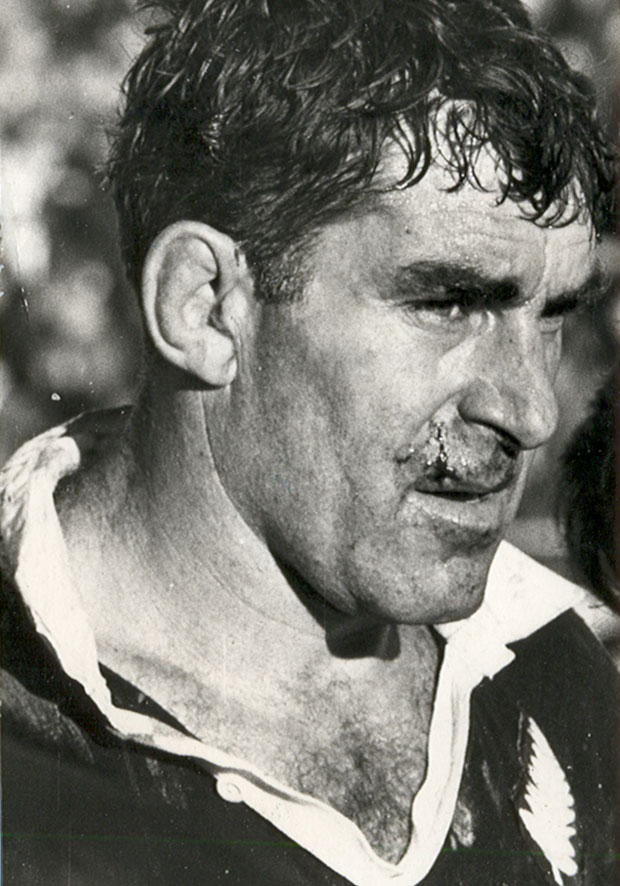 Colin Meads in his playing days. Credit: THE DOMINION
His wife, Verna, Lady Meads and the couple's five children have expressed via NZ Rugby their sincere gratitude for the care and support the family has received in the past 12 months since Meads' diagnosis.
"Our heartfelt thanks to the staff at Te Kuiti Medical Centre, particularly doctors David McLean and Keith Buswell, and to the nursing staff at Te Kuiti Hospital for their superb care of Colin," she said.
"To our friends, thank you for your love and care. The visits and phone calls were enjoyed by Colin and appreciated by us all. To those throughout the country who sent Colin best wishes, we thank you for your kindness."
Meads is survived by Verna, their children Karen, Kelvin, Rhonda, Glynn and Shelley, their 14 grandchildren and seven great grandchildren.
CHRISTINE CORNEGE/ STUFF
Sir Colin Meads has died, aged 81.
NZ Rugby chairman Brent Impey has paid tribute to a man who left an unrivalled mark on the national game. Famously nicknamed 'Pinetree', Meads was New Zealand Rugby's player of the 20th century and was made a Knight Companion of the New Zealand Order of Merit in 2009.
"Sir Colin is an icon of rugby and New Zealand. Uncompromising on the field, his exploits are that of folklore, while he was just as revered off the field," Impey said.
In a career that spanned almost two decades, Meads played 361 first-class matches, a feat only recently surpassed by Keven Mealamu.
"Beyond his playing days, he continued to support the game at many levels, but it was his significant contribution and support for organisations outside of rugby, that made him a very special New Zealander," Impey said.
"He contributed much to many organisations such as the IHC, the Crippled Children's Society and the New Zealand Rugby Foundation, at a time when the game suffered a series of serious spinal injuries.
"He will be remembered as possibly the most treasured legend of our game."
Meads succeeded Sir Wilson Whineray as patron of the NZ Rugby Foundation, and nominated Richie McCaw as his successor. In a statement, the NZRF said Meads drove from Te Kuiti to Auckland in March to attend their annual meeting, and admitted he was "pretty crook".
"He always went out of his way to spend time with the VIPs (Very Injured Players). At events, he could always be found yarning away with them, taking personal interest in them and their families and carers. He always made each individual feel like the most important person in the room," the NZRF said.
"When we were fundraising he would always ask who the sponsors and big donors were and then in his special way, make those supporters feel valued and appreciated. At our fundraising events he was often on stage being interviewed as part of the star line up. His mana, quiet powerful voice, stories and humour, always had entire audiences captured. And then he would go and mix with the guests. We always enjoyed watching people's reactions. People just loved him."
A FRIEND REMEMBERS
Long-time friend of Meads, rugby photographer Peter Bush re-tells the story of when he first visited Pinetree's home.
"There will never be another one like him, it's the end of an era, I'm proud to say that he was a friend, a man who was so feared and admired," Bush said.
"I was one of the first photographers to go out to his farm. I hitchhiked up there unannounced. I was pretty nervous walking up the driveway and then saw Colin and Stan doing the docking. Piney looked up and said, "Don't just stand there Bushy, come and give us a hand."
"I spent one of the most memorable days of my life giving them a hand around the farm and snapped a picture of Piney and Stan in the doorway of the house after Verna had put on a lovely meal for us.
"I joked to Piney that the house could do with a paint and he told me to tell the chairman of NZRU next time I saw him that Piney needed some paint for his house.
"Another time I took a photo of Piney with a lamb under either arm that a friend of mine Chris Landon who was a reporter with the Daily Mirror quite liked.
"I joked to Chris that Piney would carry those same sheep around right up to the beginning of the rugby season as a fitness exercise and he printed it as a serious story in the Mirror, which I thought pretty funny, it just added to the legend though.
"He was just a legend that kept on growing as he kept playing. The game where he played on with his arm broken. The South Africans always prided themselves as being the toughest of the tough but they even admitted that Pinetree was up there with them, which is a big compliment from a great rugby nation.
"The game changed so much in his lifetime, but I've never seen anyone like him. I remember covering an All Black trial match in Palmy and Piney and some of the boys were getting on the train and I saw an NZRU official give him a few bob and say, 'buy the boys a few beers for the train trip.'
"You wouldn't see that these days."
there must be an election coming up
POLITICIANS PAY TRIBUTE
Prime Minister Bill English acknowledged the passing of Meads while on the election trail in the Hawke's Bay.
"This is a sad day for New Zealand rugby and for New Zealand," English said.
"I have had the privilege of getting to know Sir Colin. He was not only a great All Black but also a genuinely good New Zealand bloke. He represented what it means to be a New Zealander. He was no-nonsense, reliable, hardworking, warm and very generous with his time.
"I remember when I was younger hearing stories about how he used to shear sheep all day and go running at night. I thought I'd give it a go. I quickly learned the Meads legend was built on physical and mental toughness."
New Zealand First leader Winston Peters also sung praise of 'Pinetree' Meads.
"He wore his celebrity on a sound and sensible set of shoulders," Peters said.
"He was a quintessential unassuming New Zealander - one of those we feel especially proud of as a nation.
"He was such a great inspiration to so many young Kiwis, on the field and off. We will miss him."
Labour leader Jacinda Ardern paid tribute to Meads in her opening comments at the party's election campaign launch.
- Stuff
I think I'll have a
few
drinks