Dave Whamond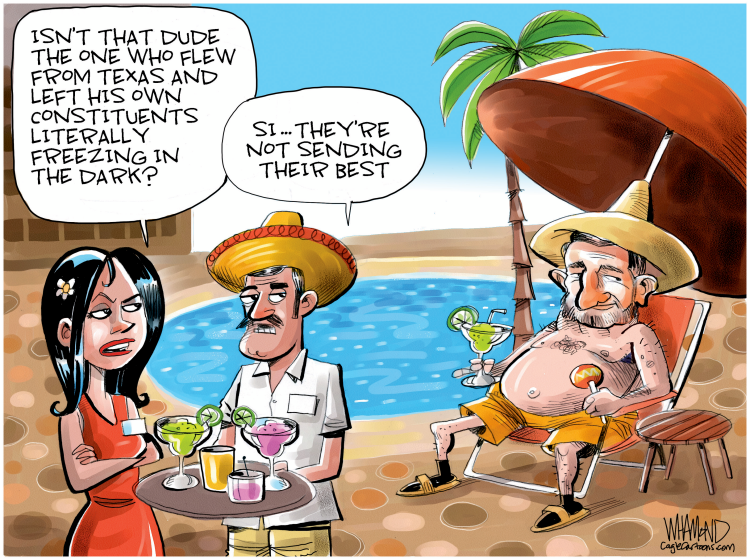 Ed Wexler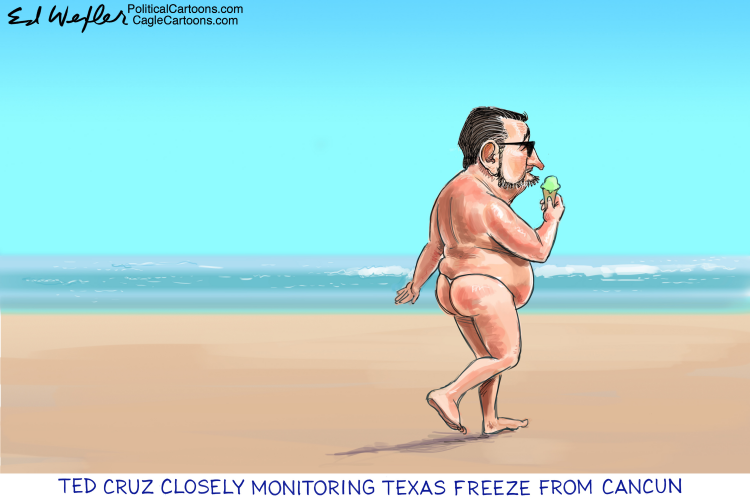 Ted Fled
Let us imagine that your home state is suffering through an unprecedented breakdown of the electrical grid, right in the middle of winter, with the result that millions are living in refrigerator-level-cold houses and a few people have even died. If you are one of the state's most prominent leaders, you probably should do
something
to make it clear you're sharing your constituents' burden, or at least that you're trying to help navigate the situation. What you surely should
not
do is galavant off to a warm, tropical location while things work themselves out. And yet, that is exactly what the alleged political genius Sen. Ted Cruz (R-TX) just did, heading off to Cancun while Texans freeze.
At this point, let us concede two things:
Politicians have as much a right as anyone to take a vacation.
As a U.S. Senator, he has relatively little influence over the situation.
And having said all of that, none of it matters one bit. Whether or not Cruz was within his rights to head to Mexico, and whether or not his family's vacation plans are the business of anyone besides the Cruz family, well - to borrow a line from one of Aaron Sorkin's finest screenplays - "the people have a funny way of deciding on their own what is and what is not their business."
In terms of optics, this is absolutely disastrous for the Senator. Even Aaron Sorkin could not have scripted a more perfect case of a politician shooting themselves in the foot, for at least three reasons:
1. Yin and Yang:
It is bad enough to jump ship on your fellow citizens in the middle of a crisis. But the contrasts here are particularly striking: vacation/suffering, cold/warm, powerless/privileged, scared to death/not a concern in the world. If Cruz had headed out on a "fact finding" trip to, say, Ireland, then that would have been less than ideal. But it would also have been far less problematic than a trip that involves luxuriating in the sun on sandy white beaches.
2. It's Ted Cruz:
As it has been pointed out many times, pretty much everyone hates Cruz. His enemies. His colleagues. His former co-workers. His former college roommate. Many of his constituents. One reason for that is because he has a well-deserved reputation for caring only about what's good for Ted Cruz. And taking a vacation under these circumstances serves only to crystallize that perception.
Another reason Cruz is hated is that he's perceived as a flip-flopping opportunist and a hypocrite. And guess what? Many times in the past, he has slammed other politicians for taking vacations he found to be inappropriate. For example, Cruz, like Donald Trump, Cruz had a near obsession with Barack Obama's golf outings, deeming Obama an "absentee president." The Senator has also attacked others for their travels, including Austin Mayor Steve Adler (D), for...traveling to Mexico. In that tweet, incidentally, Cruz described Adler as "a complete and utter hypocrite." Pot, meet kettle.
The point here is that other politicians might weather something like this if it was their first slip-up of this sort. But for Cruz, it's merely a very high profile and easily remembered manifestation of problematic things about him that have been a part of who he is for decades.
3. Soundbites:
This is the real killer. As we have seen many, many times, the people tend to have short memories, and some difficulty wrapping their minds around more complicated scandals (like, say, the Ukraine Affair). However, this one is about as simple and understandable as it gets, and can be referenced with a single word: Cancun. When Cruz next runs for office, whether for the presidency or for reelection to his Senate seat, there are going to be Cancun jokes
everywhere
. Imagine, for example, that he agrees to only two senatorial debates rather than three. Jimmy Kimmel is going to say, "Cruz really wanted to debate a third time, but he has a trip to Cancun planned for that day." Or consider when Cruz reveals his Q1 2024 fundraising totals. Stephen Colbert is going to joke: "Cruz took in $12 million, and spent $6 million. Only $3 million of that was on souvenirs and Mai Tais in Cancun, however."
If that is not bad enough, scholars have long known that rhymes make things more memorable
and
more credible (think: If it doesn't fit, you must acquit). This is known as the rhyme-as-reason effect. And, as you can see from the headline, Cruz' current scandal has already acquired its own mnemonic rhyme: "Ted fled." It's only two syllables, it's easy to remember, and it perfectly encapsulates what happened. In other words, Cruz had his "Macaca moment" - assuming "macaca" also happened to rhyme with something in a pithy fashion.
For a short while, Cruz tried to ignore the growing furor, and continued to frolic on Mexico's beaches (try not to focus too much on the mental image of what it looks like when Ted Cruz frolics). However, he finally returned from Mexico, and issued a statement of "apology." The Senator said he just wanted to make good on a promise to escort his daughters to Cancun and that, "[L]eaving when so many Texans were hurting didn't feel right, and so I changed my return flight and flew back on the first available flight I could take." This is what is known, in Texas, as bullshit. Cruz only got busted because he was photographed at the airport en route to his vacation. And he was booked in Cancun through the end of the week, and
not
for the day or two it would have taken to merely escort his daughters. If he had not been caught, he would be in Mexico at this very moment, feeling not a scintilla of guilt.
With the usual caveat that in politics a week is a lifetime, Cruz's misstep will have big consequences. He's got no real shot at the 2024 GOP presidential nomination. He couldn't secure the nomination in 2016, and now his "lane" will be ultra-crowded, and he's got insurrection/Cancun hanging over his head. He may not even run now, and if he does, he'll get shredded by the competition. So what's left to him, presumably, is to try to be reelected to his Senate seat. Putting aside that he would have to violate his two-term promise, this is a fellow who eked out a fairly narrow win (50.9% to 48.3%) over a relative unknown in Beto O'Rourke in 2018. With 6 more years of demographic change
and
a presidential election year
and
the insurrection
and
this Cancun business? He is in serious danger of being knocked off. And with the Senate so close, every seat counts. So, an ill-conceived vacation could plausibly have a big impact on both the presidential race and the balance of power in the Senate in 2024.
Mike Luckovich
Steve Sack