Great show last night. I'm hesitant to write alot of detail about the actual performance since several people here are still planning on seeing a show on the tour. So, I'll try to stick to non-performance griping... with one exception:
Is this tour the only time that ConstruKction of Light has been Instrumental - no vocals?
We got to our seats about 10 minutes before showtime, so I got a quick pic of the stage setup. (Love that yellow bass)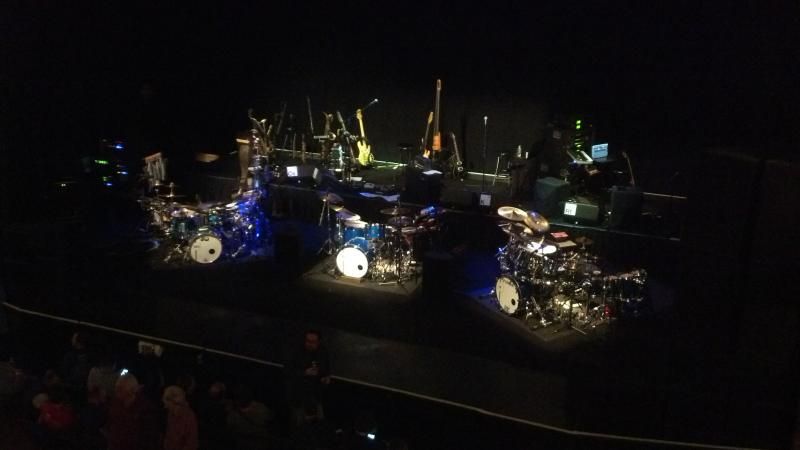 It ended up being the only decent pic I got.
The tickets warned us that it would start at 8pm sharp and anyone not in at that time would be seated between songs. But,this wasn't Symphony Center, this is The Vic. It doubles as a club, triples as a Brew-n-View. The show ended up starting at 815pm. After which, the audience slowly started to figure out that they really can come and go whenever they want. People still have to pee.
Our tickets said we had Mezzanine, but it was really 4th row balcony. Good sight lines, good sound, although the main floor had more impact, which is common.
I could see RF a bit better than I could in the past. I saw a show in the mid-90s and another show around 2000 when John Paul Jones opened. For both of those, RF was very far in the back and very dimly lit. Here, he had enough light to see most of what he was doing, but he was oriented away from the crowd, so you couldn't really see any fingerwork from where I was.
So, with Fripp hardly being able to see the crowd, and wearing over-the-ear headphones, it is annoying to me to get a pre-recorded speech about bothering the band during the show. They tried to make it a fun round-robin recording, having Gavin make a comment, then Bill, then Tony etc... I get that they don't want bootleggers to cut into their profits from cd sales, also that flashing cameras can be distracting. They threw in the usual stuff people say about folks who are caught up in their phone/camera/web such that they end up not being in the moment during the performance, which is nice advice I suppose, albeit preachy in an Ann Landers kinda way. But, imo, the speech went overboard, making the audience feel like their only purpose was to witness the art rather than having the band in a room full of alive people. Because after the speech, we are left with an audience which still has people that are too annoying to keep from taking pictures as well as the self-righteous assholes who stand up, turn around and get pompous at the crowd in general as though they are RF's Champion saving the day from people trying to enjoy themselves. A dozen random Barney Fifes on the town after dark. But, aren't those people who are annoyed by the occasional flash or cheer trying to enjoy themselves too? No, they are being pompous assholes, ruining the show far more than an occasional picture would. Theirs' isn't rock attitude, this is the demeanor of a customer at the Target Returns Counter. We get 60 year old Office Managers in Polos acting like they are performing a Citizen Arrest on rowdy rockers. Its fucking sad seeing them trying to dress down someone in the dark, 15 rows away from them, who can barely hear what they are saying anyway. This isn't the office, a church, an airplane, circuit court or anywhere where politeness rules are going to be enforced. There is no punishment for loudly enjoying yourself, so nothing punitive is ever going to happen short of a fist fight. The local Sherriffs of Crim don't look like they have done that in 30 years, if ever. They were weirdly mad like they were yelling at the tv the way a football fan would during a game, or a Reality Show Fan would if upset by who their favorite contestant chose to date. This is not righteousness it is self-righteousness.
In terms of ACTUALLY being distracted during the show, the most distracting things I saw were the waitresses coming down the aisle and the ushers with their flashlights. I would much rather deal with people fumbling for their seats, than have the ushers' flashlights going on all night.
There are two other artists who I am a fan of, who also have inane methods of displaying their vanity by trying to exorcize the audience from the equations - Keith Jarrett and Jeff Tweedy.
I am seeing KJ in November. Imo, his is by far the greatest piano trio alive, and I love the many styles he has played. I respect the fact that he has personal demons and specific methods for getting into the proper head-space to perform. But, to stop a show due to someone unwrapping a candy in an orchestral hall? That is petty. It is a plea for attention from someone who is already the center of attention, which is kinda sad. Hmmm... Fripp, Jarrett, Tweedy, they all have sorta a sad center, don't they?
Tweedy, if you have seen/heard his DVD Sunken Treasure, performs mostly just himself with an acoustic guitar in bar-like settings. I'm sure most people here have been to shows with a General Admission area in front of the stage with a bar area behind that. The people at the bar are often chatting during shows and for rock stuff, that is just fine because the people in General Admission can't hear them talk anyway. But for folkish rock, the talking cuts through. So, you can understand that people talking can easily overwhelm the performer. Tweedy asks the crowd something like: "Can you hear in the back? No? Do you know why? Because you are talking!" He really does mean well and feels that the talking is making the whole event less effective. He talks about how a concert is something that people do together, that it is an event that we all participate in and share in the feelings of. But, as in all 3 cases, RF KJ & JT, they leave the audience's contribution as only to be passive witnesses to the event. I don't agree with that. Should it just be a figure of speech for a singer to say "Hey you are a great crowd tonight"? There are often times when the mood of the crowd changes the course of performing just enough to make the whole thing unique even if the setlist has been repeated many times.
Have you ever watched a movie with someone who demands that once the movie starts, we can't hit pause or go make popcorn? Some people have a controlling mentality about viewing a performance that others find stifling. Some people want to enjoy a movie rather than endure a movie. Have you ever been to a movie theater in an urban area compared to a suburb? In the city, people have less of a problem crying out or cheering or even clapping at the end of a movie. Of course the movie can't hear them cheer, but expressive people do it anyway. It feels good and IS good to emote, while still being a bad thing to shit on a performer's show. I think that for any show anywhere, any audience member who feels the spirit in them rise, should be able to express that emotion and let that expression feed back onto the performers who incited that feeling. I have heard countless performers talk about how they perform better in front of a crowd, and I don't believe that it is simply because the crowd is there in the room. Some artists embrace the crowd more, some less, clearly some have unique points of view. But, it is not like anyone can start a crusade to get rockers to be polite. At some point, we have to say that the concert hall is not a bar is not an orchestra hall is not a festival... and as such if one is going to rock, we should probably expect the rock behaviour to go along with it.
Meanwhile, many people can't even figure out why stage-diving or moshing can be fun. There have always been on-lookers around mosh-pits, wide-eyed with a look that says "Isn't anyone going to stop this?". Arrogance in the face of picture-taking and talking-during-shows are just lesser examples of the same. Taking pictures won't stop, it will become more prevalent. It may or may not become more covert though, so I understand if a band wants to make a statement about flashing cameras. But, trying to control an entire audience's politeness level for a rock show - stupid. Perform FOR an audience. Perform WITH and audience. Do not demand that your audience behave FOR your performance. Maybe it is the wrong venue. Maybe Tweedy shouldn't play bar-like atmosphers. Imo, performing for a big loud urban crowd should be different for an artist than a small rural club. I think the lesson should be for artists to appreciate their art being shared in a variety of settings rather than artists attempting to bring their own setting requirements to each different location. Imo, the audience's responsibility, with no other limit really, is a bare minimum to quiet down somewhat for the quiet music and turn the flash off for your camera. Besides, the flash won't make the stage pic any better anyway.
Of course, FZ fans are not new to being audience members who listen carefully. There are quotes that show that FZ appreciated that his audience really wanted to hear every last detail of the show. But, FZ also knew how to have fun with the audience and that he was there to entertain. He knew how to handle the crowd rather than absently deputize the crowd. He knew there was a time for Mo's Vacation and a time for Muffin Man. He didn't have a recording asking people to sit down - he talked with the audience, crazy huh?
For last night's show, most of the cheering was at high volume moments, most of the pics were at the end of the evening or between tunes. During the quiet parts of Larks' Tongues, we would hear the occasional drunk cheering, shortly followed by the clucking disapproval from the snots around me who act like the evening would have been alright if it wasn't for that one cheer. True, there was one especially annoying loud cheer from the back that put a weird spin on the subtle percussion sounds of LTIA, but live is in front of live people and I would rather have that one guy honestly enjoying himself than hear all the self-righteous slobs pretend that the cheer had any affect on their ability to take in the show, or on the performers who are wearing headphones. Who knows, maybe the next tour will provide Wi-Fi headphone feeds, so anyone with noise-cancelling headphones can sync up, close their eyes and pretend they are not in an energetic live concert hall, but sitting in an uncomfortable chair at home listening to their ipod.