BRAVO SIERRA wrote:
Why not wait for the actual facts to come out, hyperbole, innuendo, and just plain guessing the facts is boring enough in the media much less here.
And BRAVO SIERRA is right here...I forget to mention that last night when you did some 'mo of your baby killer promotin... How many will leave....ALL of them? I doubt it. And whatever the number is, HOW LONG will it take to remove that number? Months? Years?
Whatr gets me is how the dems want to believe so badly. Obama can fool them so easily by tossing them a bone, leabing the "shooters" and drones in..while the war grinds on and the killing continues.
SPACEBROTHER wrote:
You have also used my recently deceased father in an argument against me.

...and insulted my father.
I don't think anyopne believes I did that as they never saw me do that, (although they did see me offer my condolonces after I saw you posted he died).
So who is it using your father's death here?
Post where I "used your deceaced father in an argument against you...or post where I insulted him.
I just needed to post that in case someone who didn't know what was going on before came in here, saw that, and believed you.
A little something to help SB's baddy attack posts go down:
And again, McDonalds sells hamburgers to our troops in Iraq, would you deny our troops a hamburger? Deny them a little piece of home and have them survive on rations on their THIRD tour in one of the war's they're fighting as a result of your Obomba voting advice?
McDonalds didn't order the troops into Obama's absolutely illegal one man decision war on Lybia, OBOMBA did...your hero who killed the toddlers the other day....would you have us vote for more Obomba? For MORE toddler killing? That's what you WANT us to vote for? More killing?
2 Top Lawyers Lost to Obama in Libya War Policy Debate
WASHINGTON — President Obama rejected the views of top lawyers at the Pentagon and the Justice Department
when he decided
that he had the legal authority to continue American military participation in the air war in Libya without Congressional authorization, according to officials familiar with internal administration deliberations.
_____________________
He's a ONE MAN FUCKIN WAR PIG, that is clear...and you're promoting him at the cost of thousands of innocents lives.
You know ahead of time that thousands of troops and innocents, even women, toddlers and babies will be injured and KILLED as a result of your voting advice...yet you go ahead and advise it anyway. The high cost of not admitting you were wrong about obomba.
I define evil as when a person knows others will be hurt as a result of his action, and he goes ahead and does it anyway.
You know toddlers will be killed as a result of your vote and voting advice, yet got go ahead and do it anyway

.
Folks who vote(d) for obomba because they thought he would end wars made a mistake, (he fostered that impression).
Folks who promote obomba KNOWING AHEAD OF TIME that others will be hurt as a result of their action

/advice, are in a different catagory from those who made a mistake.
This
doesn't
say The Justice Department told RONALD THE CLOWN:
Pentagon, Justice Dept Both Told Obama He Needed Authorization for Libya War
President Dismissed Legal Advice in Libya War Policy Debate
President Obama's claims this week that the War Powers Act doesn't apply to the Libyan War on the grounds that it falls short of "hostilities" sounded ridiculous when he made them. The behind the scenes debate that led to this announcement, however, was nothing short of incredible.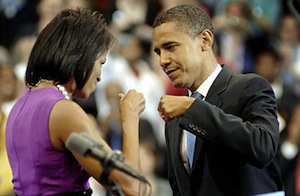 That's because President Obama's claim not only didn't convince Congress, it didn't convince his own legal advisers, and both the Pentagon and the Justice Department counsels told the president unequivocally that the war required Congressional approval.
It seems surprising, in retrospect, that President Obama even had to ask if dropping bombs on a country counted as "hostilities." But having heard from his top legal minds that yes, these are "hostilities," the unfathomable truth is that he simply decided to ignore it.
Could Obama Be Impeached for Waging War in Libya Without Approval of Congress?
video here
The New York Times recently broke the story that President Obama rejected the views of top administration lawyers when he decided he had the legal authority to continue U.S. military participation in the war in Libya without congressional authorization.
Gates Warns Congress Against Cutting Off Libya War Funding
Insists War Will Turn Out 'OK' If Allowed to Continue
Speaking today on CNN's State of the Union, Secretary of Defense Robert Gates rejected the notion of Congress withholding funds from he Libyan War on legal grounds, saying it is "always a mistake" to cut off funding from an ongoing war.
Not to worry however, because even though officials have no idea when the war will actually end and don't believe Congress has any oversight over the conflict, the outgoing Secretary Gates says he believes
the war eventually "end ok"
if it is allowed to continue
---------------------
Hey...wait a minute, didn't King Olair tell us the libya war would
"last days, not weeks,"
hasn't it been months now with no end in sight? That little lying bit seems to be a common trait among evil, a little trick he picked up from Bush.
What was thay saying, "we won't get fooled again?"
Apparantly a few of us have been, eh SPACEBROTHER?
_______________________________
Meanwhile back in SPACEBROTHERS other illegal wars:
8 NATO troopers killed in 1 day in Afghanistan
KABUL, Afghanistan – NATO forces say an international service member has been killed in an insurgent attack in Afghanistan, making it the eighth person killed in one day.
NATO had previously reported three other service members died in fighting on Saturday. And the coalition said another four were killed in a vehicle accident.
NATO did not provide details on the incidents or the nationality of the dead, in keeping with a policy of waiting for national authorities to released such information.
The latest death brings the total to 38 NATO service members killed so far this month, and 244 for the year.
________________________________
June 21, 2011
The Wars Come Home
The Traumatic Brain Injury Epidemic
By CONN HALLINAN
"We are facing a massive mental health problem as a result of our wars in Iraq and Afghanistan. As a country we have not responded adequately to the problem. Unless we act urgently and wisely, we will be dealing with an epidemic of service related psychological wounds for years to come."
Bobby Muller, President Veterans for America
According to official Defense Department (DOD) figures, 332,000 soldiers have suffered brain injuries since 2000, although most independent experts estimate that the number is over 400,000. Many of these are mild traumatic brain injuries (mTBI), a term that is profoundly misleading.
As David Hovda, director of the Brain Injury Research Center at the University of California at Los Angeles, points out, "I don't know what makes it 'mild,' because it can evolve into anxiety disorders, personality changes, and depression." It can also set off a constellation of physical disabilities from chronic pain to sexual dysfunction and insomnia.
MORE HERE
______________________
Bring the troops home...ALL of them.
Vote for politicians who will order his generals to bring them home.
Even if it's politicians that can't afford hundreds of million dollars worth of fancy TV ads to razzle-dazzle you into thinking they're delicious.
Don't fall for the liars or the razzle dazzle, and tell your neighbors too not to fall for it.
Bring then home.
_____________
I got HW to do...back in a few days...