So I'm on vacation and have some time to put into this. I think it's worth it as Frank happened many years ago and we've lost some members and have some older members who may be coming up on the so-called "diseases of the aged," (heart disease, cancer, diabetes, stroke, copd, dementia, etc, etc, etc), and we have some young guns who are at the perfect age to extend their life span and dramatically cut down their disease span with this information.
Right now, American's on a Western diet live to ~85, and have 15 years of increasing medical problems before they croak; the young guns here can change that to 100 year lifespan, with a disease span of only a year or few. Which line do you want to be on, it's completely your choice:
So I hope this effort for the forum helps some of us; some of this info seemed opposite to what I've been taught all my life; some of this info has been mysteriously absent from the general knowledge in the US.
I won't repeat the necessary info related to this I posted on the last page, but it's
HERE
and
HERE
.
Anybody worried about heart problems? Guess what, it's reversible by simply going on plant based whole foods...doesn't even matter is one has had 4 bypasses and can't make it to the fridge due to angina, it's reversible WITHOUT surgery, drugs, or even exercise. It's normal for heart disease to reverse.
Think I'm kiddin? Check this out, the first photo is of someone with very serious coronary artery disease: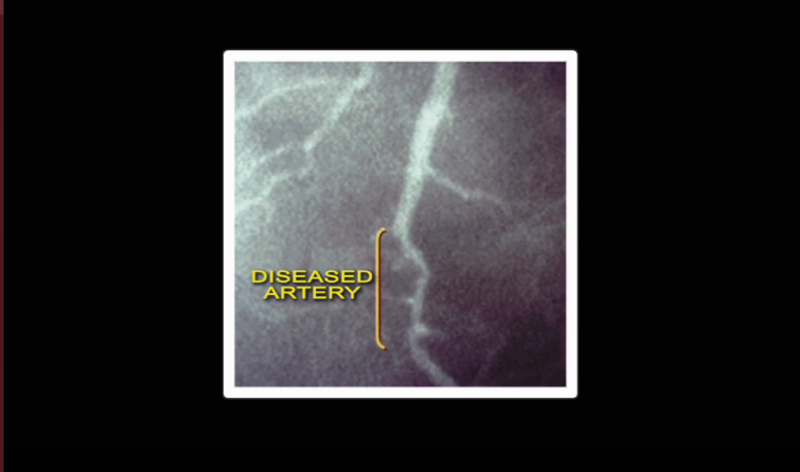 Here's the same guy 3 years later after going whole foods, plant based: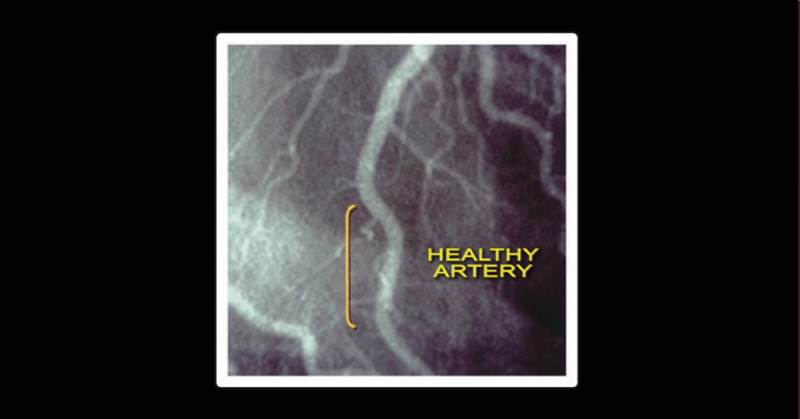 There are no surgery's or drugs that can do that, but switching from meats and dairy, to whole foods plant based ALWAYS does that. Deaths door to health is the norm...that's pretty good news if any zappaforumers are worried about their heart disease, there's no need to worry.
Here it is another way: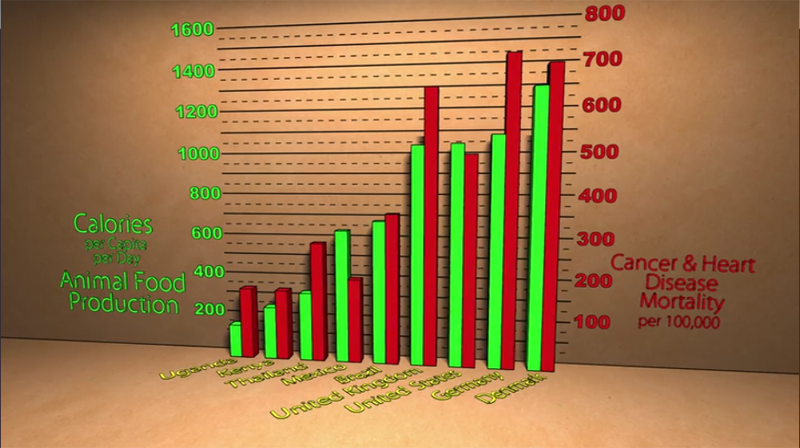 What about cancer...Dr Esselstyn found this:
in 1950's after the war, most of the 92 million Japanese were still on plant based food, and they had 18 cases of prostate cancer in 1958, 18.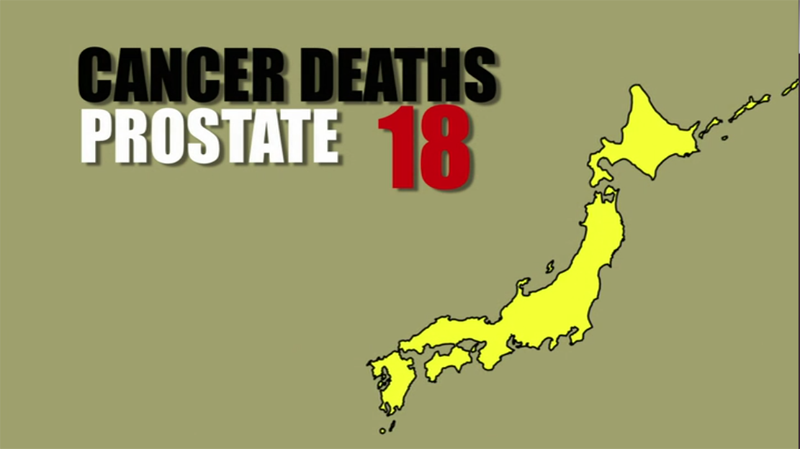 Same year in the US, 1958, 174 million people (about double Japan's population), Americans on Western diet had 14, 000 prostate cancer deaths.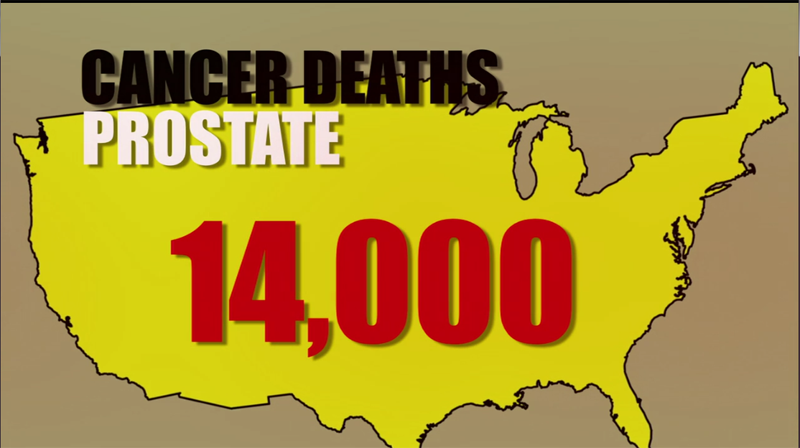 Why don't they tell you this stuff on TV? Well, there are a TON of sponsors selling packaged processed foodstuffs, dairy foodstuffs, and meat foodstuffs. TV channels CAN'T put info on that tells people not to use their sponsors products...so though this info is widely available on the web, and commercial free Netflix, (see "Forks over Knives," and "What the Health?" for starters, btw), it is not on TV...only deadly foods are on TV, (no ads for fresh broccolli).
ESPECIALLY any processed meats, they are listed as CLASS 1 carcinogens, just like cigarettes...this means any packaged meats like bologna, hot dogs, there are thousands of such products, (btw, whole meats are currently rated Class 2 carcinogens, people are working to get that fixed to Class 1, but there is great pressure from big money...5 top meat packers make a ton of money off of killing us, so do the TV channels that take their advertising dollars).
Dr. Michael Greger found this little ditty:
Turning cancer on and off...and on again, and off again with meats and dairy:
Dr. Caldwell Esselstyn found an experiment where they were giving lab rats cancer, one group of rats given 20% calories from dairy protein, the other group 5% dairy protein...guess what happened to their cancers: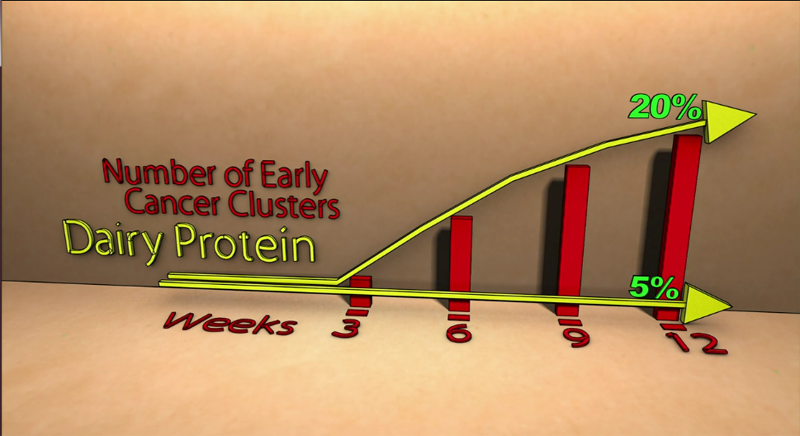 Esselstyn took it one step further, he used ONE group of rats and turned their cancer on, then off, then on again, then off again, by simply switching their dairy protein calories.
This chart needs a little explanation: He gave them cancer with 20% dairy, then switched these SAME rats cancer off again by dropping them to 5%, their cancers turned off and reduced (way better than chemo and radiation and healthy, rather than deadly side effects).
At week 9 he gave them cancer again and they seemed more susceptible to increased cancer from dairy, then he switched them to 5% and turned off the cancers at 12 weeks that he had just given them at 9 weeks, (I wish he had kept them at 5% another 6 weeks to bring their cancers all the way down).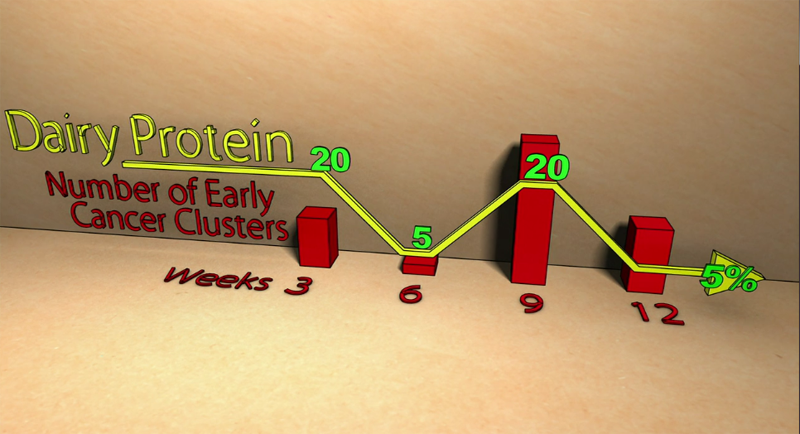 Something in animal based foods is very good at turning cancer on.
"Milk, it does a body good?"
BTW, such advertising as "Got Milk," "The Other White Meat," etc is REALLY paid for by TAXPAYERS through the DOA..our taxes are paying to misinform us so industry can get free advertising and make a killing off killing us through prolonged, frightening, uncomfortable deaths...we ARE fodder for industry.
Breast cancer in the US as compared to the plant eaters of Kenya: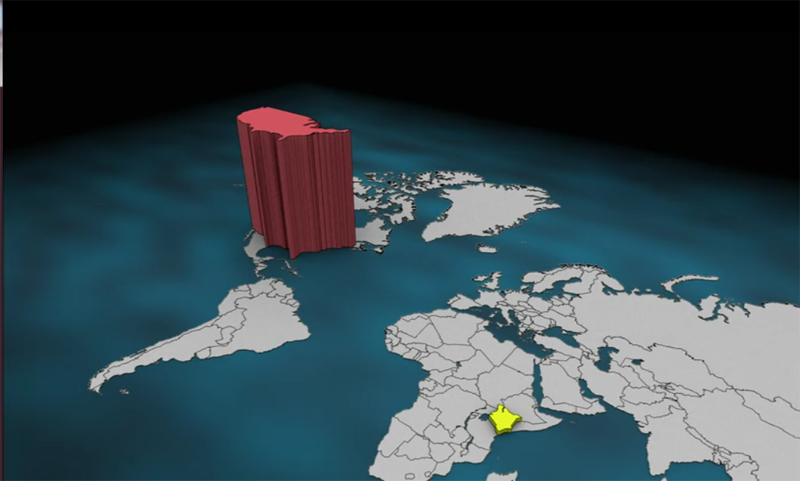 Here's what some of the doctors are saying...
First Dr. Esselystyn...is he a quack? Well, he is a surgeon at the world renown Cleveland Clinic, one of the top very heart hospitals in the world where many "firsts" are done in the area of heart transplants, bypasses, etc, etc. Not only is he a surgeon there but he has been elected President of Staff for the past 30 years...it does not get any more "expert" than Esselstyn, (he is also the one who produced the images in the artery photos above, he saved that guys life by putting him on plant based)...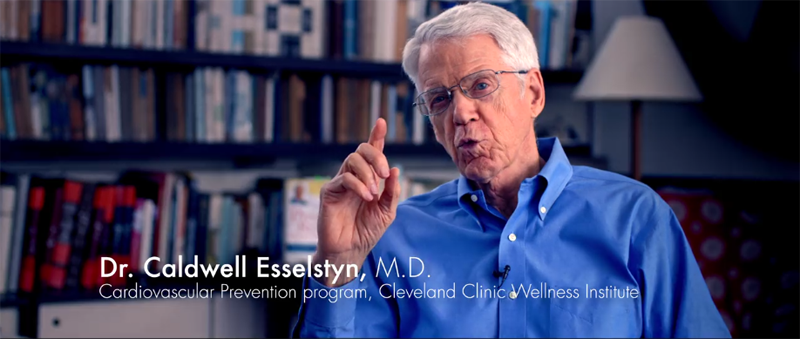 Dr. Esselstyn: "All this expensive imaging, procedures, bypasses, medications, none of which have ONE SINGLE SOLITARY THING to do with causation of the illness...so we DIE of a completely benign, food borne illness, THAT NEVER HAD ITS CAUSE TREATED. The problem is that the ANIMAL based diet contribution to heart disease is HUGE."
Other doctors know similar things: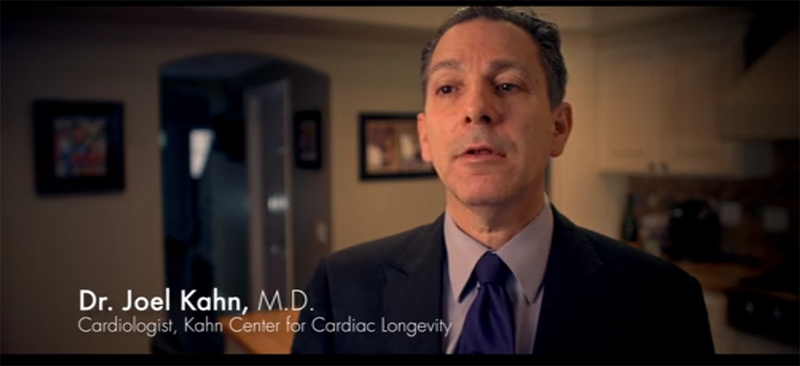 Dr. Joel Kahn, Cardioligist: "The diabetes, the arthritis, the heart disease, the dementia, the obesity, the cancers are about 70% of all deaths.
ALL the data
is those 70% of deaths and morbidity are lifestyle related, AND PREVENTABLE."
And, (sorry, I didn't scrape a photo of this guy, this is a ton of work to making this post)...
Dr. Goldhammer: "We have an epidemic cascade of debilitating diseases overcoming our country. There is NO WAY we can sustain the current style of care with the epidemics WE ARE CREATING with diet and lifestyle choices."
And Dr. Mc Macken puts it in perspective...
"Diet trumps cigarettes."
So, anyone want diabetes? Have a ham sandwich...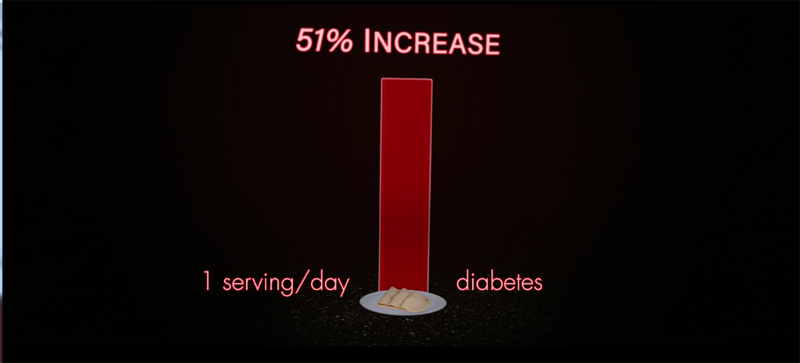 Is chicken better?
Dr Michael Greger, "It depends if you wanna be hung or shot."
More from Greger, (he has given more than 1000 lectures at Medical schools around the world)...
"When we eat dead meat bacteria toxins [endotoxins] within minutes we get a burst of inflammation [toxemia] such that you paralyze your arteries. So it's not like decades down the road damage, no, we're talking about damage right then and there, within minutes of it going into our mouths."
BTW,
here is Gregers NON-PROFIT website
, it has hundreds of few minute videos with the latest info, searchable in many different ways, (like by cancer, by chromosomes, by new videos, most popular videos, etc), all of his work, website, books, lectures are non-profit.
So what is he talking about? See my posts on the last page for details, but here it is in pictures....first to know two things:
1. Our arteries are lined with endothelial cells that give off nitric oxide that keeps arteries and blood slippery, and also cause our arteries to expand under exertion. When the endothelial cells get fucked up a couple things happen, firstly with less nitric oxide, our arteries can't expand to let blood through so we get painful angina. Also, without nitric oxide so our arteries and blood get sticky..cholesterol sticks to the damaged areas and we get plaque buildup, high blood pressure, and die of heart attacks, (but the meat makers already got our money).
2. The bacteria in animal products (tens of millions of colonies in a hamburger), have two major effects, and being cooked dead doesn't matter:
a. The bacteria is made of toxic material that does damage to sensitive endothelial cells on contact, killing them, and...
b. The immune system reacts to the dead bacteria as though it were alive and releases toxic white blood cells (and other) in response. These white blood cells damage not only the bacteria, but good cells around the system, there is even strong evidence of chromosome damage and acceleration in aging as well as expanded disease span.
This doesn't happen with whole (unprocessed), plant foods.
Greger likens three meals a day for it's three, 5-hour bouts of toxemia (raised WBC), to banging your shin on the coffee table...if you bang it once it will get better, if you bang it three times a day every day it will never heal, and if you stop banging it, it will get better.
I'll blend pictures from two sources to try to get a visual...here's the deal...
Here's endothelial cells emitting nitric oxide, keeping things slippery, and regulating expansion and contraction of an "artery:"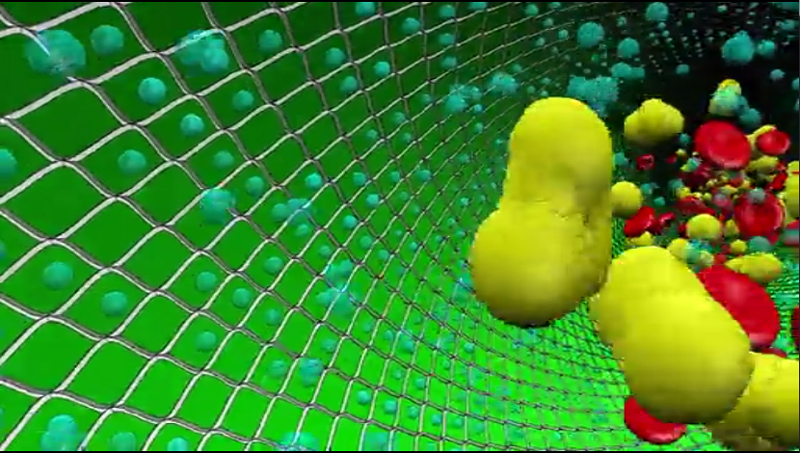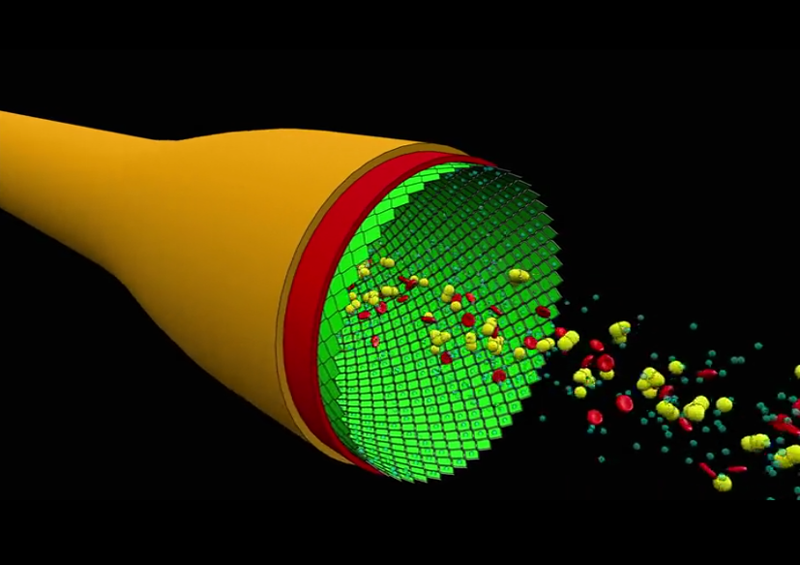 And along comes a happy meal, and it's saturated fat helps ferry its millions of dead bacteria colonies into your bloodstream. This bacteria is made of toxins which break down the structure of the endothelial cells on contact...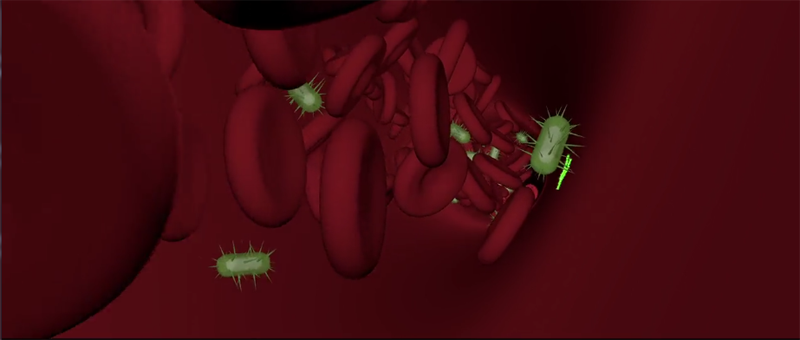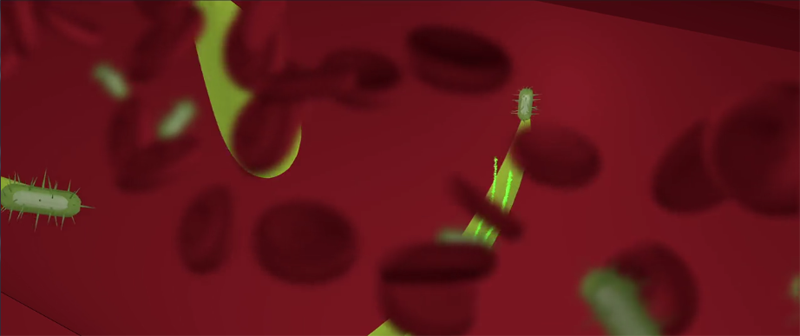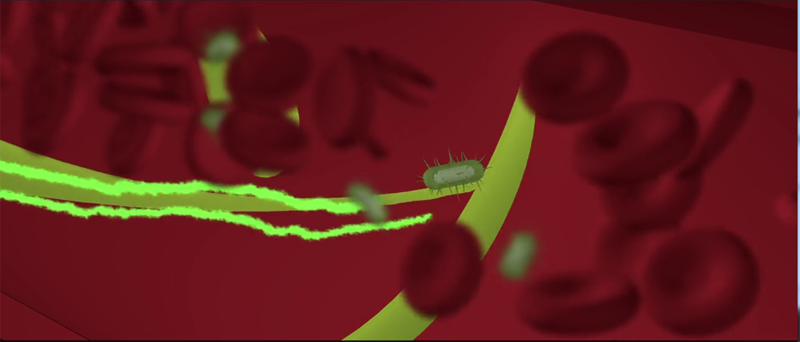 Not shown here is the dead bacteria ALSO triggers an immune response called toxemia, where the immune system releases white blood cells that attacks not only the bacteria, but healthy cells caught in the chemical crossfire... Direct damage to the cells, and genetic [rapid aging] damage to chromosomes.
Endothelial cells are damaged...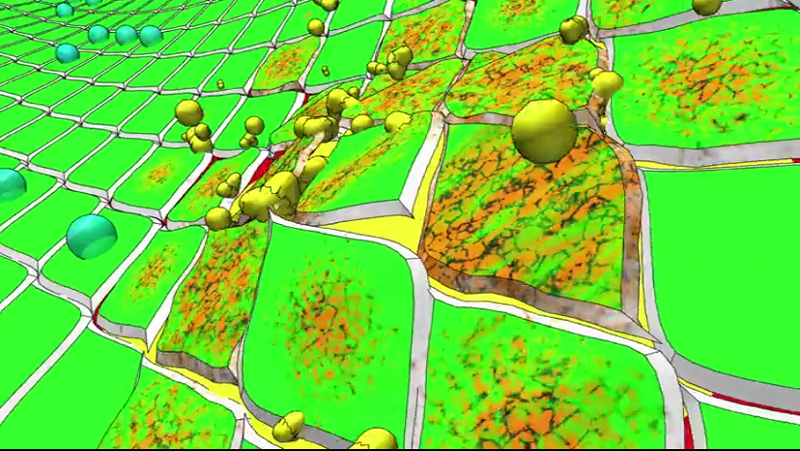 ...more happy meals come...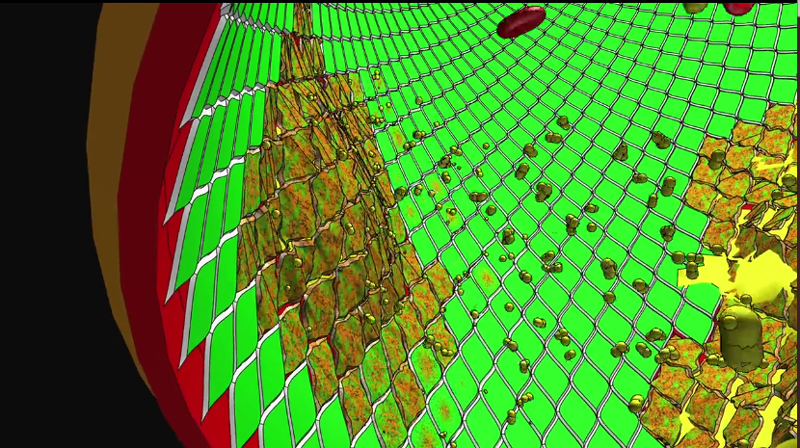 ...and with less nitric oxide to make things slippery, cholesterol comes along and sticks to the damage, building up plaques and reducing blood flow, (nor can the arteries expand enough without enough nitric oxide to trigger it).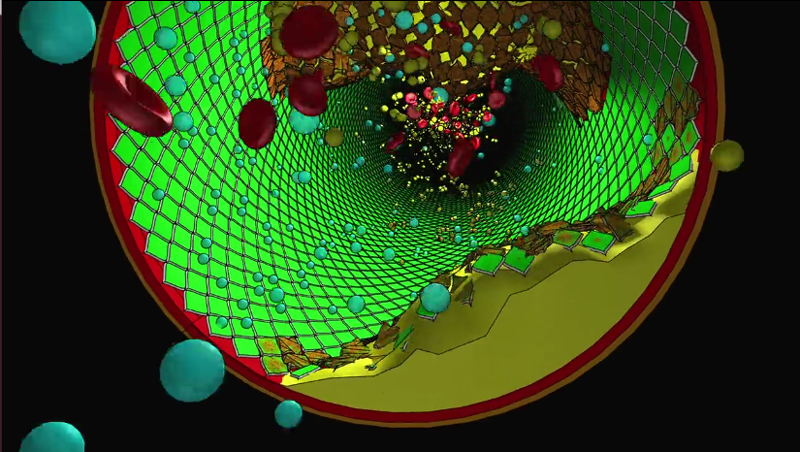 So that's basically the reason endotoxins in animal based foods are killing us. The good news is when one stops kicking their shin on the coffee table three times a day, it's normal for your shin to get better: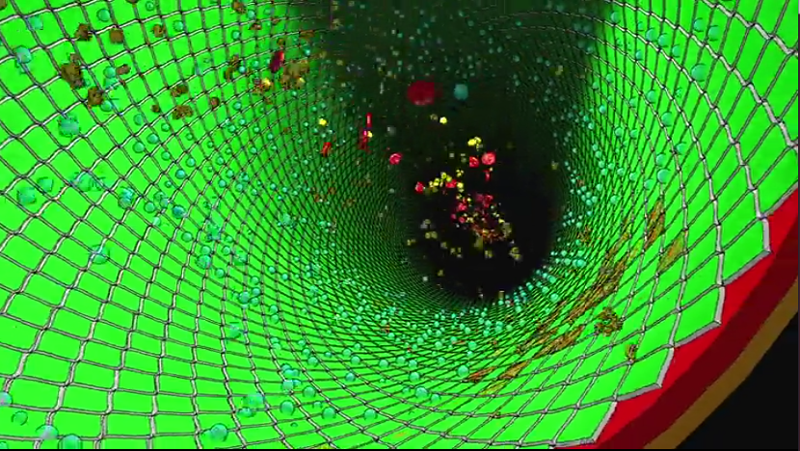 What is NOT talked much about in the above heart disease discussion is the connection of the toxic immune response to the bacteria in meats - to the chromosome damage that causes virtually all of the other "diseases of the aged." You don't get just one disease, you get them all, it's just which ones will be first, and will they kill you before you have time to get the other ones.
This effect is shortening the American life span from 100 to 86, and lengthening the disease span from a year or two, to 15 years of end of life suffering, is mostly caused by the Western diet, and is preventable.
It should be good news if any zappaforumers are worried about their hearts, there is an effective way out that will work better than any stints or bypasses or drugs. Greger's grandmother had too much scarring and couldn't get anymore bypasses so was sent home to die...changed her diet and was out of her wheelchair in weeks and lived another 30 years, (she went to Dr. Pritikin, "the man who saved America's heart").
And check out the effect of plant based on the first photos above of the reversed coronary artery damage. The patient was actually one of Dr. Esselstyns colleagues at the Cleveland Clinic, a cardiologist himself, (doctors didn't know this stuff either as they are not taught nutrition...now they are finding out).
So, I'm not trying to tell anyone what to do here, rather I'm just reporting on the facts for people to do with as they please...and if it piques someones curiosity and sends them on their own journey to learn more, or even just to find out if my potato been bakin too long, then this post was a good thing.
Maybe later this week I'll put together a shorter post on how misinformation became so prevalent, and how food companies researched our instincts (dopamine production in response to fats, salts, sugars, etc), and now play on our instincts to make us come back the next day and buy another package of "food."
Those instinct were to help monkeys come back to the same tree and eat more of that fruit, not make modern man want to woof down a bag of Cheetos.
Hope this helps