It's a favorite topic of mine, I'm still a work in progress... I compile my info from some of the state of the art researchers, even a 2009 Nobel prize in medicine winner Elizabeth Blackburn. My doctor gave me a book by Dr. Caldwell Esselstyn, 30 yr President of Staff at the top heart research Cleveland Clinic which I loosely followed and my cholesterol dropped to 152, (because of my chips addiction my ldl is still 111 which is too high, I want it at 70). Another hero is compiler of The China Study Dr. Colin Campbell, (who is now friends with Esselstyn)... and my favorite "State of the Arter" is Dr. Michael Greger whose book "How Not to Die" compiled and distills data showing how
the top 15 killers in the US are all self imposed, avoidable and mostly reversable
, (yes, even multiple bypass heart disease people can reverse their heart disease with diet.
Here's a youtube with Greger:
https://www.youtube.com/watch?v=7rNY7xKyGCQ
__________________________________________________________
And to comment on some things in this thread...
There are some good videos on Netflix about this as they don't take sponsorship from the prepackaged foods, meat and dairy industry; they are not subject to the severe filtering of info on regular TV that won't show this stuff because they get a lot of ad money from processed food, meat, and dairy industries.
Inflammation, the increase in circulation and white blood cell count due to an injury, or due to pathogens, (virus, bacteria, and non-existent but perceived threats). Inflammation is good when you stab yourself with a fork, of have a virus, but bad when caused by diet and/or extreme age/senescent cells. White blood cells by their mission contain toxic substances meant to attack invaders...but when there is no invader, these toxins do damage to healthy cells, especially endothelial cells that line our veins and arteries with the mission of secreting nitrous oxide which keeps blood slippery and flowing. Toxins in white blood cells and endotoxins in foods we eat are rough on endothelial cells, they destroying them and an turn causing cholesterol to stick to the damage and build up placks and we know the rest of this heart attack story.
For years we knew that 2 - 5 hours after eating meats (chicken, red, fish, it's all the same, it's muscle, and it all has the same endotoxins), people got a spike in their white blood cell count, or "toxemia." Well, it's known that saturated fat makes your intestine more porous and saturated fat ferries toxins from your intestine directly into your bloodstream.
Until recently they didn't know a couple of things: 1. Your body doesnt attack fat, then why the spike in WBC after eating fats - they mistakenly thought it was the protein, casein, in meats/fish/dairy...they were wrong....and 2. Digestion is two stage, first acids in upper tract, then "good bacteria" in lower track, colon area...well the theory was saturated fats were opening up absorption of the "good bacteria" in our colons, ferrying it intoour bloodstreams, triggering toxemia and high white blood cell count...
...and then an ah-ha moment...if there is always a spike and peak in WBC and toxemia 2 - 5 hours after eating a big mac, then it CAN'T be bacteria from your colon entering your bloodstream because it takes 8 hours for the big mac to get all the way down to your colon, and the spike starts 2 hours later...it must be something in the meat itself...
Enter endotoxins, bacteria in dead meat (we're talking tens of millions of colonies in a steak or fish or hunk of cheese, etc), that are made of toxic chemistry that tears up cells... and, this dead bacteria is seen as an invader by the immune system, thus raising WBC... It's not the type of protein in meat which was once thought, the protein casein is just a marker, where there is casein, there are bacteria made up of endotoxins...that are ferried by saturated fat from your upper intestine, and
that's
why everybody gets toxemia 2 - 5 hours after eating meat/dairy...and if you eat meat/dairy 3 times a day spaced apart 5 hours between meals, then we live in daily, all day, chronic toxemia...our cells are constantly getting torn up on the western diet.
Just to mention, it also doesn't matter that the meat is cooked and the bacteria is killed, the bacteria is still made of highly toxic substances (endotoxins), that tear up your cells, and dead bacteria are still seen as invaders triggering the spike in toxic white blood cells, it's a double whammy.
So don't blame me I didn't make the rules, this is just the science of what happens when we eat meats and dairy. The good news is because we are NOT omnivores and don't share characteristics of omnivores, we are designed to live off plant matter, and therefore plants naturally taste better than meats, if we only knew it...
What do I mean by that? Two things...for example, think of a cat, a carnivore...sharp teeth all the way back for tearing flesh...we have teeth for biting, and molars for grinding grains, quite unlike a cat. Cats have short digestive tracks so meats don't have time to putrefy as they do in slow human digestive tracks...and cats have far stronger stomach acids that digest meats rapidly, which humans don't have.
The second thing (I said two things above), is we have been conditioned since childhood to eat meats, accustomed to it's tastes and never knowing any different to how fucked up our digestion is, we've simply grown up accustomed to fucked up digestion...the result is it's easier for a meat eater to go whole food plant based, than it is for a whole food plant based eater to convert to meats, they simply don't want to put up with the fucked up digestive system that accompanies meats/dairy, even if they were once accustomed to it and took it as "normal," they just don't want to go back.
We got this way in the US through advertising in the media for meat, prepackaged, and dairy, and NO advertising for "big broccoli." Not only that but withheld info about damages of meat and dairy in the media as they don't want to piss off their sponsors. I was surprised as I never saw this before in my life, I never knew I was so thoroughly brainwashed. There is also a government/lobbying component of this, take the adulterated government food chart... the truth, and the so-called truth as modified by the meat and dairy industries: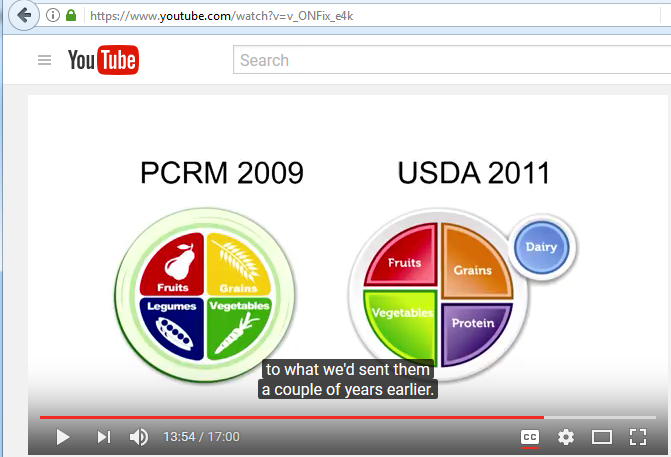 The effect of campaign contributions altering the food chart.
So that's just a little intro, or overview. The other thing to mention is if you want to gain weight, go on a diet, after the diet you will gain back more than you lost...why? Because fat is stored in fat cells because lypogenesis (sp) enzymes stick fat molecules together into strings of fat molecules, storing more and more fat making those fat cells larger...sure, starving can rip the fat molecules off the lypogenesis enzyme strings, but it leaves the lypogenesis enzymes in the fat cells, starvation even created MORE enzymes...so when you begin to eat again your fat cells are just sitting there quivering to catch fat, your ability to store fat increases while you are on the diet. There's a fat molecule, grab it! Instead, there is another enzyme that we need to break the chains of fat (polymers) that are stuck together...when your done losing fat that way you have actually changed your body's ability to store fat.
____________________________________________________________
And with all that said, here's some other interesting things about meats , dairy, and packaged foods..
It causes 14 of the top 15 causes of death (heart disease, cancer, copd, stroke, diabetes etc), and changing to whole food plant based reverses diseases that may already exist.
Meats cause toxemia and shorten telomeres, the non-coding "caps" on the ends of your chromosomes. They are 10, 000 base pairs long at birth, 7500 base pairs at age 35, and 4800 at age 65. Below 5000 things start to happen, cells go into senescence and stop multiplying while communication is lost from the dna to other parts of the cells. The damaging effect of this is mitochondria malfunction, releasing chemical signals which in turn triggers higher WBC, and we know where that goes....telomeres are your life fuse, (and btw, smoking burns down telomeres at up to 3x the normal rate...it may be slightly less bad than this new research shows, but it's still very very bad for telomeres - for lifespan).
Just to mention, when telomeres get short, whether they're in your lungs, immune system, pancreas, liver, wherever, you begin to get diseases from those systems. Remember, life is good till you get below 5000 base pairs, then suddenly there are problems from short telomeres in all systems...no matter what age you are when your telomeres go below 5000.
This explains why a few sunburns as a kid cause melanoma at age 40...sure, when you have 8000 base pairs you can burn down a couple thousand and still be above 5000...then age continues shortening telomeres and you get below 5000 early...like 40, and youre ready for skin cancer.
BTW, lobsters have dna that produces more telomerace (sp), an enzyme that maintains telomere length, that's why lobsters don't age. Humans cant simply take telomerace, immortal cells would cause us to die of cancer....BUT...while meat dairy shorten telomeres, whole food plant based maintains and can actually maintain and even lengthen telomeres, yes, reverse the clock to some extent.
It's also interesting that when meat protein is 20% of calories cancer is turned on, when it's below 5%, cancer gets turned off.
And to mention, if someone is eating right, smoking is #1 in telomere shortening, but STRESS is #2. They found this out by studying mothers of chronically and seriously ill children, (what's more stressing than a son with cancer). These moms aged far more rapidly, their telomeres shortened far more rapidly, than the control group with healthy kids.
______________________________________________
More interesting facts on meats:
Media tells you to get water savers in your shower, fix leaky faucets, toilets, yadda yadda yadda, and the average american can save 47 gallons of water a day...impressive, 47 gallons. Then we go out and get a quarter pounder for lunch...and it takes 660 gallons of water to produce 1/4 pound of beef... and we haven't even had dinner yet. 2600 gallons of water to make 1 pound of beef.
Why does the media tell us about water savers to save 47 gallons a day, but not warn us about far far worse meats that waste 2600 gallons a day? Advertising dollars.
There are 6 billion people on the planet, at least a billion are starving...yet we raise enough corn and soybeans to feed 8 billion people...trouble is, the crops are going to livestock raised for slaughter to sell to us...so billions die of starvation for the profit of a few meat packers.
"Get enough protein" has been drilled into us...an advertising campaign. Truth is if you are eating even the most protein deficient plants, such as rice and potatoes, and eating enough to get enough calories to walk around, then you will be getting the RIGHT amount of protein...interesting herbivores get exactly the right amount of protein from plants, nature works that way, (otherwise the monkeys woulda all starved)...that we have to eat meat to get enough protein is bullshit, advertising bullshit.
BTW, where do cows get their protein that we eat them for? From plants. Why not cut out the middle-cow and get your protein straight from the source, and skip the cows and pigs.
1000 years ago humans and their animals made up 2% of the biomass of the planet...today with their livestock raised for slaughter, humans and their animals account for 98% of the biomass on the planet. We've been conditioned and conned by the meat packers into stealing and destroying the planet....hmm, why's that not on tv.
I hinted above about meats / dairy causing the TOP 15 killers and all the pain expense and suffering these top 15 diseases of choice/lifestyle cause.
We're losing the rain forest...91% of land clearing in the amazon (our oxygen producing planet's lungs), is for raising animals for slaughter...so meats are destroying the planet too...for profit.
Plains, trains, trucks, railroads, the whole transportation segment accounts for 19% of greenhouse gasses, carbon dioxide mostly -
BUT
53% of greenhouse gasses is caused by raising animals for slaughter. Hmmm TV tells us the wonders of the more fuel efficient cars and we should buy them...WHY doesnt TV tell us the
far worse
problem of raising cows for slaughter? Advertising dollars. (and methane is about 160x more effective at trapping heat than carbon dioxide.
Se we die early, horrible, prolonged, frightening, expensive deaths...and destroy the planet... so Hormel, Swifts, Oscar Meyer and a couple of other meat packers can make money off us. Who gives a fuck if we die horrible deaths and kill the planet as long as a few families make money, and money-taking politicians stay in power.
What we don't know, kills us.
Oh yeah, I forgot to mention animal cruelty, the few major meat packers who've monopolized the industry are cruel to the animals in the extreme. The average american eats 79 animals a year.
Oh yeah, all that cow poop is unfiltered, entering our waterways and creating vast toxic nitrogen blooms killing all the life that used to live in those waters...huge problem.
Have a hamburger(: Hmmm, maybe I don't want one so much now...
So that's a brief overview of what I've been finding, sorry my typos, gotta post as is and run...