Frank Zappa's 'Vaultmeister' Talks On Preserving A Legacy
Archivist Joe Travers has worked on maintaining Frank Zappa's vision with an on-going series of releases, we talk with the "Vaultmeister" himself.

Published on September 29th, 2019
By Laura Stavropoulos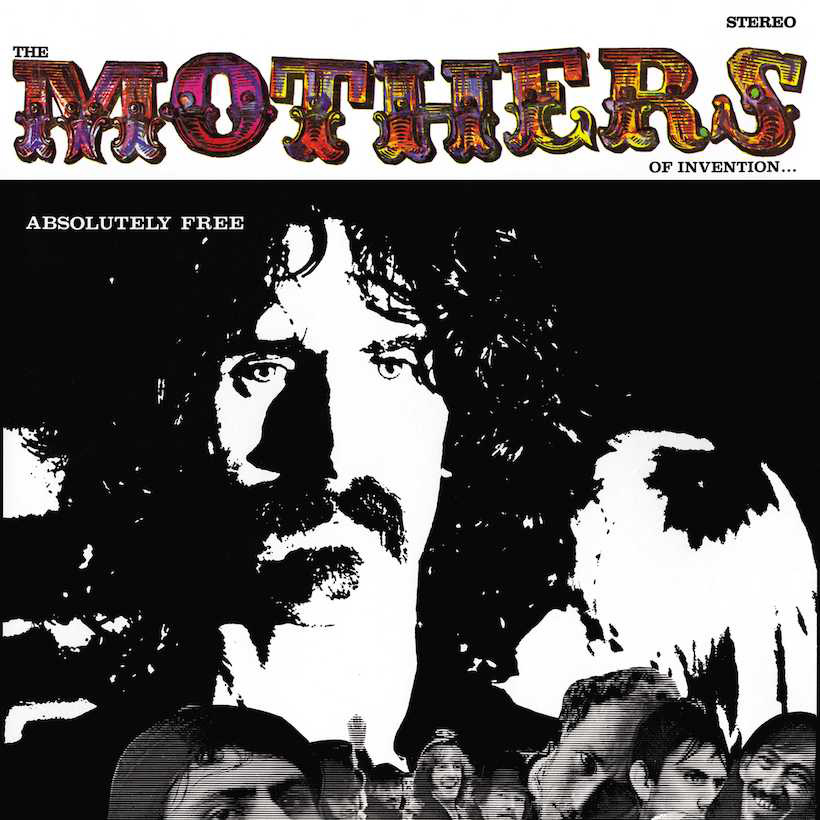 As one of the most prolific musicians of all time, Frank Zappa was also a visionary when it came to preserving his own legacy. His legendary vault contains thousands of hour's worth of concert tapes, rehearsals, album masters, video footage and countless other sonic treasures. The subterranean chamber of secrets has undergone a lot of changes since Frank's passing in 1993, the matriarch of the family, Gail Zappa in 2015 and their Laurel Canyon estate being sold in 2016.
But throughout all the turbulent transitions, archivist Joe Travers along with the Zappa Family Trust has diligently worked on maintaining Frank's vision with an on-going series of releases. Now with the arrival of Frank Zappa's Halloween 73 Costume Box , uDiscover talks with the "Vaultmeister" himself about future releases, Zappa's legendary Halloween shows and what auditory gems lie within its climate-controlled walls?
"I remember every detail about meeting him"
Like many before him, Travers first heard Zappa at an early age and was transfixed by the musician's wry humour, colourful language, and mind-bending musical skills; in other words, he listened to Sheik Yerbouti. He then got to meet his idol while playing in Dweezil's band 'Z' and had impressed Frank with both his musicianship and encyclopaedic knowledge of his catalogue. As Travers recalls:
"I never had the chance to sit with Frank one on one to discuss his music and be a total fanboy because he was so ill by the time I got to meet him. But I absolutely remember every detail about meeting him, including me walking into the room, him shaking my hand and saying "excellent drumming Mr. Travers".
Becoming the vaultmeister
After that first meeting, Travers was able to see the vaults for himself. His knowledge of Frank's work was immediately apparent and the studio staff told Gail, "Dweezil's drummer knows more about the vault than any of us!" After Frank's passing, Travers assumed the responsibilities of vaultmeister despite not having any prior experience. While Travers was in awe of the sheer amount of content to work with, the facility lacked much of the technology required to archive it:
"In the beginning days we didn't have the machines to play back the formats, so it was still a mystery as to what anything was because I couldn't play any of it. It took many years for Gail to refurbish the studio and get the machines needed for me to do my job," said Travers.
With 40-plus releases credited to his name after 1993, Zappa's posthumous catalogue rivals many living artists today. Not all musicians have the incredible foresight to meticulously record all of their output and then utilize it for future releases. With this well-oiled machine in place, he would be generating revenue not only from touring but also self-funding future releases, creating a profitable feedback loop that allowed him more autonomy than most artists could dream of.
As Travers puts it, "Had Frank not taken any of these steps would we [the vault] still be operating today? Probably not. Ultimately the smartest thing he ever did was to just constantly document the creativity that was pouring out of him. "
The archiving process
When it comes to the archiving process, Travers is mainly a one-man operation with a staggering amount of work in front of him. By night he's playing gigs around Los Angeles, and by day, he's at the vault, which has moved to the Tolkien-sounding Iron Mountain, a professional storage facility. At the moment he's "knee deep in transferring 3/4 inch U-matic tape video masters" and other "problematic formats".
Travers has to heat-treat various assets in order to be able to put them on a machine and get the data off the tape. Thanks to a recent Kickstarter by former child actor-turned director Alex Winter (who's making a Frank Zappa documentary), some of the funds went towards hiring another person to help with this daunting transfer process. While a lot has changed in terms of technology in the nearly 25 years since Frank's passing, many of these original audio and video files are rapidly diminishing.
"You have to remember, a lot of this media just doesn't survive over the years. Now the film is what's in the most dire need of transfer because literally as we speak the film is dying. Anything that's picture oriented, it fades. Like when you see old films that haven't been stored properly turn pink, that's what's happening to Frank's film assets. It's just scary to see it happen before your eyes."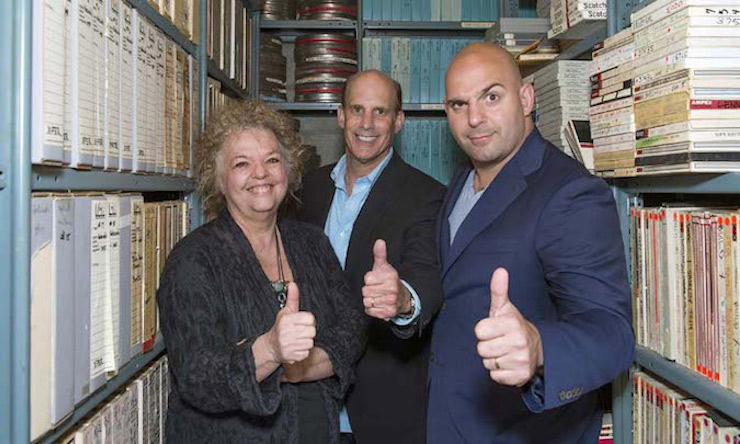 The late Gail Zappa with son Ahmet (right) and Bruce Resnikoff of UMe.
Photo: Universal Music Group

Since partnering with UMe in 2015, The Zappa Family Trust has maintained an impressive reissue schedule that includes some of Zappa's most iconic releases including Cruising With Ruben & The Jets, Joe's Garage, Lumpy Gravy, Weasels Ripped My Flesh, We're Only In It For The Money, Absolutely Free, Zappa's legendary 1977 Halloween Shows and Zoot Allures.
Always an innovator
Zappa was always an innovator when it came to packaging his music. As both an originator of the modern box set and mail order service, he would include add-ons like the famous, "Freak Out Hot Spot Map' from his debut Freak Out! that depicted essential stops on a tour of freaky LA circa 1966. Then for Absolutely Free, he included a "Libretto" booklet that contained 18 pages worth of lyrics and an album forward, which was only available by mail order as to side-step censorship issues. Thankfully, this rare collector's item is included in the reissue, along with an extra disc containing 20 minutes of unreleased material culled from the vault.
For Travers, it's a constant balance of releasing material that comes close to Zappa's perfectionist standards and satisfying the fans that want to hear the music. While Zappa never really released full shows during his lifetime, the Halloween Box Set features master recordings of all six Halloween shows with superior sound quality and brand new mixes, a remarkable find for both fans who were there and those who wish they were.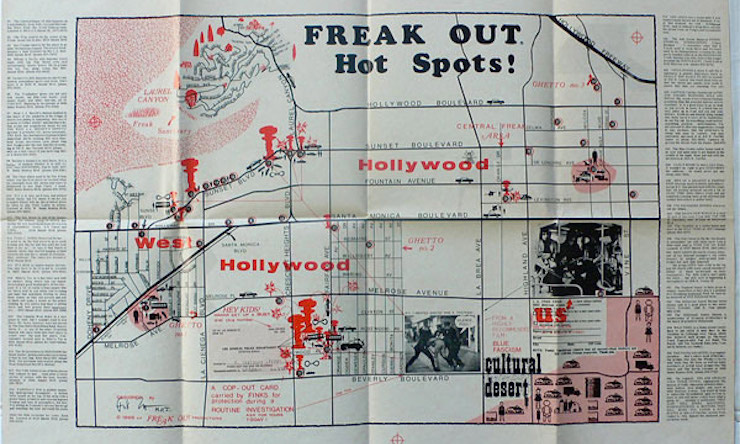 Freak Out Hot Spots Map
The vault contains performance recordings that date back to 1966 and early recordings that stretch back even further to 1955, so naturally we had to ask, out of all this bounty, what recordings surprised him most?
"During the time period of The Grand Wazoo and The Petit Wazoo, Zappa had put together a 20-piece electric orchestra that toured for eight shows and then right after that dissolved, he put together a 10-piece that toured for two and half months. He never released any material from those bands in his lifetime and those were the very first bunch of tapes I wanted to hear. A lot of the video stuff is what really surprised me. That's where you go, 'Oh my god I can't believe this exists'. I can't spill beans here, but there's some really great performance footage that we've found that will be great for future releases."
Frank Zappa's gateway record?"
Zappa's immense catalogue is both a blessing to fans but confusing to newcomers. Where does one begin with so many studio and live records to choose from? So we asked the expert, "What's Frank Zappa's gateway record?"
"Ahmet and I put together a compilation called ZAPPAtite: Frank Zappa's Tastiest Tracks to answer that very question [laughs]".
"I've always recommended albums like Hot Rats, One Size Fits All and Apostrophe (') to people that want to start getting into him. They all really showcase what Frank's about. Because he was such an amazing guitar player and such an amazing composer, they have all that stuff wrapped up into one."
Frank Zappa's costume box set and 4CD editions of his Halloween 1973 shows will be released on 25 October and can be pre-ordered here.
https://www.udiscovermusic.com/stories/ ... ltmeister/