guacamole_queen wrote:
Daisy & Adrian "Boo" was Adrian's word for the night Adrian Belew w/ The School of Rock The State Theatre Falls Church, Virginia Friday, February 10, 2006
It all started here...at the State Theatre in Virginia USA, Early 2006
Then....
Uncle Bernie wrote:
Went to the first show last night and it was FUCKIN' UNREAL!
The guy is a geetar wizard. Played mostly his own stuff, but also 3 Crimson tracks, incl. 3 of a perfect pair and thela hun gunjeet (i know the spelling sucks).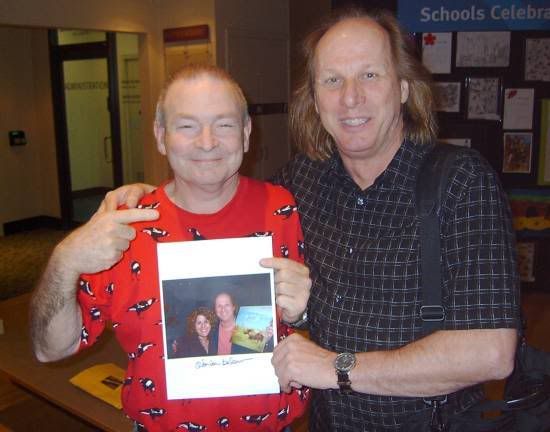 Uncle Bernie sees Adrian play in April in OZ and decides to get his picture taken holding the picture of Adrian and I at The State Theatre.
Our own XYQA with Mr. Belew...holding a picture of Uncle Bernie and Mr. Belew...holding a picture of me and Mr. Belew...last night in Atlanta, GA, USA!!
How is that for conceptual continuity?? Fucking cool, I'd say!!
Daisy