It is not everyday that you get Zappa in the front page of Brazilian papers:
Documentário sobre o músico Frank Zappa abre o festival In-Edit, em SP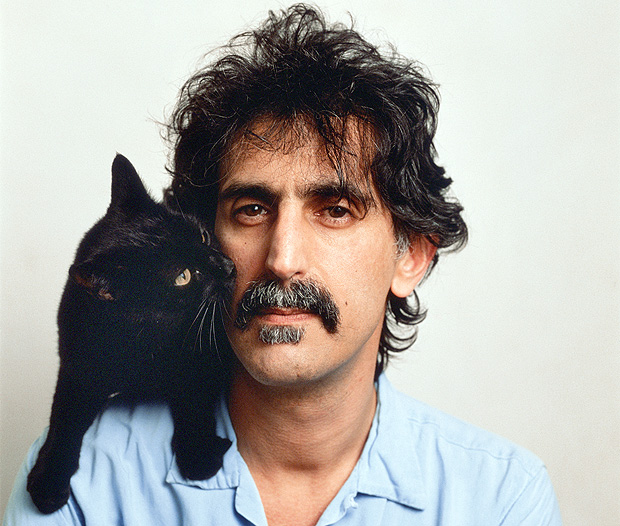 O festival In-Edit Brasil, mostra anual de documentários musicais, chega a sua oitava edição exibindo logo na abertura um filme que, de certa forma, subverte esse gênero cinematográfico.
O público está acostumado a louvar documentários que consigam mostrar cenas inéditas. Assim, exercem atração até em quem já conhece a pessoa ou o assunto retratado na tela.
Mas o diretor alemão Thorsten Schütte fez um filme na contramão dessa cartilha, "Eat That Question - Frank Zappa in His Own Words". Durante oito anos, ele pesquisou entrevistas de Frank Zappa para emissoras de TV no mundo todo. Com edição inteligente de trechos, construiu um perfil matador do músico americano.
O público que comparecer ao CineSesc na noite dessa quarta (outras datas de exibição do filme podem ser encontradas) vai ver como Zappa mantinha sua verve ácida diante de qualquer tipo de entrevistador. Ele consegue inserir a mesma crítica mordaz participando tanto de produções intelectualizadas como de atrações de auditório cafonas e divertidas.
O diretor quis evitar o formato de documentário no qual críticos, amigos e parentes da pessoa retratada perfilam suas opiniões. A certeza de que ninguém melhor que o próprio Zappa poderia explicar sua personalidade fez Schütte assistir a centenas de horas de material.
Mesmo sem textos introdutórios, o documentário tem um tom didático. Abrange desde uma aparição televisiva "pré-histórica", com Zappa "tocando" uma bicicleta –de cabelo curto e ainda sem o bigodão que o caracterizou, ele batuca nas rodas da bicicleta–, até entrevistas mais amargas, próximas de sua morte, em 1993, aos 52 anos, de câncer na próstata.
"Quanto mais eu mergulhava nessas declarações, um Zappa diferente se tornava mais visível", conta Schütte. "O roqueiro revolucionário de músicas incendiárias dava lugar a um homem sensível e intelectual, um pensador discutindo os limites da música, da arte e da moral."
Zappa questiona em vários momentos a posição de um artista tentando seguir seu código de ética dentro de uma indústria regida pelo lucro. Entre declarações contundentes, trechos dele tocando sua mistura particular de rock, jazz e música clássica dão a trilha sonora.
Em um momento do filme, Zappa se define simplesmente como alguém que quer entreter a plateia. Schütte concorda. "Eu assisti a muitos shows dele, por 20 anos, e nunca saí desapontado. Zappa tinha muito humor."
O diretor sabe que é difícil a geração mais jovem ter interesse em Zappa. "Talvez o maior legado dele seja a conexão de sua vida e sua música com questões existenciais com as quais lidamos o tempo todo. Se algum jovem for fisgado por isso, como eu fui, tudo vai valer a pena."
http://www1.folha.uol.com.br/ilustrada/2016/09/1810890-no-in-edit-brasil-cinema-paga-tributo-a-frank-zappa-usando-imagens-de-tv.shtml