Its finally done!
Remember, its not made as a touring board. I made it so that I could easily switch fx at home and make better use of the gear. Its been mostly done for a couple weeks, as I've just been finishing up making cables etc... But, even in that time I can already appreciate how its helping me get better control of the sounds available to me. Its very flexible and convenient.

Here's the underside of the board. 2 power strips. 2 Boss power supplies each with a daisy chain, 2 tip-positive power supplies for the DOD and Electro Harmonix pedals. Most of this gear is restrained with zip ties. The padding is a painted plumbing insulation gasket which I glued on with Liquid Nails. The frame is cut from an

Invisible

-brand keyboard stand assembled and then covered in blue electrical tape. The metal shelving brackets give the board a 30 degree or so angle which works pretty well.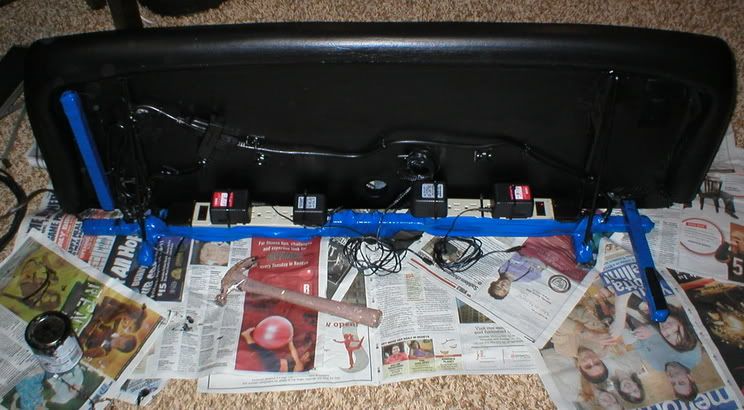 I made 2 kickstands to hold up the board at an extreme angle for any time that I may have to work underneath the board. They fold under the board when not in use.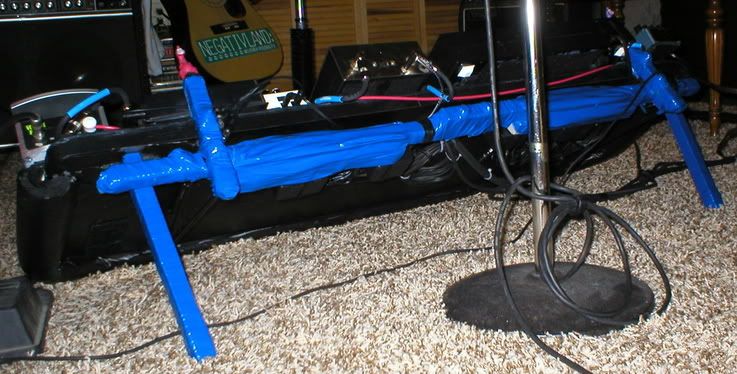 And here's a couple pix! The top is all covered in velcro, so even if it looks like something is hanging over the edge, its really on there pretty good.



Channel A and B are named that way on my Roland JC-120, so I kept that the same on the pedalboard. Since the Roland's Channel B is the one with controls for Distortion, Reverb and Chorus/Vibrato, I have that one associated with my "main gear". I could do a whole gig just with Channel B.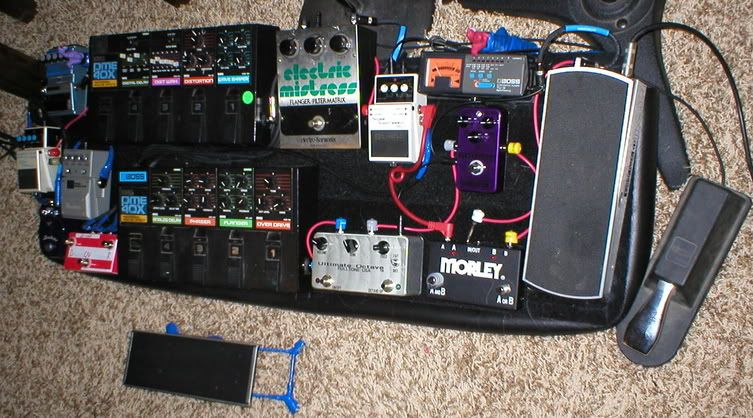 Channel A is for the more esoteric stuff and is considerably more noisy requiring the Noise Suppressor, which actually does a great job considering things like the Electric Mistress. I love that thing, but fuck it can be noisy.

The signal path is:
ES-347
Ernie Ball 6616 Volume Pedal / Boss TU-12 Tuner
Morley Switcher (then to Channel A and/or B)
Channel A
Boss NS-2 Noise Suppressor
(
Send:
electro-harmonix Electric Mistress (Original)
Korg PME-40x board with Waveshaper, Distortion, Dist Wah and Digital Delay
DOD FX75-B Flanger
Ibanez PM7 Phase Modulator
Return
)
Boss DD-5 Delay (Yamaha keyboard footswitch for tap tempo)
Danelectro Corned Beef Reverb
then to Channel A of Roland JC-120.
Channel B
Tonefactor Huckleberry
Fulltone Ultimate Octave
Korg PME-40x with Overdrive, Flanger, Phaser and Analog Delay
then to Channel B of the JC-120 which also has Distortion, Reverb and Chorus/Vibrato which are turned on/off by this pedal I made with suggestions from Swifty (future modifications being planned):
The Ultimate Octave is an early run. It is numbered and signed and the new ones don't look too much like it: