$96 million QB one of the worst in the NFL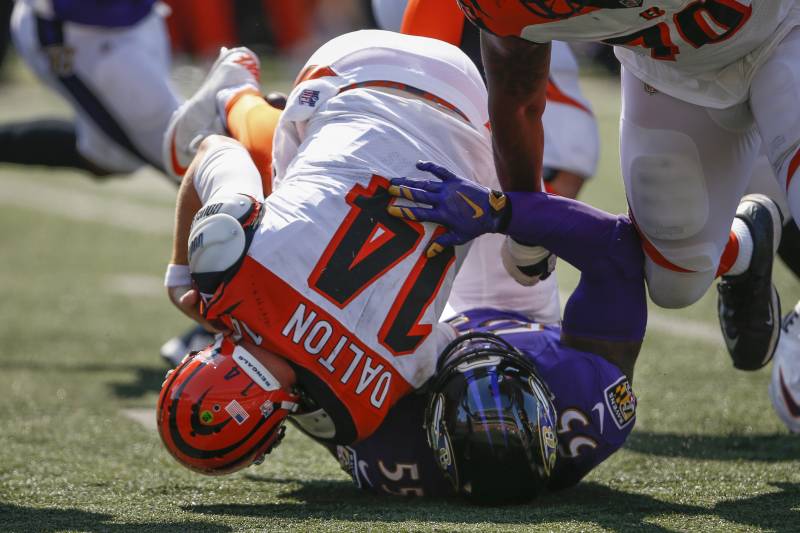 The Cincinnati Bengals are not a good football team, and Andy Dalton—who signed a six-year, $96 million contract extension in 2014—is not a good starting quarterback. It's that simple, and Dalton and his teammates provided us with plenty of evidence Sunday.
At home against a banged-up, beatable division rival, Dalton completed just 16 of 31 passes and committed five turnovers (four interceptions and a fumble) as the Baltimore Ravens hammered the Bengals 20-0. It was the second-lowest-rated game of the 29-year-old's career, and it marked the first time in over a decade that a team was shut out at home in its season opener.
Few expected that, but you shouldn't be surprised. The Bengals are coming off a six-win 2016 season and an inept 2017 offseason, and there are indications the team and its quarterback have regressed.
Despite the fact he was supposed to be building momentum entering his prime, Dalton's rate-based numbers plummeted in 2016. His passer rating dropped from 106.3 to 91.8, he ranked 24th among 30 qualified quarterbacks in touchdown rate and, as Pro Football Focus points out, he was particularly ineffective when facing pressure.
http://bleacherreport.com/articles/2732 ... =editorial