Nick Anderson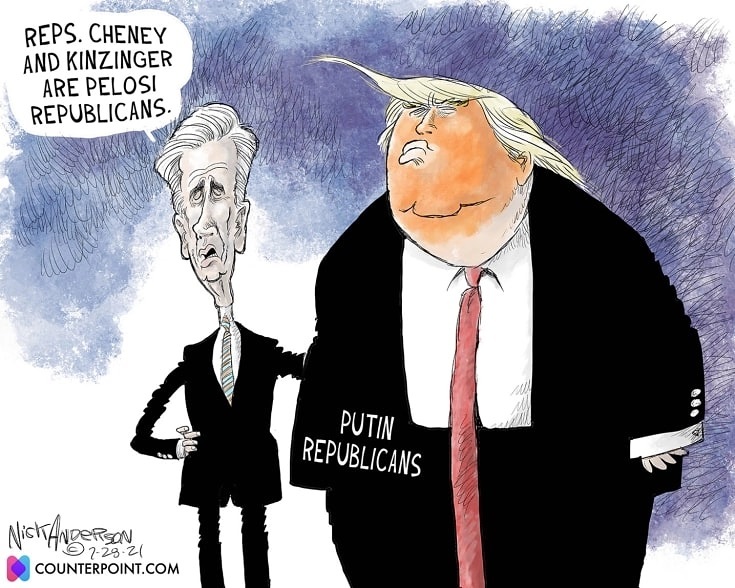 Politics ain't beanball, but usually congressional leaders don't call the leaders of the other party "morons," "idiots," or "imbeciles." Nevertheless, last Wednesday Speaker Nancy Pelosi (D-CA) said of Kevin McCarthy: "He's such a moron." The remark came after McCarthy complained about bringing masks back to the House on account of the surging Delta variant of the coronavirus. He said: "Make no mistake—the threat of bringing masks back is not a decision based on science, but a decision conjured up by liberal government officials who want to continue to live in a perpetual pandemic state." Pelosi is not one to make off-the-cuff remarks. She knew exactly what she was saying. It was fully intentional. As more evidence of that, her deputy chief of staff, Drew Hammill, reiterated Pelosi's comment, saying that the Speaker absolutely believes that to say this is "not a decision based on science" is "moronic." Hammill would never have said that without the approval of his boss.
This spat began when the Capitol's attending physician issued a memo saying that mask wearing is now mandatory everywhere in the building. Some Republicans are already defying the order and refusing to wear masks on the floor of the House in order to demonstrate that their freedom not to wear a mask is more important than anyone else's health.
So what will happen next? Lawsuits! It's the American Way. In January, the House voted to impose a fine of $500 for the first offense of going maskless when it is required and $2,500 for the second offense. The fine is to be taken out of the offenders' paychecks, eliminating the problem of what to do when the offender announces: "I'm not going to pay, so there."
Matt Wuerker
Anyhow, Reps. Marjorie Taylor Greene (R-GA), Thomas Massie (R-KY), and Ralph Norman (R-SC) have already sued Pelosi for the mask rule, claiming the fines are unconstitutional based on the First and Twenty-Seventh Amendments. In the former case the plaintiffs are claiming that not wearing a mask is a protected form of speech (kind of like saying "fuck you" without using any words). In the latter case the argument is that a change in legislators' pay may not take effect until a new House election has been held.
Will the courts even take up the case? They might not. The Constitution explicitly gives each chamber of Congress the power to make its own rules. Pelosi is surely going to claim that since a majority of the House voted for the fine rule, it is none of the courts' business to examine it. It is doubtful that the courts will even want to get involved, since if they decided against Pelosi and she continued to deduct the fines from the offenders' paychecks on the grounds that the courts have no jurisdiction over House rules, what could the courts do?
Pelosi is probably going to win this one.
Steve Sack