so now here's a remix I made against the war .. and I don't apologize for it !
https://soundcloud.com/taotekid/jello-b ... p-it-remix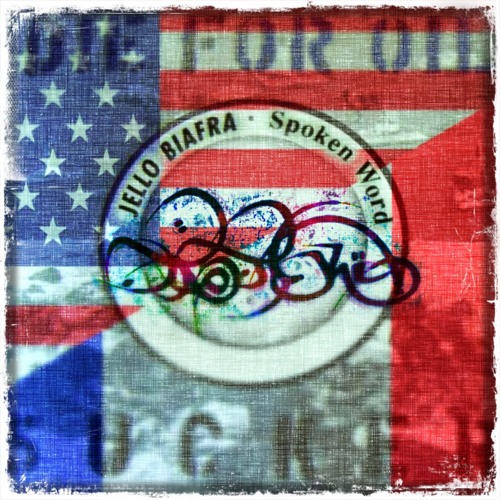 An adaptation of Jello Biafra's 1991 anti-Gulf War rant "Die for Oil, Sucker"
(from "I Blow Minds For A Living") which was originally released as an emergency anti-war 7".
Well over two decades later, it's still relevant because the same players
are pushing the same agendas under the guise of the "war on terror" :/
you can get I Blow Minds For A Living" & "Die For Oil, Sucker"
& thus support Jello Biafra here :
http://www.alternativetentacles.com/pro ... product=21
the music is based on a handful of (mostly sample-based) instrumental tracks
(featuring tiny bits of music by Frank Zappa, King Crimson, Olivier Messiaen,
Reggie Workman & Art Davis, Charles Mingus, Pierre Henry ... all sampled with much Love¹² & much Respect¹²
that I composed between 2000 & 2002 (I just re-worked the mix & the instrumentation
of the final track from the bottom up, that one is all mine, one of the first 100% sample-free tracks
that I made before gradually stopping my compulsive sampling of all my favorite records
DISCLAIMER : the audio mix of these sources should be considered a derivative work
as allowed under the "fair use" rule of the copyright law (section 107 of the Copyright Act 1976),
it is noncommercial and transformative in nature, uses no more of the original than necessary,
and has no negative effect on the market for the original work.
No copyright is claimed in this musical experiment and to the extent that material may appear to be infringed,
I assert that such alleged infringement is permissible under "fair use" principles in U.S. copyright laws.
However, if you believe material has been used in an unauthorized manner, please contact me !
Peace¹² שָׁלוֹם ܫܠܡ سَلاَم (in Hebrew, Aramaic & Arabic) + Myriads of Blessings¹²
+ Much Love¹² <3 to you
& your loved ones
& their loved ones
& their loved ones'
loved ones
etc ...