I Went to an Alice Cooper Gig With My Mom, and We Were Not Worthy
Cheri Amour
Nov 25 2017, 5:33am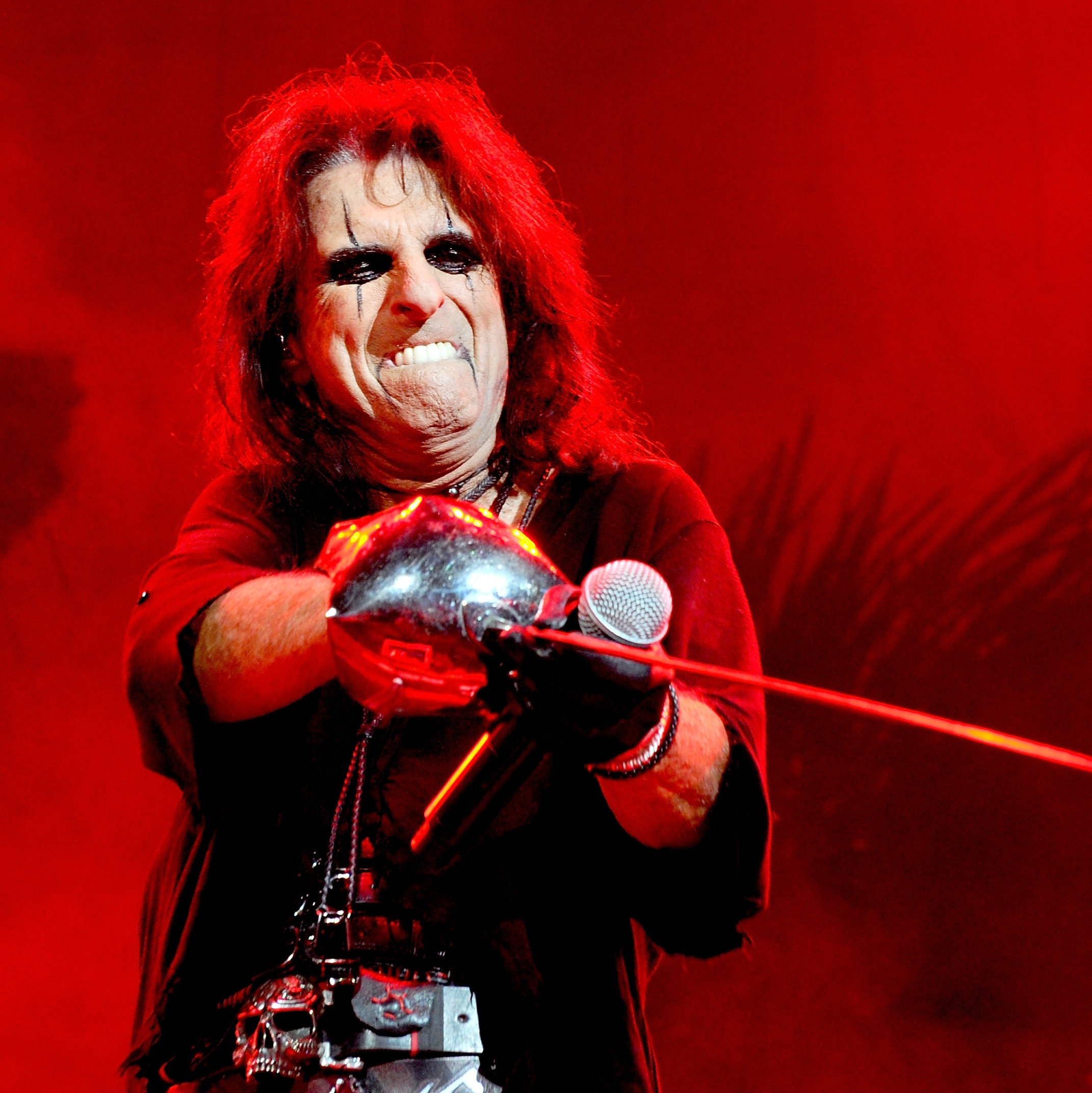 The shock-rock Romeo has always been my mother's favorite alt-heartthrob. Now, after watching him fake a decapitation, I understand why.
I've always known my Mom was an Alice Cooper superfan. Growing up, while other friends' parents might've had the raspy croon of Rod Stewart spinning on the record player or Cliff Richard's latest calendar hung by the kitchen sink, my mom would be making her way around the food market with Cooper, leather-clad and nursing a snake, printed across her canvas shopping bag. These same affections for noir-looking suitors have morphed over the years, from Jack Sparrow's swashbuckling boots and beard to Russell Brand's renaissance waistcoats and emphatic storytelling. But they all came from the same place—the cabaret craftsmanship of Alice Cooper.
It's funny to think then, for such a long-standing love affair, she's never actually seen him: "He only played London and Glasgow on his Welcome to my Nightmare tour which wasn't very convenient growing up in Lancaster." Since 1972's School's Out, the first Cooper record my mom owned, the singer has been prolific, putting out almost 30 studio albums. But while Cooper has remained consistently creative, hanging with rock 'n' roll heavyweights, my mom's more scathing of the years that have passed. "I didn't expect to be nearly sixty and overweight when I finally got to see him," she says.
So when Cooper announced a show at London's SSE Arena in support of his new album, Paranormal, we got tickets.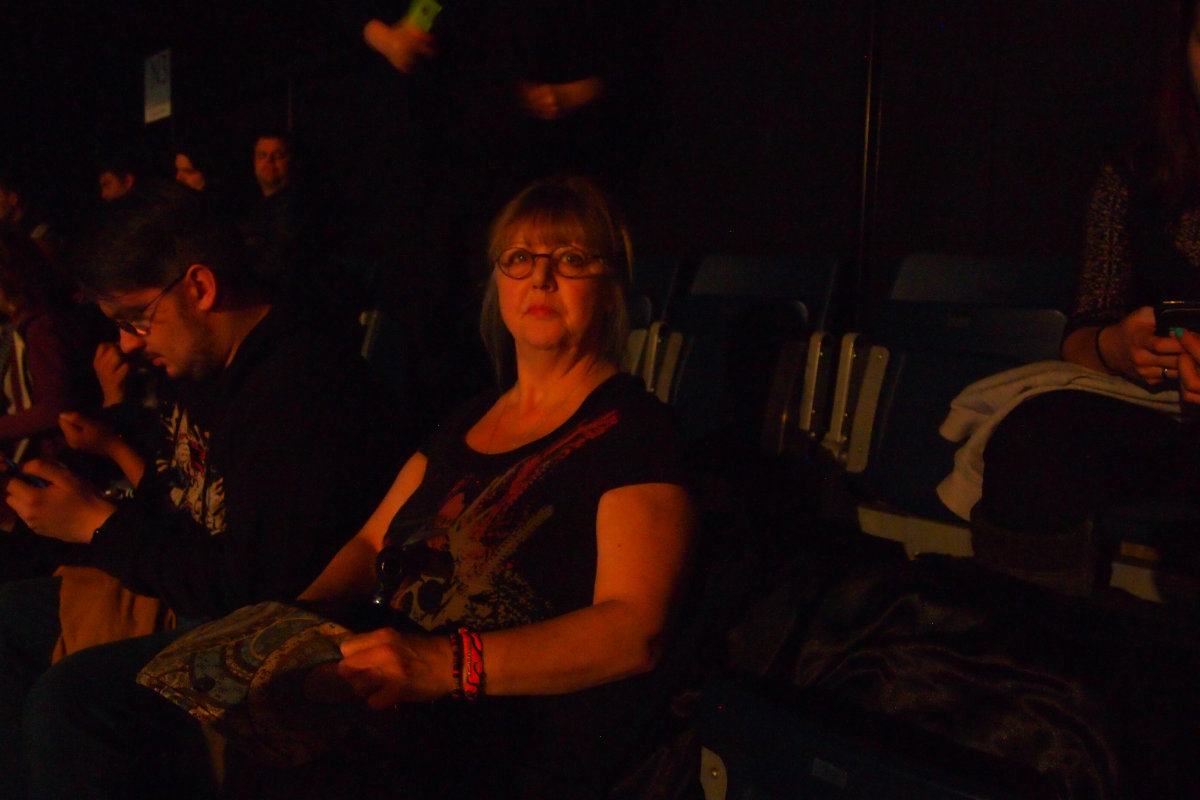 The author's mother, excited for the rock music of Alice Cooper.
We arrive as millennials in creepers and older blondes in dusty leather skirts make their way towards the SSE Arena. Some old lads outside ask me to take a photo. One of them jibes: "Quick before someone dies." It's the ideal macabre setting for an Alice Cooper concert. I ask mom the set favourites she's holding out for and she reels off classics like "Billion Dollar Babies" and "I Love The Dead" ("a nice little jolly number") as well as a few more niche deep cuts. "I used to like 'Gutter Cat vs The Jets,' but I'm a bit old for that now. You don't really see any 60-year-old gangs, do you?"
Nestled high up in the nosebleeds now, the whole ground floor stands as the lights dim. Cooper's voiceover booms out through the arena: "You have been chosen to spend a night with Alice Cooper. You are being welcomed into this nightmare world. It's too late for you. He's coming".
And so it begins, the band bursting into bludgeoning opener, "Brutal Planet." Squealing harmonics fly like the tinny taste of Rammstein's corrosive metal. From the depths of his monstrous junkyard, Alice struts onto the stage in polished spats. His hand tight around a customary cane, flowing locks as black as a rook. A handy helper appears from a dress-up box, sidled between the dual drum kits and baby head decor. Like a punk-stained Jackanory, she offers up a swift costume change in the form of a cool studded waistcoat.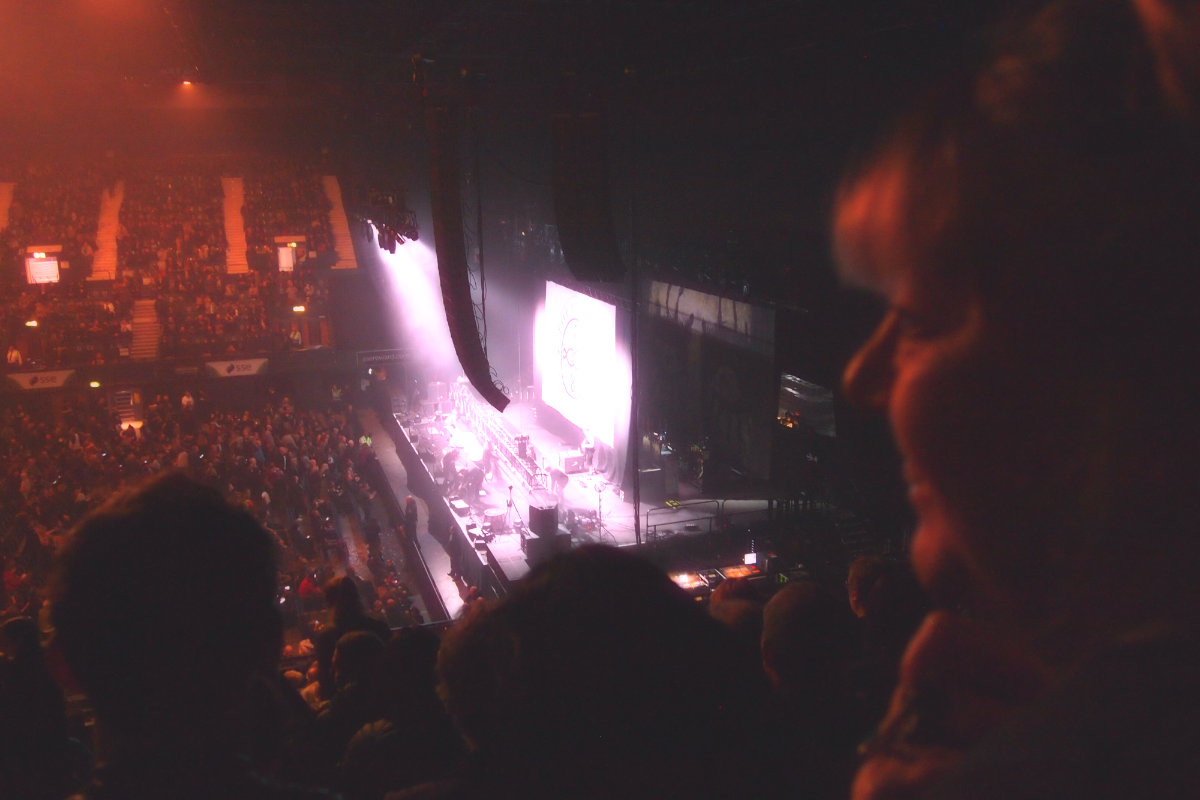 1986's Constrictor throws up some glam metal with the solo-silly "The World Needs Guts" while into "Woman of Mass Destruction," from more recent release Dirty Diamonds, cements his title as the world's "shock-rock Romeo." Few artists can pull off a rhyming couplet between "date" and "castrate." Alice spends much of his time peacocking from a plinth central stage—a pedestal of my mom's own making if you will—looking out over his dark sea of fans. But a storm is brewing.
"Hurricane" Nita Strauss, Cooper's longstanding string siren, launches into one of the most epic, and indulgent, guitar solos. Flame-coloured smoke flanks her sides as the band swoops back on for a blistering version of '89's "Poison." If there was ever an '80s staple made for the stadium it was this, the track that set him up as an alt-heartthrob. I can see my mom swooning. Cooper's vocals are intimate and sensual despite the staggering size of the crowd.
Cooper strides up the stairs and out into the black of backstage whilst his band dutifully play on. Slowly they fall until only bass and drums remain. Hand claps begin to spread across the stalls. The lights dim so only the drummer is visible. Amber floodlights illuminate his colossal control over the kit. It's at this point that we're plunged into a full-force Vaudeville concert saloon as a voice over the speakers bellows, "I know you're hungry. Here comes dinner." And even the stoopid-est of us knows where we're headed.
"Feed My Frankenstein" unleashes some sort of gigantic operating table onto the stage. Cooper is now clad in a bloodied lab coat. He's given a gas mask by some sort of part-man, part-skeleton as smoke begins to pour from the machine. Cooper enters the door-shaped hole and is now inside. Sparks fly from the device and I start to wonder if he's actually okay. He's not as young as he once was, guys. If this is too much, Alice, blink twice from within the gas mask.
High on hysterics, Alice brings us back down with the sobriety of "Only Women Bleed," a ballad about a woman in an abusive marriage. Mom leans over to tell me that "this is the song that changed him." The song that made the Alice we know today, the monster he performs rather than his actual self. And it's true, away from his manic moniker, Vincent Damon Furnier is a pillar of respectability: married for 36 years and teetotal for almost as long. A fitting nod to the Frankenstein japes.
But he's let his guard down for too long on that song. The skeleton and a hooded assailant suddenly corner him from either side. Like the line in "This Maniac's In Love With You," he is bound "in a straight jacket love."
Mom sits back in her seat, hands over mouth. A vinyl-clad nurse makes quite a scene thrusting a needle into Cooper's constricted form as he sings on. It's all got quite surreal now. His voice gets snarly as he growls "I've gotta get out of here" and then barks back at his enemy: "Don't touch me." And with that aggression and might, he's free. But his independence is short-lived as the skeleton is wheeling on what appears to be a guillotine. They lead Cooper to its steely grasp.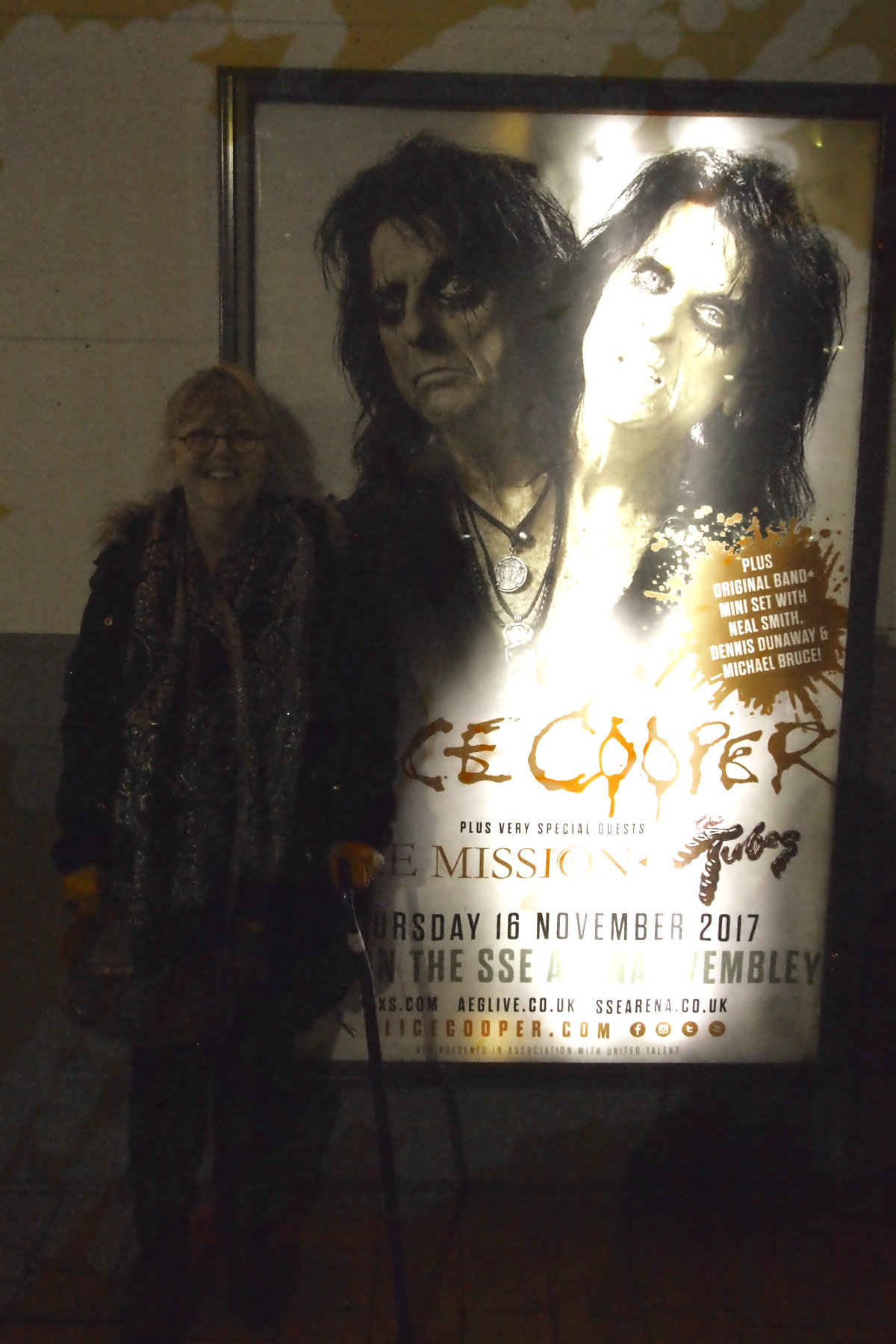 The author's mother (she's single)
At this point, my mom is aghast. Her hands are over her mouth again. The pimped-up nurse is ushering the crowd to cheer for encouragement but frankly, we're all keen for the show to continue with Cooper intact. As the blade flies down, the tortuous team pull his bloodied head from the trough. The band starts up again while I am left wondering how on earth they even pulled that one off. Seriously, there was no hole for him to shuffle through.
The lights fade and there are now only pockets of the stage illuminated. Will Cooper rise from the dead? The riffs soar out and an unapologetic amount of china crashes down around us as there's a switch up on stage and we're introduced to The Alice Cooper Band. Cooper returns and welcomes original band members Chuck Garric, Tommy Henriksen, Ryan Roxie, Dennis Donnaway, and "platinum god himself" Neal Smith to the stage. Mom knows these guys well, having etched her own name next to their initials on the School's Out LP which opens like a childhood desk, complete with inkwell. The backdrop has switched to the Billion Dollar Babies sleeve and Alice is back on stage, dazzling in a gold sequinned suit. He grabs a wad of cash skewered on a stake from the cabinet of curiosities and thrusts them into the crowd like a money-mad head honcho.
They barrel on. On "No More Mr Nice Guy," my mom gestures to herself when Cooper sings "Little old lady." Signalling the spectacle is coming to an end, Cooper calls out his band members as if ticking off the register. His daughter Cheryl Cooper is performing as the dancer. And playing the part of Alice Cooper? "It's me." We are bid a "good night and horrible nightmares."
They say you shouldn't meet your idols, but I'd absolutely recommend seeing them sliced in a guillotine for theatrical effect. My mother agrees.
Cheri Amour is the Deputy Editor of The Girls Are a part of The Other Woman collective on Resonance FM. Follow her on
http://twitter.com/thedivinehammer
.
Yes follow her on twitter
https://noisey.vice.com/en_us/article/v ... not-worthy