Dick Cheney marble bust unveiled in U.S. Capitol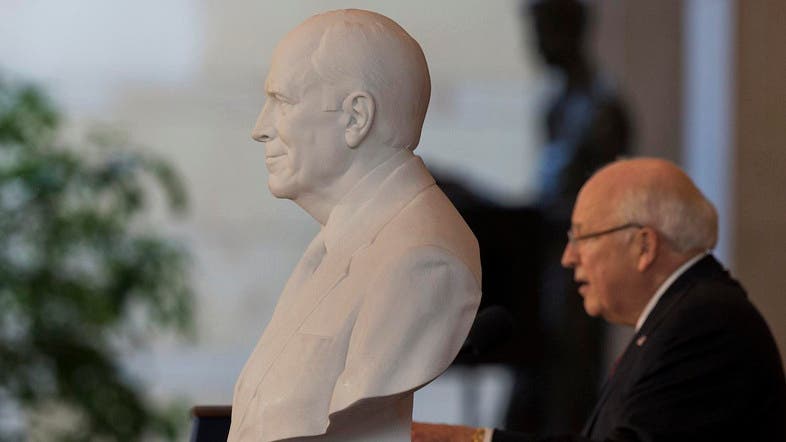 Friday, 4 December 2015
One of the most controversial vice presidents in U.S. history will have a permanent presence in the halls of power in Washington after a marble bust of Dick Cheney was unveiled Thursday at the U.S. Capitol.
Cheney, 74, was vice president at the time of the September 11, 2001 attacks and was seen as one of the most influential hawks in the George W. Bush administration.
In sign that the scars of the war in Iraq and the Bush era have failed to fully heal, current Vice President Joe Biden was the only Democrat on stage for the ceremony.
Cheney came in for some good-natured jostling from his former boss.
"Last time I showed up, I was hanged at the White House," said Bush, referring to his official portrait being placed in the White House in May 2012.
"This time, I've returned only to find my vice president getting busted at the Capitol.
"Last week I told mother and dad that I was coming here to the bust unveiling. Dad perked up, and he said, 'Send my best regards to old iron a**!'"
President Bush's father, George H.W. Bush (president 1989-1993), described Cheney - his defense secretary during the 1991 Gulf war - as a stubborn "iron a**" in a recent biography.
But Bush was also generous in his praise, saying: "For eight years Dick stood by my side and always did what was right for our nation. I could not have asked for a better vice president than Dick Cheney."
Cheney, whose bust lines up along with a host of other vice presidents from down the years, called it a proud day.
"Every now and then, even in the distant future, someone will surely wander by the old Cheney bust, maybe even stop for a moment or two, trying to recollect something of the man, and the era," he said.