in local news.....
Former prime minister and WTO director-general
Mike Moore dies aged 71
Caroline Williams and Stuff Reporters·12:51, February 2nd, 2020
Former New Zealand Prime Minister Mike Moore has died. He was 71.
Moore served as prime minister with Labour from September to November in 1990, at the age of 41, installed by caucus just weeks before the 1990 general election, replacing Sir Geoffrey Palmer.
At the time he was New Zealand's third prime minister in 13 months, and lasted 59 days until Labour lost the general election. Moore subsequently lost the leadership to Helen Clark, but he stayed in Parliament for nine years in Opposition.
"I enjoyed Parliament, I came back to the party and I had a couple of senior jobs," Moore recalled in 2018. "But I just saw the way the place was managed, that I would not be as successful as I wanted to be. And my mind started travelling ..."
Moore's wife, Yvonne, said he has suffered "numerous health issues" since having a stroke in 2015 while he was New Zealand's ambassador in Washington DC.
ROSS SETFORD/ STUFF
Former Prime Minister Mike Moore, photographed in 2010 when he was appointed as the new ambassador to the USA.
She said he wanted to spend his final months in Kawakawa and Moerewa in the Far North, where he had grown up.
"[He] wanted to spend his final months in the place that gave him his drive, spirit and courage."
RNZ
Mike Moore spent most of his life in the Labour Party, becoming an MP at the age of 23.
Moore's greatest fear was that he'd die before seeing another Labour government.
"He was elated when Jacinda Ardern became Prime Minister and thinks she's extraordinarily gifted and has the potential to achieve more for New Zealand and on the international stage than any other leader."
In 1999, Moore secured the job of director-general of the World Trade Organisation, a job he kept until 2002.
"Even when I took the first plane to Geneva, on the flight over I was wondering if I'd done the right thing," Moore recalled in 2018. "But the WTO is the most important job a New Zealander's ever held."
OLD FOES UNITED BY HISTORY
Former Prime Minister Jim Bolger – the man who defeated Moore in an election landslide in 1990 – praised the former Labour leader for his enthusiasm and commitment to spreading free trade across the globe.
"I think the main thing, the important thing - and he carried this work to the World Trade Organisation – was an extraordinary passion for lowering borders for trade," Bolger reflected on hearing the news of Moore's death.
"He would have been terribly disappointed with the current administration in the US tightening up trade," Bolger said.
Moore spent most of his summer in Matauri Bay, only returning to Auckland in recent weeks due to ill health.
She described him as "stubborn, optimistic, generous and kind".
UNIVERSITY OF WAIKATO
Jim Bolger - the man who defeated Moore in an election landslide in 1990 - praised the former Labour leader.
"Mike would be horrified at the tariff wars going on between the US and others at the current time, so contrary to what he put his life and passion into opposing."
The ex-prime ministers club is small enough, but Bolger and Moore were also both New Zealand Ambassadors to the US and both entered parliament in 1972.
"The thing that distinguished him from that time was his enthusiasm and compassion in whatever he was doing," Bolger said. "You don't have to agree with anything he said, but you had to admire that."
Bolger also said that Moore's death might be time for some on the Labour side of politics to reflect on a man who - in his estimation - stayed true to Labour values.
"The Labour Party – and it's hard for an outsider to know – had terrible division and debates during the Rogernomics years. That all sort of came out in three prime ministers in 13 months, culminating in Mike taking over as leader. He thought it was best to throw the dice to bring a coherence to the Labour message in that year [1990]," Bolger said.
"I'm sure there will be many in the Labour Party who will reflect on that period and how he held true to the core values of the Labour movement while others moved away."
'A HUGE INTELLECT, AND A HUGE HEART'
Prime Minister Jacinda Ardern said she had been "incredibly lucky" to have seen Moore on Friday.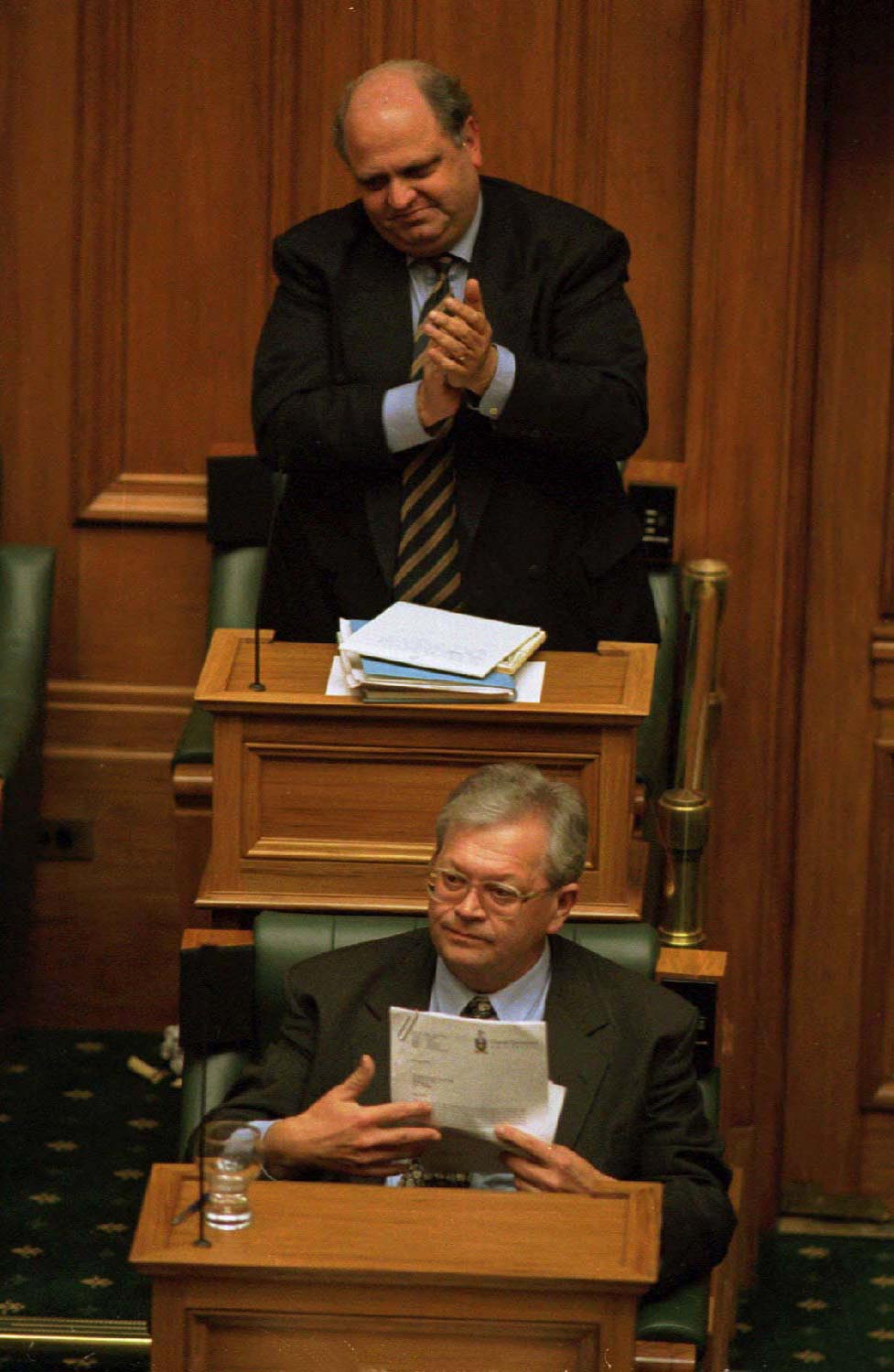 BARRY DURRANT/GETTY IMAGES
Moore stands and congratulates former prime minister David Lange after his valedictory speech in Parliament in 1996.
"He never lost his interest and passion for politics, because he saw it as such an important vehicle for change."
She said he had marked his legacy to New Zealand by opening up world trade and creating opportunities for New Zealand exporters to new markets.
"He dedicated his life to the service of New Zealand.
"The world lost a man with a huge intellect, and a huge heart today."
Deputy Prime Minister Winston Peters described Moore as "one of the great New Zealanders".
"Mike spent every day of his life trying to make things better for New Zealand and New Zealanders," he said.
Moore was a "rare politician" where politics improved his outlook, he added. He never stopped learning and worked to evolve his views over time.
MARTIN HUNTER/GETTY IMAGES
Moore, then New Zealand Ambassador to the US, and Christchurch Mayor Bob Parker battle heavy wind and rain as US Secretary of State Hillary Clinton boards her plane in Christchurch in 2010.
Peters said Moore was a "passionate, funny, mischievous man" who would be sorely missed.
"Many New Zealanders will have fond memories of his political career – whether his championing of lamb burgers, his witty turn of phrase, his restless energy, or his passion for helping New Zealanders of all walks of life.
"Everywhere he went, people saw the passion Mike had for New Zealand and connecting it to the world."
National Party leader Simon Bridges said Moore was "a great fighter for Kiwis who needed a hand up and a staunch advocate for free trade," while deputy leader Paula Bennett said he was "a damned good bloke" who had shown her great kindness and support despite being a "staunch Labour man".
PHIL WALTER/GETTY IMAGES
Ben Smith (L) and Wyatt Crockett (R) of the All Blacks speak with Mike Moore (C) pictured in Chicago in 2001.
Former prime minister Helen Clark shared her condolences to Moore's family via Twitter.
"Mike was a passionate New Zealand and spent his life serving New Zealand and its values," she wrote.
MOORE UNDERESTIMATED
Auckland mayor and former Labour MP Phil Goff paid tribute to Moore, whom he lived with during a stint of "couch surfing" when he left home at age 15.
Goff said he looked to Moore as a key influence on his policies as mayor.
"He was here to make a difference in parliament and he did. He had a knowledge and a wisdom beyond his years."
STUFF
Wellington MPs Peter Dunn, John Terris and Dr Gerard Wall meet with Roger Douglas (Minister of Finance), and Mike Moore (Minister of Tourism) on September 10, 1985.
Moore "probably underestimated" his influence on New Zealand, he said, and his appointment to the World Trade Organisation was homage to his reputation.
"He won that position from being, effectively, a backbencher in the New Zealand parliament. That was a phenomenal achievement."
Moore's "special ability" to deliver fresh and innovative ideas was one of his greatest achievements, especially in his role as the overseas trade minister, Goff said.
"Not many people have that in politics."
He had battled illness for most of his life, and the fact he made it to "the top in politics" spoke volume about his "sheer commitment" to what he believed in.
"He stood for the underdog and he had a strong sense in social justice."
BRENDON O'HAGAN/STUFF
Moore had battled illness for most of his life, and the fact he made it to the top in politics spoke volume about his sheer commitment to what he believed in, said Auckland Mayor Phil Goff.
AMBASSADORS REFLECT
United States Ambassador to New Zealand Scott Brown said he was "deeply saddened" to learn his friend had passed, and said he would never forget his advice and counsel.
"Mike lived a life of service to his country. The US-NZ friendship is deeper and stronger because of him," he tweeted.
Former Ambassador of Australia to Italy Mike Rann also tweeted his "immense sadness" over Moore's death.
"[He was] a great patriot for his country and a great friend of Australia."
ROAD TO POLITICS
Moore was born in Whakatane in 1949, and his earliest work was in the construction and printing industries, at the freezing works, and as a trade union researcher.
He left school at 14 and made history in 1972 when he entered Parliament after being elected to represent Mt Eden, in Auckland,and became, then, New Zealand's youngest MP, aged just 23. He later represented seats in Christchurch.
During his time in Parliament he held the ministerial portfolios including overseas trade and marketing; tourism sport and recreation; foreign affairs, and finance.
GEOFF DALE/ NEW ZEALAND HERALD
David Lange, left, Michael Bassett, Roger Douglas and Mike Moore eating fish and chips after Lange had lost a caucus vote to take over leadership from Bill Rowling. Many people will be familiar with this photograph as it prompted the label of 'fish and chip brigade' for the Labour members of Parliament who would eventually make David Lange leader of the Labour Party and Prime Minister.
In 1990, Moore received the Commemoration Medal, and in 1999 he was given the Order of New Zealand.
He authored several books including Beyond Today, A Pacific Parliament, and Fighting for New Zealand, was a member of the Privy Council, and in 2000 was given an honorary doctorate of commerce by Lincoln University.
In 2015, Moore suffered a stroke, and subsequently left his then-post as ambassador to the United States, a role he had had since 2010. Prior to that, in 2014, he had heart valve replacement surgery.
In one of his final interviews, in 2018, from his Matauri Bay home in the Bay of Islands, he spoke of his recuperation.
"I've recovered as much as I can. I have problems walking, but everything else is pretty good."
Stuff
https://www.stuff.co.nz/national/119210 ... es-aged-71
Ghost Note:
Back in the day my ex wife (th' little bitch from hell) was one of Mike's personal assistants.
As the husband of a parliamentary staffer I got to eat
huge
subsidized meals at Bellamy's, parliament's restaurant.
Mike crashed our lunch dates on many occasions, a very very nice man, he will be missed.....