Former All Blacks captain and coach Sir Brian Lochore dies following cancer battle
09:09, Aug 04 2019
Legendary former All Black Sir Brian Lochore has died, following his battle with cancer. He was 78.
Lochore was one of the most admired figures in world rugby, having achieved fame and respect as a player and later as a coach and manager.
The 78-year-old, who played 25 tests (68 matches) for New Zealand at No 8 and lock from 1964 to 1971, died on Saturday.
Lochore's wife, Lady Pam and the couple's three children said they were mourning, but are relieved his suffering had ended. They wanted to express their gratitude for the care and support the family has received since Lochore's diagnosis.
Son David Lochore said: "We would like to note a special thanks to all the doctors that have tried so hard and the exceptional care the palliative nurses have shown to our Dad.
"To those from around New Zealand and the world who have sent messages, these have been enjoyed by our Dad and appreciated by us all.
KAI SCHWOERER/GETTY IMAGES
Sir Brian Lochore, pictured with the Lochore Cup, has died, aged 78.
"Our heartfelt gratitude to family and friends who have provided support to us during this time, we thank you for your kindness.
"Dad led a life that was full and one which he was very proud of. Our hearts are breaking at a life we feel still had much to give."
New Zealand Rugby chief executive Steve Tew said New Zealand had lost a legend.
"We have lost a genuine legend of our country, an unwavering figure on the field, and a highly respected figure off it," Tew said.
"His family has lost a devoted husband, father and grandfather and for many of us, a great friend.
"It is not over-stating the facts to say that Sir Brian Lochore was the saviour of New Zealand rugby on several occasions and many of us have lost a great mate."
All Blacks head coach Steve Hansen said "one of New Zealand's tallest kauri has fallen".
"Sir Brian Lochore is one of of the most respected men in New Zealand, not only in rugby but all facets of New Zealand life," he said.
"On behalf of the All Blacks and myself personally, we pass on our deepest sympathies to Pam, their kids David, Joanne and Sandra and the wider Lochore family. Our thoughts and prayers are with them. Arohanui from us all."
All Blacks captain Kieran Read said: "This is an incredibly sad day. Sir Brian was an icon of our game. On behalf of all players, our thoughts go out to his family at this time."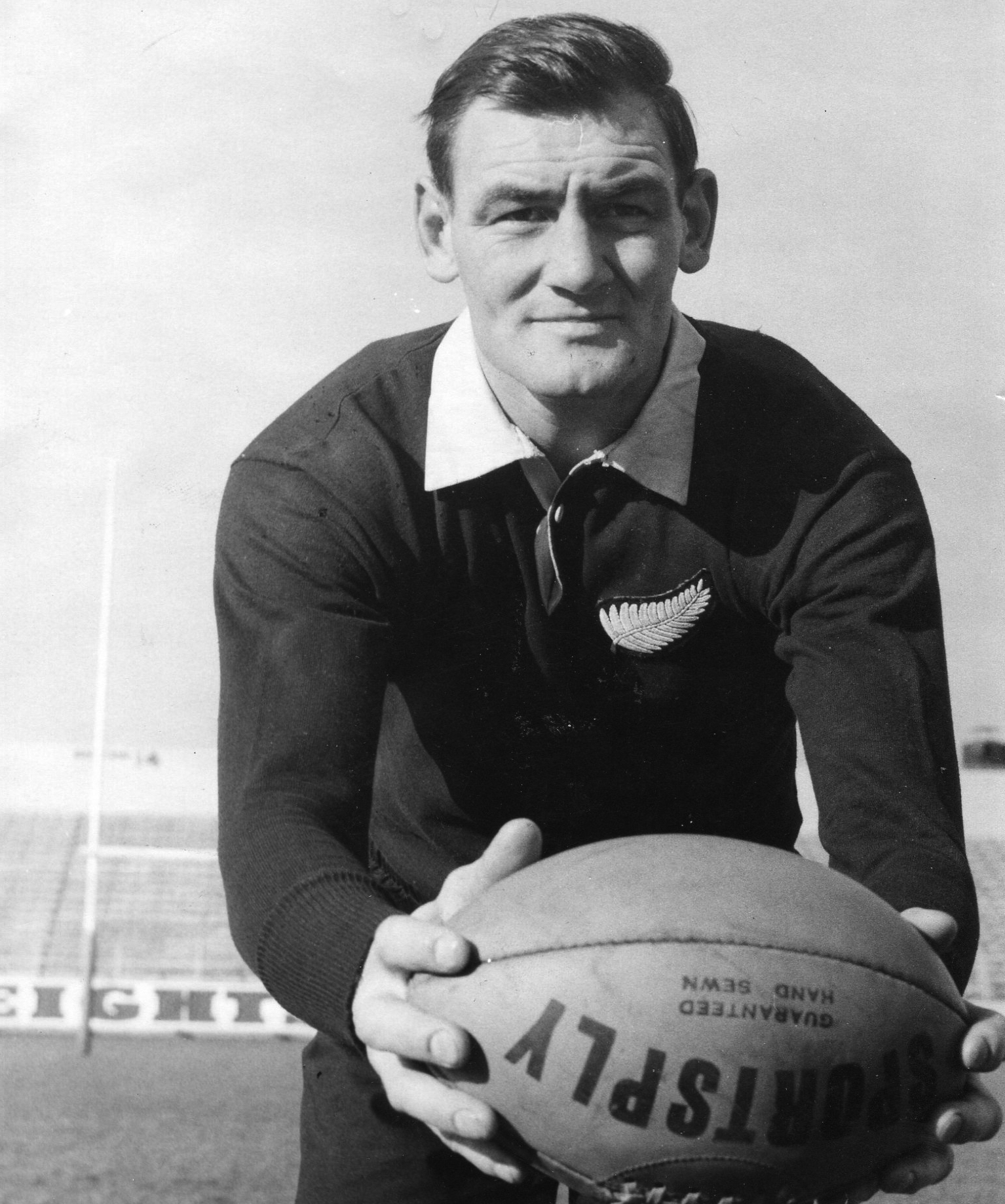 SCAN/THE DOMINION POST
Former All Black Sir Brian Lochore.
Former Masterton mayor, international referee and long time friend Bob Francis said the Wairarapa community would ensure Lochore's memory lived on.
"We'll discuss all those things after the service, but I know this region will be very keen to recognise him in a way that sees his memory carried on forever. He's always been seen as ours," he said.
"He was a very special guy. He loved this place, and never lost where he came from. He did so well on the international stage but always retained that special relationship with the community. He'll be missed all right," Francis said.
Former TV3 sports presenter Hamish McKay said he got to know Lochore during his career as a commentator and journalist.
McKay paid tribute to Lochore on Saturday night.
"I first met him in his mid 40s and he was still a monster of a man. He had that sheer physical presence, but it was more than matched by his presence as a gentleman. He didn't have to talk it up, he just did it," he said.
"He played at that time when i heard my own father talk about Meads, Kirkpatrick, Tremain, McCormack and others.
"Despite all of the great number 8s we've had, he was still in the conversation as an all time great. He is one of those great kauri of the time."
THE DOMINION POST/SCAN
Sir Brian Lochore played 25 tests for New Zealand at No 8.
Wairarapa Bush Rugby Football Union chief executive Tony Hargood said Lochore was a giant in the region's rugby community and he would be sorely missed.
"His coaching prowess in the 1987 World Cup is something the community has always been very proud of. In 2015 we redeveloped Memorial Park [in Masterton] and the Sir Brian Lochore stand was opened in his honour. He's been such a great mentor to so many and has always been available," Hargood said.
"He had a great, great love of club rugby. He always attended the annual rugby awards. The 'club of the year' award is named in his honour and would be presented by him and Lady Pam," he said.
"As a region we've lost a great man".
Lochore is survived by Pam, their children David, Joanne and Sandra, and their eight grandchildren.
Details of the funeral service will be made available once they have been finalised.
ALL BLACK GREAT
Lochore retired after the tour of South Africa in 1970, but famously came out of retirement to play against the Lions in a test in 1971 when injury hit the New Zealand forward pack.
After taking up coaching, Lochore was made an All Blacks selector in 1983. He then became the national coach in 1985 and led the team to victory two years later at the inaugural World Cup, on home soil.
Lochore was also campaign manager for the team at the 1995 World Cup, and was a selector when they won the tournament for a second time in 2011.
Martin Hunter/Sunday Star Times
Sir Brian Lochore, right, speaks with incoming All Black rugby captain Richie McCaw at the Christchurch Rugby club after a press conference to confirm his appointment on May 13, 2006.
His reach extended beyond rugby, and among the many national and community roles he has had is being a former chairman of the Hillary Commission for Sport.
In 1999 Lochore was inducted into the International Rugby Hall of Fame, and also knighted, for his services to sport and the community.
On June 14 it was revealed by New Zealand Rugby chief executive Steve Tew that Lochore had that week received news from doctors that he had bowel cancer and was to soon have treatment.
It was not the first time Lochore had been diagnosed with cancer.
In 2016, he was treated for melanoma and prostate cancer and was also laid low by toxoplasmosis, a parasitic infection that can leave some with flu-like symptoms.
He overcame the prostate cancer with radiation treatment.
Gary Caffell, who co-wrote Lochore's biography Lochore in 1996, said he would be remembered for his skill, his humility and his mana.
"The first thing I'd say about BJ is just how humble the guy was. For all he had achieved he was always just 'BJ'. He never, ever got above himself. He was always available to people. Around here [Wairarapa] everybody knew him as 'BJ' and that's the way he wanted it," Caffell said.
Leonard Burt/Central Press/Hulton Archive/Getty Images
New Zealand international line-out forward Brian Lochore, captain of the President's XV, 7th April 1971.
"He had a mana about him. He commanded respect. There was just something about him. A very special man."
Lochore was revered for many things, but for locals it was for bringing Wairarapa-Bush from "basically the bottom team in New Zealand up into the first division within a couple of years".
"That was just like a fairytale in New Zealand rugby, and a lot of that was due to his ability to turn ordinary players into something a bit more than ordinary just through is ability to get the best from people without screaming or yelling. I'm not sure how you describe it really," Caffell said.
"He'd sit down with players and talk with them one on one. It was amazing watching how he got through to them. Of course he went on to take the All Blacks after that," he said.
Stuff
https://www.stuff.co.nz/sport/rugby/all ... cer-battle