I've known of the Genesee for many years, but this is my first time. Nice theater (in a crappy part of town).
There was a drawing for a poster. Of course, we didn't win. There was also a stand-up of TR in armor that you could have your picture taken with. I'm declining to share that particular pic though.
Where the Global tour had towers of lights, now we have 2 hanging sheets, although I'm sure "sheets" is the wrong word. This is how the stage was set pre-show.
That is one sheet behind TR and the background singers. Unlike the Global tour which had a DJ, on this tour we have a Band! Then, behind the band is another hanging sheet, so you get images behind images. Very cool.
The band, as one might hope, was Prairie Prince, Kasim Sultan, Jesse Gress and Greg Hawkes (Cars keyboardist). Felt a bit bad not seeing these guys much during the show...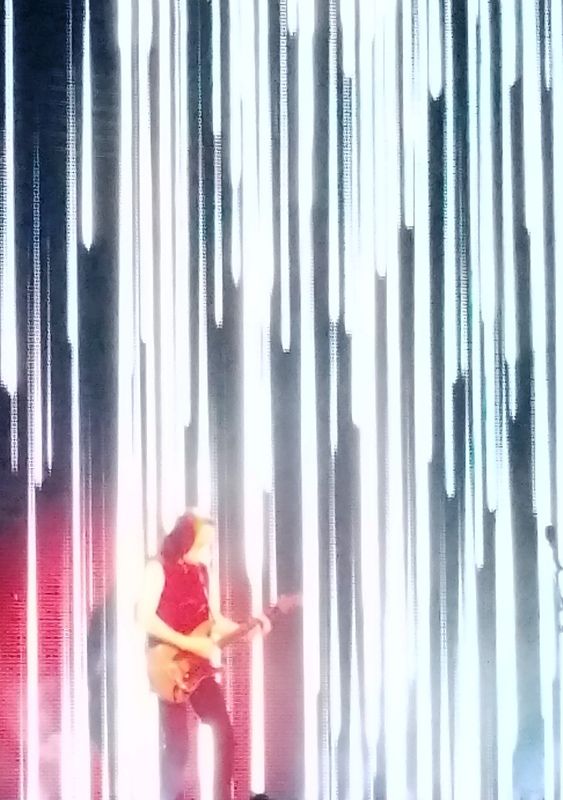 Sometimes, they let the video take over. I don't know who the guy on the screen was, but he was the vocals.
Then there was a segment about the POTUS.
And just tons of cool imagery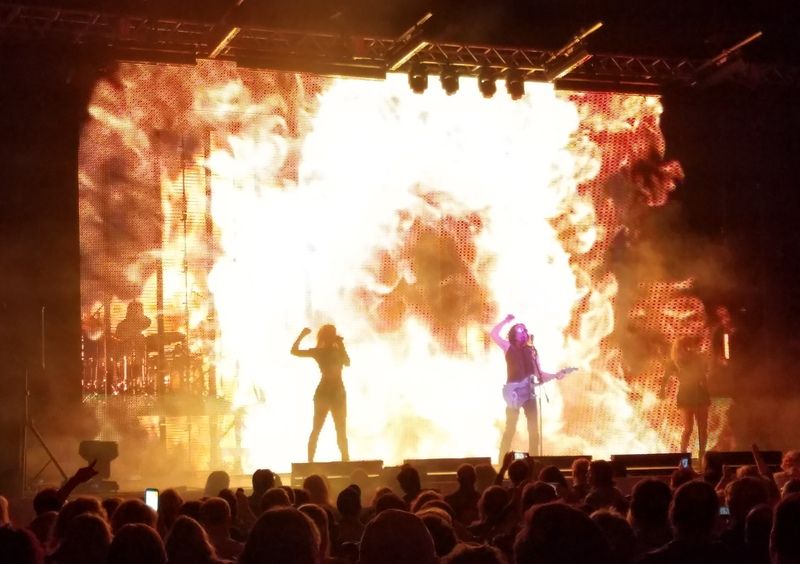 So, after all that, my wife and I still heard people in the lobby complaining that they didn't like the show. Clearly, many people prefer TR's Greatest Hits showz and this definitely isn't that. The setlist below was from the St. Louis show, but last night was pretty much the same, if not identical. You have to get to Love Science to hear a song as far back as the early 90s and all the way to the encore to hear anything from early 80s, 70s or 60s. So, I get how casual listeners wouldn't be in love with this list, but I thought it was awesome and a treat for the hard-core who like the setlist shaken up at least a little bit.
Come
Truth
Evrybody
Rise
Look at Me
Sir Reality
Deaf Ears
Let's Do This
Buffalo Grass
Strike
Secret Society
This Is Not a Drill
Tin Foil Hat
Beginning (Of the End)
Love Science
Sweet
Party Liquor
Past
Chance for Us
No World Order 1.1
Buy My T
God Said
Encore:
One World
Hello It's Me
Just One Victory