Dave Granlund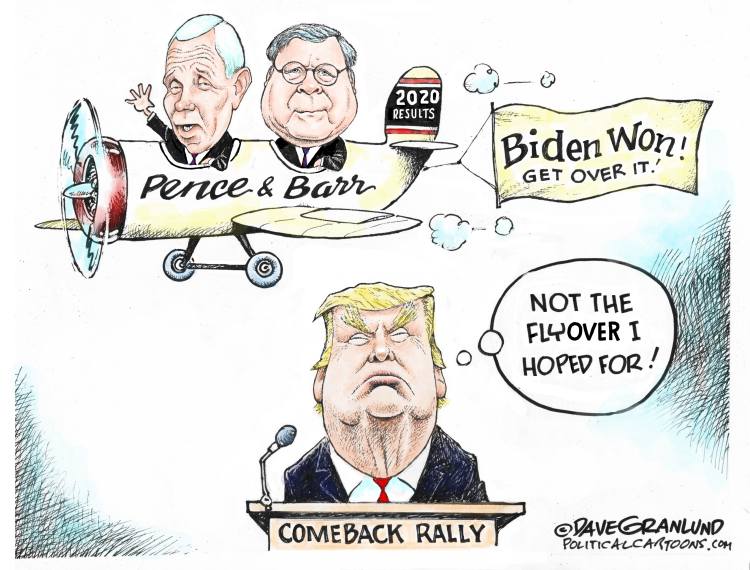 Former AG William Barr is trying desperately to salvage what is left of his reputation, something he mauled rather badly during his (second) time running the Dept. of Justice. ABC's chief Washington correspondent Jonathan Karl is writing a book about the Trump administration entitled
Betrayal
. For the book, he interviewed many people, including Barr. Monday,
The Atlantic
published an excerpt from the book. (
https://www.theatlantic.com/politics/archive/2021/06/william-barrs-trump-administration-attorney-general/619298/
) In the excerpt, Karl reports that Barr betrayed Trump on Dec. 1, 2020, during an on-the-record lunch with AP reporter Michael Balsamo in the AG's private dining room. Between bites of his salad, Barr told the journalist: "To date, we have not seen fraud on a scale that could have effected a different outcome in the election." Balsamo couldn't believe his ears and asked Barr to repeat it. Barr repeated it. Balsamo then wrote a story saying that the Dept. of Justice could not find any evidence for the claims Trump was making that the election was stolen from him. In effect, Balsamo was quoting Barr by name calling Trump a liar. Balsamo's story went out right after lunch.
When Trump got wind of the story, he blew a gasket. Witnesses said that he had "the eyes and mannerism of a madman." He confronted Barr. The conversation went like this:
Trump: "Did you say that?"
Barr: "Yes."
Trump: "How the fuck could you do this to me? Why did you say it?"
Barr: "Because it is true."
Trump: "You must hate Trump. You must hate Trump."
Barr thought Trump was trying to control himself, but he was angrier than Barr had ever seen him before. And by then, every cable channel except OANN was covering Balsamo's story. Trump kept peppering Barr with all kinds of claims, and then switched to old grievances like Barr not prosecuting Hunter Biden and James Comey. He told Barr that he was worthless.
Karl also related that Senate Minority Leader Mitch McConnell (R-KY), ever the coward, was afraid to come out and say that Biden won and Trump was lying. Instead, he wanted Barr to do the heavy lifting so all of Trump's ire would be directed at Barr, not himself. Well, it wasn't only that McConnell was a coward. He was also afraid that if he (McConnell) came out and said that Biden won, then Trump would be so angry with McConnell that he (Trump) would sabotage the Republicans in the Georgia runoffs they needed to hold the Senate. So by letting Barr be the fall guy, McConnell hoped to salvage the Senate. It didn't work, of course.
Barr also told Karl that he wasn't surprised by the election outcome. He had expected Trump to lose. When Trump started whining, Barr said it was all bullshit. He did look for fraud, but there wasn't any. For example, Trump's allies had videos of boxes and boxes of ballots from Wayne County being trucked to the TCF Center in Detroit. Aha! Ballot box stuffing! But upon investigation, Barr learned that, unlike other Michigan counties, Wayne County always trucks the ballots to a central location for counting, so this was completely expected.
He also looked into allegations that the voting machines were rigged against Trump. From the start, he thought the claims were bullshit, but after the hand counts done later agreed with machine counts, he was positive they were.
Mike Luckovich