Barr Testifies
Dave Granlund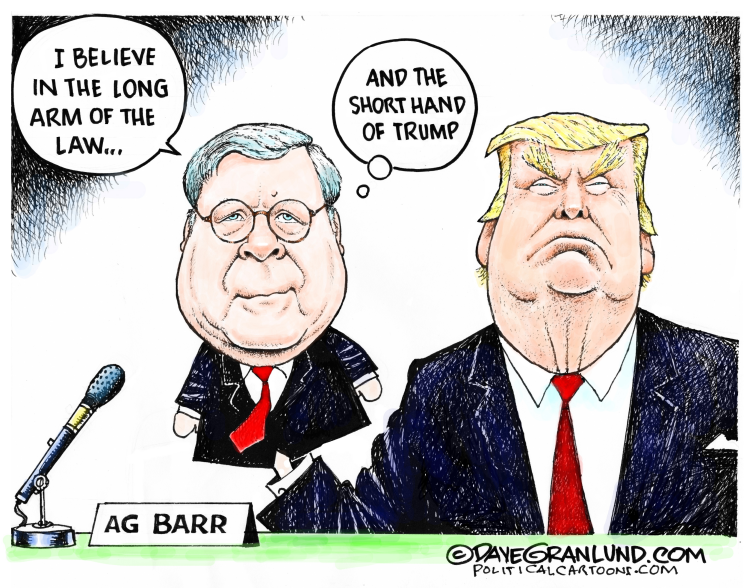 Attorney General William Barr appeared before the House Judiciary Committee on Tuesday, as scheduled. Over the course of five hours, with many slings and arrows hurled in both directions, Barr managed to make one thing crystal clear: He is 100%, absolutely, no doubt about it, in the bag for Donald Trump.
Among the highlights (lowlights?):
Answering a question about his intervention in the sentencing of Roger Stone and Michael Flynn, Barr asserted that "The president's friends don't deserve special breaks, but they also don't deserve to be treated more harshly than other people." Rep. Eric Swalwell (D-CA) asked if Barr had intervened in the sentencing of anyone who is not a Trump friend, and the AG admitted he had not.
He said that the President's re-election bid sometimes comes up at Cabinet meetings, but that he does not see that as a problem, since it doesn't influence policy. Barr also noted that while he's busy not worrying about Trump's re-election this October, he might just release the report from U.S. Attorney John Durham about the Russia investigation (or the "bogus Russiagate scandal," to use the AG's words).
Barr justified his deployment of federal officers to Portland and other cities, declaring that the protesters are "violent rioters and anarchists," are guilty of "an assault on the government of the United States," and are a threat to national security. He did not explain exactly how they threaten national security.
He insisted that America's police departments don't have a racism problem, and defended that point by asserting that he's seen studies showing that "police are less likely to shoot at a black suspect, a little more likely to shoot at a white suspect." He could not cite those studies. Further, he is certainly intelligent enough to recognize the inherent dishonesty of that framing, since white Americans outnumber Black ones by a margin of about 4 to 1.
The AG said that voting by mail is susceptible to large-scale fraud by foreign actors. He could not explain how that fraud might be perpetrated, or provide any evidence for his assertion.
When Rep. David N. Cicilline (D-RI) asked "Is it ever appropriate, sir, for the president to solicit or accept foreign assistance in an election?," Barr responded: "It depends what kind of assistance" before later deciding it's probably not appropriate. There is, of course, no type of foreign assistance that is legal for a presidential candidate to receive.
Responding to a question about the lack of sufficient COVID-19 testing, Barr laid the blame at the feet of...Barack Obama, declaring that "the problem of the testing system was a function of President Obama's mishandling of the CDC."
If there is one thing here that is not 100% the Trump party line, we are not seeing what it is. At the same time, Barr presented himself as something of a hero, someone who had no interest in returning to public life, but came out of retirement to "restore a sense of justice" to the Justice Dept., and who thinks he's done a fine and dandy job of doing that. He also argued that he could not possibly be corrupt because he's never used the powers of the department against political foes. "What enemies have I indicted?" he asked. A failure to commit one specific abuse of power (as far as we know) is pretty thin evidence to hang your hat on while presenting yourself as a modern-day Solon.
So, what did the Democrats achieve on Tuesday? Not much. They collected plenty of rock-solid evidence about the kind of AG Barr is, but everyone who is willing to consider that evidence already knew he was a Trump henchman. And what did Barr achieve? Well, he was presumably performing for an audience of one, and that one was undoubtedly delighted by what he heard. As an added bonus, Sean Hannity and Tucker Carlson now have a week's worth of material for their shows.
https://www.politico.com/news/2020/07/27/barr-faces-democratic-barrage-382916
https://www.politico.com/news/2020/07/28/barr-pre-election-release-durham-report-385244
https://en.wikipedia.org/wiki/Solon