https://www.politico.com/news/2020/06/20/trump-rally-tulsa-coronavirus-reset-2020-campaign-330248
https://www.theguardian.com/us-news/2020/jun/20/trump-covid-19-kung-flu-racist-language
https://www.dallasnews.com/news/politics/2020/06/19/what-might-emerge-from-trumps-tulsa-rally-cheers-clashes-contrition-and-contagion/
https://www.youtube.com/watch?v=EEJogV-xUIM
Adam Zyglis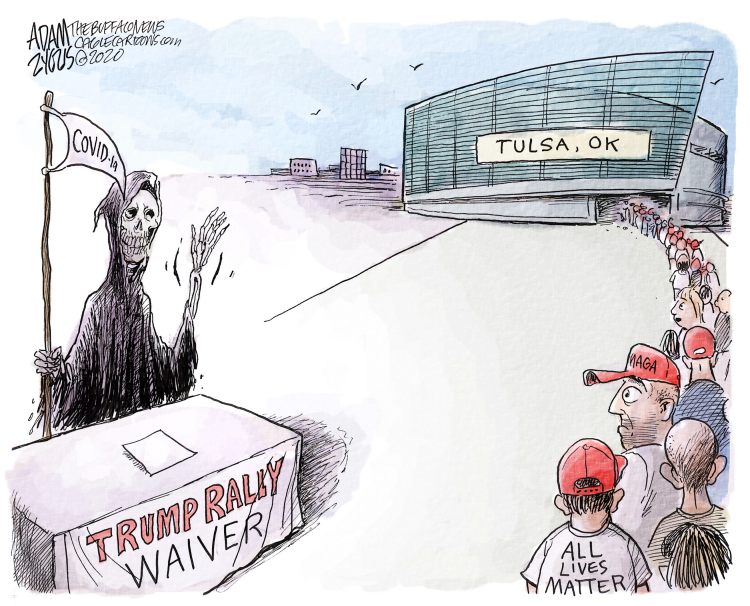 Martyn Turner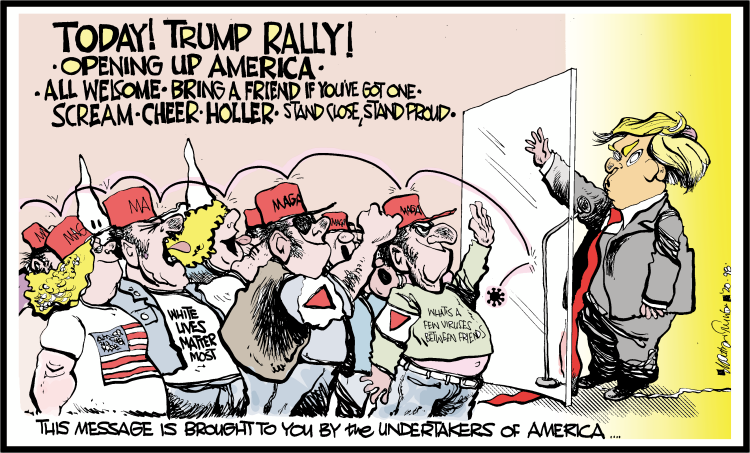 Donald Trump, who has spent the last several months largely cooped up in the White House, wanted an in-person rally so badly he could taste it. So, despite vast pressure to call it off, the President moved forward. Given the incubation time involved with COVID-19, this is a story whose end has presumably not been written. However, a few significant things can already be said:
Few masks...and few people:
Oklahoma is a ruby red state, there was theoretically pent-up demand for an event like this, and the Trump campaign bragged that it received over a million requests for tickets. When the rubber hit the road, however, the arena was half-empty, and the area set aside for overflow was a ghost town. Right up until start time, the campaign was sending out text messages to supporters encouraging them to show up and telling them plenty of seats were available.
What happened? Well, the one million figure was presumably a gross exaggeration, one based on a number that was already distorted by anti-Trump activists who signed up for tickets they had no intention of using. In addition, many folks clearly did not buy into the "COVID-19 is all gone" line the administration had been peddling, and did not much feel like taking their lives into their hands, especially since few attendees were masked. And finally, one has to wonder if the Trump act is wearing thin. He was a not-many-tricks pony when he was a reality TV star, and he's a not-many-tricks pony as president. Is there anything to be seen at a Trump rally that can't be seen on TV every day, or in YouTube clips of past rallies?
In any case, in an effort to save face, the campaign blamed protesters for the poor turnout. That was pretty much the only option, as the President surely isn't going to admit COVID-19 is still major concern, nor that people are growing bored with him, nor that his campaign was duped. Of course, this will also send the message to protesters that their efforts are paying dividends, and are putting a burr under Trump's saddle.
A little casual racism (or more than a little):
Though there weren't that many people there to see it, Trump was in mid-campaign form, with his rapid fire litany of complaints and bugaboos and barely encoded dog whistles. He defended Confederate statuary (which many would consider a racist viewpoint) and he described COVID-19 as "kung flu" (which is definitely racist, and consistent with the President's program of trying to scapegoat the Chinese for the virus). The president also attacked several Democratic politicians by name: Rep. Alexandria Ocasio-Cortez (D-NY), Rep. Ilhan Omar (DFL-MN), and Mayor Muriel Bowser (D-Washington, D.C.). Hmmm. Besides being members of the opposition party, what do these three folks have in common?
It Made People Sick:
Literally. At least six campaign workers who helped do setup for the rally have already been diagnosed with COVID-19. Of course, as Trump explained during the rally, we wouldn't know about all these persnickety COVID-19 diagnoses if we didn't insist on testing people. Hard to argue with that logic, though even the adoring crowd seemed nonplussed that their candidate just admitted he prefers ignorance to knowledge. In any event, with people already getting sick, the odds that this does not turn into a superspreader event just got worse.
That's the story for now, but check back in a couple of weeks to see what the COVID-19 situation is. One also wonders when Team Trump will attempt another rally, given that this one went so poorly (and things are likely to get worse).
Bill Day