Taylor Jones
RNC Chair Ronna Romney McDaniel may think she is leading the Republican Party, but now that Donald Trump is stuck in Florida without a Twitter feed, the real leader of the Party is Mitch McConnell, and certainly not the hapless House Minority Leader Kevin McCarthy (R-CA). McConnell has his work cut out for him trying to win the House and Senate in 2022. His biggest task is somehow unifying the Party. Voting to acquit Trump and then trashing him won't solve the problem of the Party being split between Trumpers and anti-Trumpers.
Bill Day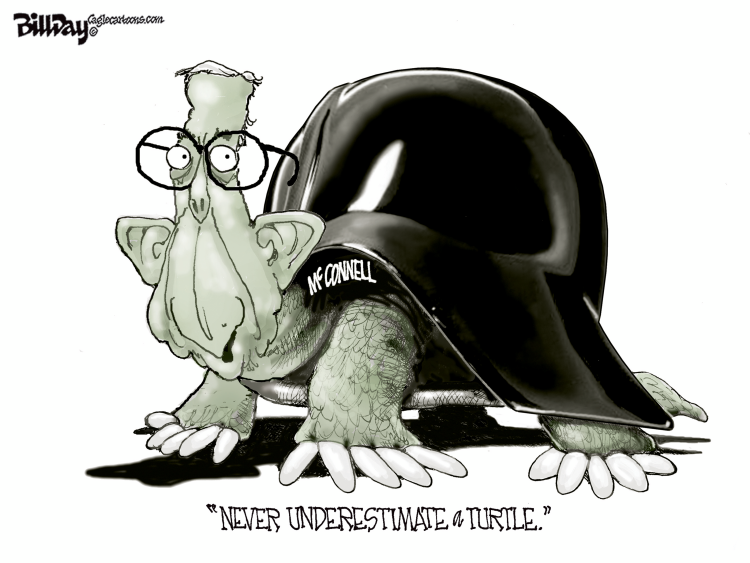 McConnell's biggest goal is getting his old job back (followed closely by making Joe Biden a one-term president). To achieve #1, he has to avoid losing any (potentially) winnable Senate seats in 2022. First case in point: Arizona. Sen. Mark Kelly (D-AZ) is on the ballot for a full 6-year term in Arizona in 2022. However, the state Republican Party has been taken over by the wackos, who recently condemned former Republican senator Jeff Flake and Cindy McCain for not being Trumpy enough. If the state party tries to run a Trumpy candidate (for example, state chair Kelli Ward) McConnell made it clear that he will intervene and try to defeat such candidate in the primary. Second case in point: North Carolina. There Trump's daughter-in-law, Lara Trump, who has no political experience—except cheerleading for her father-in-law—is toying with a run for the open Senate seat in 2022.
Jeff Koterba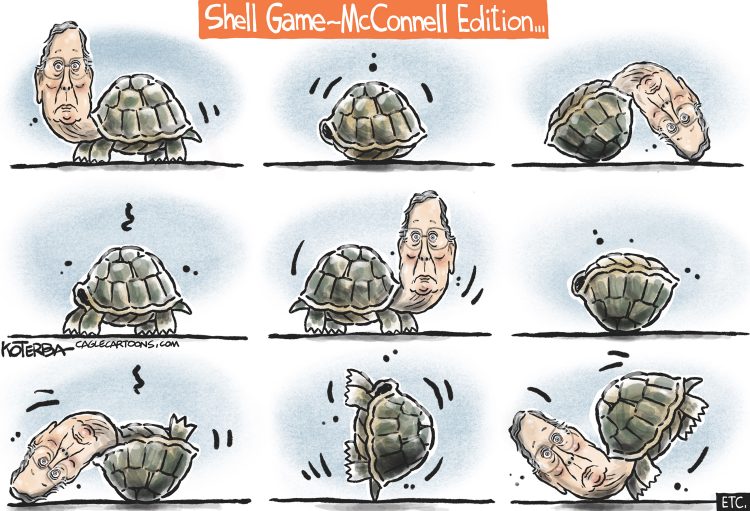 Unlike Trump, McConnell is honest about his goals and intentions. He said: "My goal is, in every way possible, to have nominees representing the Republican Party who can win in November. Some of them may be people the former president likes. Some of them may not be. The only thing I care about is electability." That is typical McConnell. What he cares about is power, not ideology. If the people of, say, Wyoming, want a super Trumpy Senate candidate, that's fine with him because any Republican can win in Wyoming. In swing states like Arizona, North Carolina, and Georgia, Trumpy candidates probably can't win statewide anymore, so McConnell is going to open the money spigot to defeat them in the primaries. The Trumpish wing of the GOP won't take that lying down, so there are going to be fireworks ahead.
R. J. Matson
Complicating McConnell's plan to defeat Trumpish senatorial candidates in winnable states is that some of his members are: (1) very Trumpy and (2) planning to run for president in 2024 as "new, improved Trump" look-alikes. These include Sens. Ted Cruz (TX), Josh Hawley (MO), and Rick Scott (FL), among others. That could lead to situations in Arizona, North Carolina and other states in which McConnell is busy funneling money to a traditional Republican in a primary while Cruz and Hawley are out there vigorously campaigning for that candidate's opponent in order to demonstrate their Trumpishness. Trying to keep the Party together will test McConnell like he has never been tested before. The only thing all Republicans agree on is that Joe Biden is the most left-wing pinko Commie president in the nation's history and his radical agenda would embarrass Karl Marx and Che Guevara.
John Darkow