Last week, Senate Minority Leader Mitch McConnell (R-KY) blustered and thundered that if the Democrats abolish the filibuster, he will be really, really angry and there will be hell to pay. Why did he bother? It isn't as if the Democrats are now cowering under their desks, too frightened to do it, lest they incur his mighty wrath. Their decision to
reform
(not abolish) the filibuster will depend on whether they can get 50 votes to do so in their own caucus. What the Republicans want is irrelevant. Sen. Joe Manchin (D-WV) is the key player here, not McConnell.
Dick Wright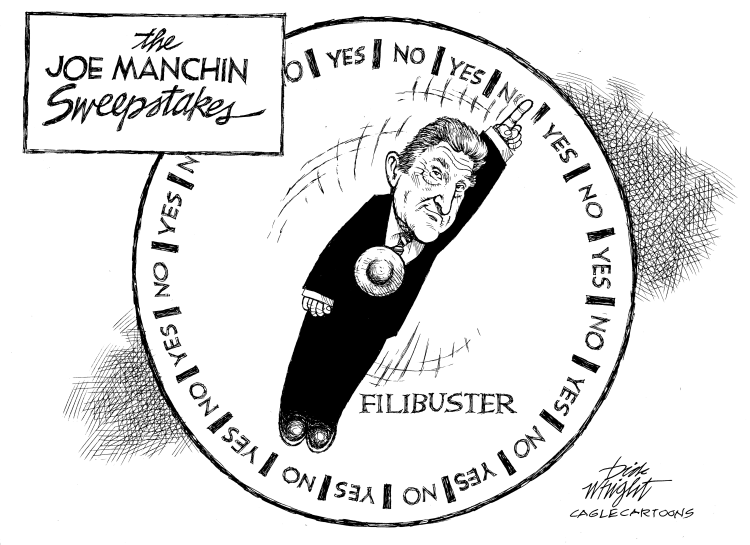 Greg Sargent at the
Washington Post
has a plausible reason why McConnell actually wants to keep the filibuster. And it is not about what the Democrats might do now. It is about what might happen if the Republicans win all the marbles in 2024. Fundamentally, there are two categories of things Republicans might do if they had the White House and a majority in the Senate and House. First, they would confirm conservative judges and pass tax cuts. But they can do both of those with or without the filibuster. The former can't be filibustered and the latter can be done using the budget reconciliation process.
Phil Hands
Second, they will try to pass all kinds of legislation that the activist conservative grass roots would love but would be a disaster for the Party in 2026. Imagine a law making it a felony to cross state lines to obtain an abortion—with a 10-year prison sentence for the first offense going up to 50 years on the third one. Before too long, many red states won't have any abortion clinics left, so the only way for a woman to obtain one would be to cross state lines (or an international border). McConnell knows the pressure from the base to pass laws like this would be unbearable if there were no filibuster. Now he can say to the activists: "No can do, because the Democrats will filibuster it." McConnell knows that if there were no filibuster and extreme laws like that were proposed, he would catch hell from the base if he didn't bring them up for a vote and would lose his majority in 2026 if he did.
Pat Bagley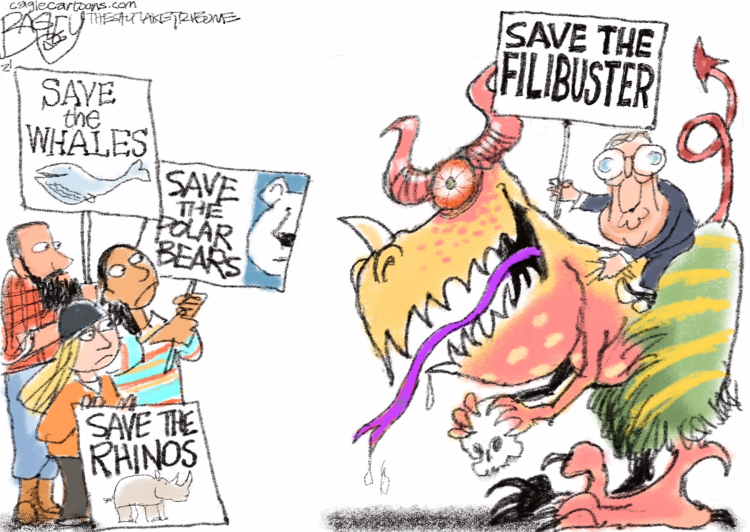 And abortion is only one issue. How about a federal law allowing concealed carry of any weapon in any state? How about a federal law banning immigration of all kinds? Or a law providing a $1,000 bounty for anyone capturing an undocumented immigrant and turning him or her over to the Border Patrol? And since fetuses would be legally people by, say, Feb. 1, 2025, capturing and turning over a pregnant woman would be worth $2,000. There are so many more laws the base would demand but which would wipe out the GOP at the next general election.
David Fitzsimmons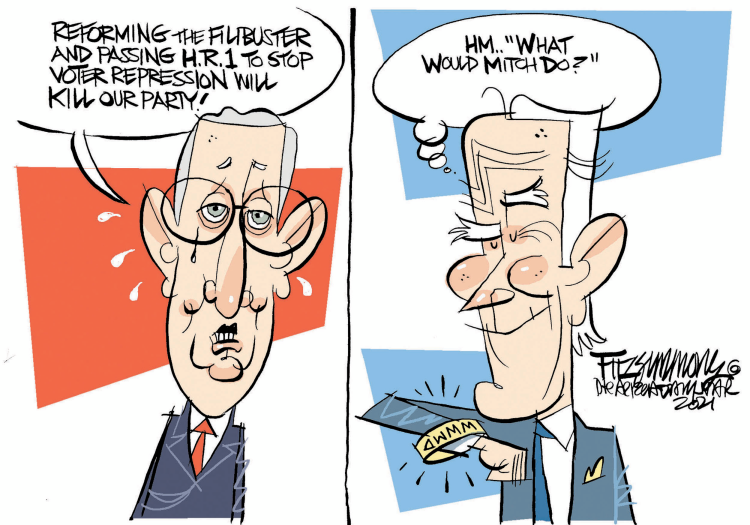 Another problem is the asymmetry in what the parties want. Most of what the Republicans want could be undone the next time the Democrats took over. Taxes on rich people could be raised, interstate travel for abortions could be made legal again, and concealed carry could be made illegal again. However, the Democrats' priorities, like making D.C. a state or granting citizenship to all the undocumented immigrants would be very hard to reverse. Other things, like repealing H.R. 1 and taking the vote away from people who just got it, would be technically possible but would generate an enormous blowback that would hit Republicans like a ton of bricks. So in this view, McConnell sees the filibuster as an excuse he can offer to the base when they demand things he knows are very unpopular. He can just say: "Democrats will filibuster it" so he is off the hook.
WP article
https://www.washingtonpost.com/opinions/2021/03/18/why-republicans-want-to-keep-filibuster/
Chip Bok