Donald Trump thinks that the Republican Party belongs to him. He's not entirely wrong about this. However, it's also Mitch McConnell's party. And unlike Trump, McConnell is still in office, and also has access to social media. So, the Minority Leader has a say in things, too.
One of the biggest differences between the nation's two most powerful Republicans is their goals when it comes to endorsing and supporting candidates for office. McConnell cares about power, both for himself and for the Party. A candidate could insult the Minority Leader's wife, kick his dog, and spit on his mother's grave, and McConnell would still back that candidate if he believed that person was the most electable Republican available. Trump cares about massaging his ego and about score-settling. He picks candidates based on how enthusiastically they kiss the ring, and whether or not they have the same enemies he does.
In view of this, the National Republican Senatorial Committee (NRSC), which largely takes its marching orders from McConnell, said last week it will "review" Trump's endorsements, and may back candidates other than those that he favors. This was prompted, in particular, by The Donald's endorsement of Rep. Ted Budd (R-NC) for the open North Carolina U.S. Senate seat. The Representative definitely knows how to kiss some Budd (or something like that), but he might not be the most electable fellow in the purplish Tar Heel State. The NRSC hasn't thrown its weight behind some other candidate yet, but they might.
Truth be told, the NRSC would prefer to stay neutral during the primaries, consistent with Ronald Reagan's 11th commandment of politics: "Thou shalt not speak ill of other Republicans." But that would require Trump to stay neutral and keep his mouth shut, and those are two settings he does not have. Of course, this only gets interesting if (1) McConnell and Trump disagree on a significant number of candidates, and (2) one of the two backs considerably more winners than the other. If those two things do happen, then it will give some indication of whose party it really is.
David Fitzsimmons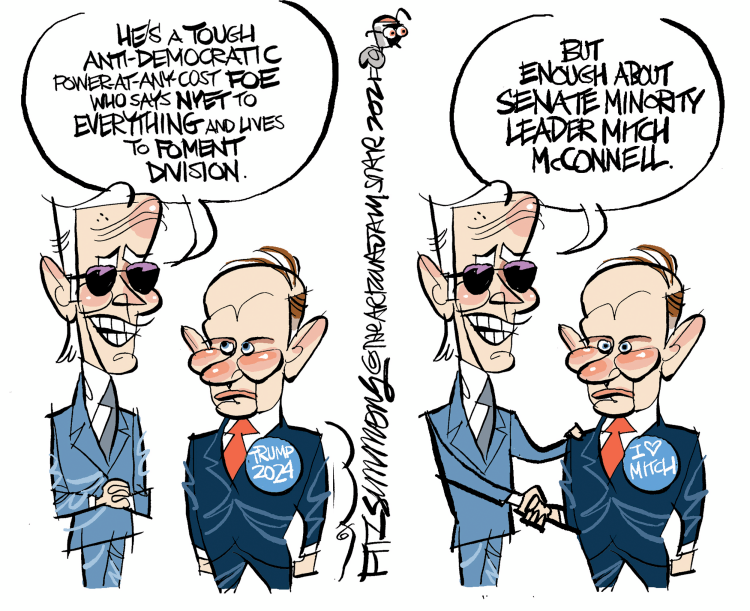 Although turtles are not as well known as foxes for their cunning, McConnell is trying his best to raise their profile. He has dangled the ultimate carrot in front of Joe Biden, saying that he thinks a bipartisan deal on infrastructure is possible. Biden will have a tough time resisting. Of course the deal consists of Biden accepting the Republican position, something the Democratic wing of the Democratic Party will never accept.
Darrell West, of the Brookings Institution, said: "McConnell's strategy is divide and conquer. He wants to drive a wedge between Biden and progressive Democrats and he knows if he can do that, one, he creates big problems for Biden, and, two, he limits Biden's ability to pass transformative legislation." Biden has been around for a while and knows this, of course, but the lure of bipartisanship is so great that he will have trouble not taking the bait. When Odysseus knew he was about to hear a message he wouldn't be able to resist, at least he had the foresight to get his team to lash him to the mast. Maybe Biden needs to get his staff to take away his Apple watch and lock him in the Lincoln bedroom until this is over.
The one thing that could save Biden is having the Gang of 10 proposal crash and burn in the Senate. If Republican senators reject what the gang has come up with, then the temptation to go along will be gone and Biden can be released from the Lincoln Bedroom with no damage done. But of course, the Republican senators take direction from McConnell and he may tell them not to kill it outright, but to keep a small ray of hope alive, in order to keep Biden under its spell. The longer this game goes on, though, the more insistent progressive Democrats will become on stopping the game and getting something done. But as long as Sen. Joe Manchin (D-WV) isn't on board, that isn't an option for now.
Kevin Siers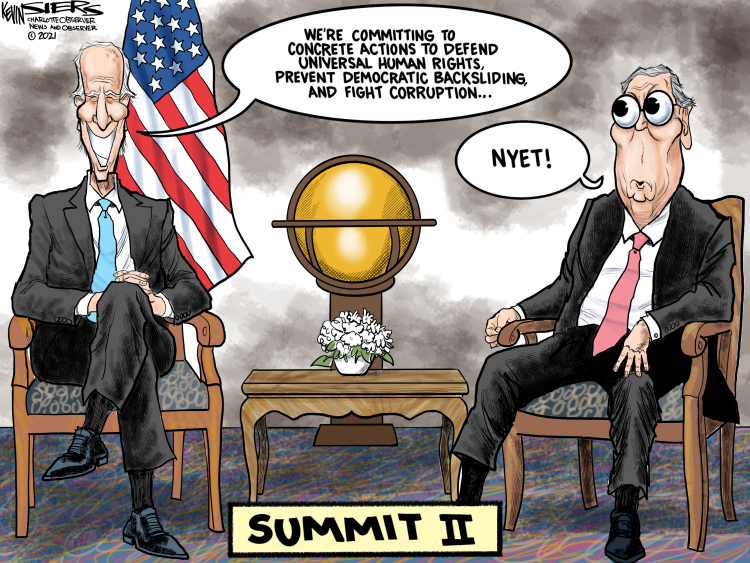 McConnell was on Hugh Hewitt's radio program Sunday, because heaven forbid he should talk to any outlet that might actually challenge him. And while the two men conducted this month's meeting of their mutual admiration society, Hewitt asked what would happen if the Republicans regain control of the Senate in 2022, and then a Supreme Court vacancy came up in 2024. The Minority Leader said: "I don't think either party, if it controlled, if it were different from the president, would confirm a Supreme Court nominee in the middle of an election. What was different in 2020 was we were of the same party as the president." McConnell was also asked about a 2023 vacancy, and said: "we'd have to wait and see what happens." For those who do not speak fluent McConnellese, that means: "We would not approve a Biden nominee in 2023 unless hell freezes over."
McConnell's logic for how 2020 was somehow different from 2016 remains nonsensical; either a president is elected for a four-year term or they aren't, and if they are, they have the same powers on the first day of their term as they do on the last day. He's almost certainly right, however, that neither party will ever again approve a nominee in an election year, unless the nominee is made by a president of the party that controls the Senate. And if he gets to set the precedent that the year before an election is off-limits, then we'll soon be at a place when nominees can only be confirmed in the first year of a president's term. Or, perhaps even more likely, a place where they can only be confirmed if the same party holds the Senate and the White House.
Slate's Mark Joseph Stern, lays out the broader strategy here: Republican leadership knows that many of their policy goals cannot possibly get through Congress, so instead they'll be implemented by conservative judges. Think reaffirming the Second Amendment, severely limiting abortion rights, or making it harder to vote.
McConnell's admission is only going to intensify the pressure on Associate Justice Stephen Breyer to get while the gettin's good. Thus far, he's dug his heels in and insisted that he isn't going anywhere. That said, Ketanji Brown Jackson, who is understood to be his preferred candidate to succeed him, was confirmed to the U.S. Court of Appeals for the D.C. Circuit on Monday. If Breyer is just waiting for her to get a little seasoning before being promoted, well, he can now start that clock.