Giuliani May Have to Choose between Saving His Own Neck or Trump's
Bill Day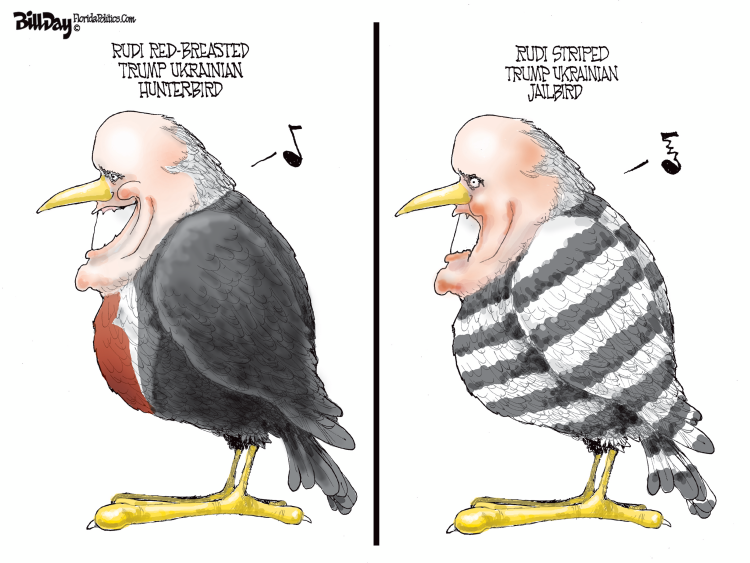 Former federal prosecutor Renato Mariotti, someone who understands how federal prosecutions work in detail, has written an article in
Politico
stating that Rudy Giuliani is in big trouble and his only way out may be to implicate Donald Trump.
Mariotti notes that the mere fact that federal investigators showed up at Giuliani's home and office with search warrants and seized his computer and other electronic devices tells us that Giuliani is already in very deep doodoo. To get search warrants, the investigators had to show a federal judge
actual evidence
that Giuliani committed a federal crime and convince the judge that more evidence was likely to be found in his home and/or office. Suspicions and hunches don't count. Federal judges do not issue warrants based on hunches. The fact that a judge issued the warrants means that investigators already have dirt on Giuliani. What they are looking for is more corroboration.
Mariotti thinks that the crime being investigated is a violation of the FARA (Foreign Agents Registration Act), which requires people working for a foreign government to register as such. He thinks that Giuliani was lobbying Trump on behalf of Ukrainian oligarchs and some Ukrainian officials who wanted the U.S. Ambassador to Ukraine, Marie Yovanovitch, fired because she was actively opposing the corruption those oligarchs were perpetrating. If Giuliani was being well compensated by the Ukrainians for attempting to get rid of their nemesis, Yovanovitch, and he didn't register under the conditions imposed by the FARA, he would be guilty of a crime.
So far, Giuliani's defense has been "there was no written contract," but Mariotti says that won't work. If you work for a foreign government or its agents and are paid for doing so, you have to register, even if there is no written contract. An oral contract is still a contract in this case.
So what are Giuliani's lawyers going to tell him to say at the trial, if there is one? His best option is to say he was working entirely on Trump's behalf and at his direction, and Trump knew everything he was doing and approved it. Then he could say that he was working to advance the interests of the United States as expressed by the president, not those of a foreign country. That would probably get him off the hook, as carrying out the president's lawful instructions is not a crime.
However, if Giuliani offered that defense, the Justice Dept. would instantly subpoena Trump so they could ask him about it under oath. He would then be subjected to a withering cross examination under oath. This case would not be handed to a couple of summer interns. Given the stakes, the Justice Dept. would use the cream of the crop, the best seasoned prosecutors they have. Trump is well known for lying under oath and would be no match for the Justice Dept.'s top prosecutors. He could easily slip up and lie about something that was easily proven to be false, thus setting himself up for a perjury charge.
If Giuliani uses the "Trump ordered me to do it" defense, Trump could plead the Fifth Amendment. However, he has repeatedly said that doing so makes you look guilty. And given how chaotic and disorganized he is, one has to wonder if he has the discipline to answer every question with "I hereby invoke my Fifth Amendment right not to answer that question." What if the prosecutor said: "Did you commit a federal felony while in office, yes or no?" and Trump pleads the Fifth? How will that look in 2024? If he says no, the prosecutor will have follow-up questions prepared and Trump will quickly forget his lawyers' entire plan.
If Giuliani is indicted and then asks Trump to play along at the trial and Trump refuses, Giuliani will be in a real bind. He could claim Trump told him to do it, but without any backup, that won't get him very far, especially if Yovanovitch knows more than she let on in her House testimony. Then Giuliani's lawyers could say the only way to avoid prison is to flip and rat on Trump concerning the Jan. 6 insurrection and a lot more. If Giuliani learns that Trump won't come to his aid, he could easily conclude it's every man for himself.
Mariotti's article
https://www.politico.com/news/magazine/2021/05/02/giuliani-trump-legal-trouble-485186