punknaynowned wrote: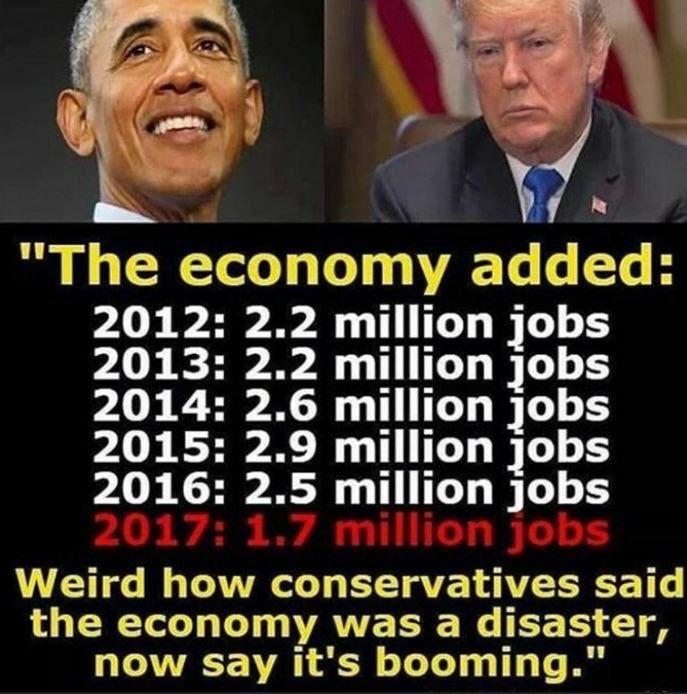 Not weird at all. Financiers will reap major stock dividends from this recent wholly partisan Congressional theft called 'To provide for reconciliation pursuant to titles II and V of the concurrent resolution on the budget for fiscal year 2018' and known as The Tax Cut. Finance and (only slightly more than half) of Congress and Drumpf's cronies love it. Everybody else who gives a shit hates it. Sure can't blame the media on that. Because financiers as a class get LOTS of positive press. What's up with that cognitive dissonance?
The fact is, the US is being held hostage for at least 8 years now. And hostages are slowly being killed off at a rate of tens of thousands a year. Whether it is by guns or opioids or excessively priced meds, or the removal of benefits by federal or state cuts which have kept people alive for many generations all our lives.
It's evil. It's here. It wants us dead. What are you gonna do about it?
Trump helped to created MORE than 1.7 million jobs in 2017, shithead. It was closer to 1.8 million. And considering he put a freeze on Federal Government hiring and that the minimum wage incrementally increased in 18 cities (it's due to increase in 19 states shortly), that's extremely impressive, especially considering the majority of them are better quality jobs.
From 2009-2016, food stamp recipients rose from 32 to 47 million, there were more people on welfare than
EVER
, the Labor Force Participation Rate was the lowest it had been in 39 years, the Homeownership rate was the lowest it had been in 52 years...and the vast majority of the 17 million jobs that were created were 'shovel ready' part-time / contract jobs that went nowhere. Lastly, nearly 15 million people dropped out of the workforce who were eligible to be employed.
Now, here's a dose of reality:
2017/2018 Trump Administration Accomplishments (
UPDATED
):
~ over $6 Trillion in wealth created
~ best job #s in quantity
EVER
(as of December 2017, 154,021,000 employed) - has broken SIX job creation quantity records
~ more positively consistent monthly labor force participation rates (as of December 2017, 62.7%...but would be at least 63% without Harvey & Irma) than most months Obama was in office
~ 2 consecutive 3%+ GDP quarters (soon to be 3 quarters), which hasn't happened in nearly 4 years
~ the largest tax cut bill (individual and corporate rates) in nearly 30 years - and as a result, AT&T, Comcast, Walmart, Waste Mgmt., and several other similar sized companies are EACH giving $100-200 million dollar bonuses to hundreds of thousands employees
~ Obamacare mandate repealed, giving free choice to consumers, instead of being financially penalized for not conforming to the plan
~ highest stock market performance
EVER
(currently the DOW is over 25,000)
~ lowest unemployment rate in nearly 17 years
~ lowest youth unemployment rate in 29 years
~ lowest African American unemployment rate
EVER
(as of December 2017, 6.8%)
~ lowest Hispanic unemployment rate
EVER
~ highest Homeownership rate in 10 years
~ highest African American homeownership rate
EVER
~ over 900 job-killing regulations eradicated
~ food stamp recipients at a 7 year low (2 million less people receiving them)
~ 75% less illegals crossing the US/Mexican border already, even though a completed Trump wall
~ a 58% increase in coal exports in the 1st quarter
~ an infrastructure bill (that includes eliminating wait times for large building permits/licenses and related regulations of up to 17 years down to 2 years)
~ a veterans' health care bill (that transfers almost all power to veterans, who then can fire their health care provider if they don't match their expectations)
~ dozens of legislative & executive orders
Etc., etc., etc., etc., etc.
_________________
"...I'm absolutely a Libertarian on
MANY
issues..." ~ Frank Zappa, Rochester, NY, March 11, 1988