Plook wrote:
I could post dozens of these different indicator charts covering many economic trends since 2009 and they all show the same thing as this seasonal employement chart, the trend is virtually unchanged since the President Obama Recovery plan was instituted, the Cheat-O presidency had no discrenable effect except for (2) charts...the Stock Market and Corporate profits...things that make you go Hmmm...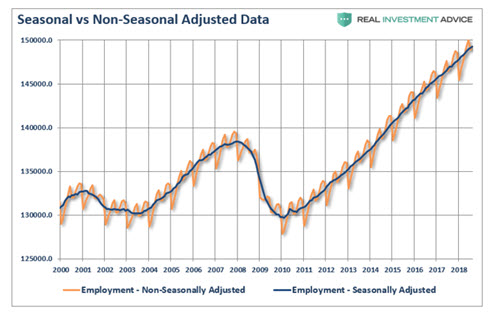 You're fooling NO ONE who happens to be paying attention. There was virtually no growth during Obama's 8 years in office, as evidenced and proven in my monthly reports. The only significant growth that occurred was in the stock market...
ONE. MORE. TIME. FOR. THE. WORLD.:
Let's see the bulk of what the Obama Administration accomplished by 2016:
~ labor force participation rate hit a 39 year low
~ homeownership rate hit a 52 year low
~ food stamp recipients rose from 32 million to 47 million
~ welfare recipients rose higher than since the Great Depression
~ majority of the 17 million jobs created were shovel-ready, part-time / contract positions, that, in many cases, don't even exist any longer
~ added $10 Trillion to the national debt (which literally doubled it) in only 8 years, more than all 43 Presidents combined
~ drove thousands of businesses overseas, due to extreme over-regulation, taxation & the Obamacare mandate
~ only administration not to reach 3% annualized GDP in history
~ ISIS spread into 30+ countries
~ allowed foreign countries to over-charge on imported tax rates, thus making the US vulnerable to being taken full advantage of
Etc., etc., etc.
I've got an idea. How about posting a more comprehensive economic summary, like I do, on a monthly basis...?
Caputh wrote:
Disco Boy wrote:
And the mileage of wall completed thus far is an average, hence when I stated over 100+ miles, there obviously was no exact figure reportable at press time for that particular month. "To complete 450 miles by the end of 2020", that you quoted is an estimate and one that I've actually never heard before (?!). Almost ALL liberal media are FAKE NEWS, as evidenced and proven by YEARS of BULLSHIT stories reported by BULLSHIT so-called journalists (the most egregious being Trump/Russia collusion!!!).
Rarely have I seen such a successful demonstration of double standards. Thank you.
Yet ANOTHER misquote (most notably, how you conveniently forgot to include my first sentence). For a minute there, I thought you were losing your touch!
_________________
"...I'm absolutely a Libertarian on
MANY
issues..." ~ Frank Zappa, Rochester, NY, March 11, 1988