Pedro has fallen hopelessly in love with a tree in the woods.
A little strange perhaps, but what the fuck? It's a free country.
Let the man be in love with the tree out in the woods.
After all it took quite awhile before he was able to settle on this one.
Not his first pick but it did seem to be the best of all bad options.
He could listen to the tree all day. It talked to him! and he found only it seemed to validate his growing fears.
He knew, the tree did not belong to him. But he belonged to the tree.
And that's all he really wanted. To belong.
It was clearly true, the tree was not The Party he wouldn't join.
But that Party always listened to the tree, and so did DJT.
The Party loved to hate on the Other Party.
And so did pedro, and so did DJT.
The tree wondered if it wasn't time for more people to die.
They didn't deserve it. Save the fetuses instead!
When in doubt, Privatize it! For Profit Prisons? Privatize it!
More Guns and War was the ONLY answer, those others just won't behave!
The Party could go along with that, 'Who gets paid? and who will pay the money?'
In the last twenty years, as precedent, I have some pretty clear evidence that George W Bush ran an illegal torture network, invaded countries and authorized a massive spy program that vacuumed up massive amounts of Americans' data without a warrant. He was of The Party. The tree nodded it's approval and shouted down anyone who might think to disagree. Pedro didn't much like the tree then. Times change.
"Deficits don't matter." - Dick Cheney
But, looking around instead at the forest and hearing other voices, instead of just listening to one tree,
the US Deficit (like that was ever an 'issue' worth arguing over) has grown under every recent Republican president, and fallen under Democratic presidents.
And in recent news...
This Week:
-The Dow fell 1,175 points
-Trump called Democrats "treasonous"
-Trump asked for military parade
-Rob Porter resigned for domestic abuse
-John Kelly defended Porter
-Trump said "I'd love to see a shutdown"
-The Dow fell 1,033 points
-The government shut down a 2nd time
On the last five weeks:
This week: spousal abuse by Staff Secretary for US Pres Donald J Trump
One week ago: the Nunes memo.
two weeks ago: news Trump moved to fire Mueller last July, against lawyer's wishes
three weeks ago: US Gov shutdown by a party that controls both Houses of Congress!
four weeks ago: POTUS claims US doesn't want people from "shithole" countries and news that a porn star was given $130k payoff to stay quiet about affair with IMPOTUS after last child was born
five weeks ago: "Fire and Fury" and Bannon excommunication
six weeks ago: New Year's Day
On "I have the best people":
John Kelly smeared an African-American congresswoman.
He characterized the Civil War as a lack of compromise.
He attacked Dreamers as lazy.
He lavished praise on a known wife beater.
Enough puff pieces.
John Kelly is not the "grown up in the room."
Or,
It's interesting how Trump is calling for extreme vetting to keep out terrorists but can't even keep a man who beat two of his wives from working in the White House.
Abusers, liars and grifters on the White House payroll? Defended.
A few illegal immigrants who've been law-abiding citizens for decades? Deported.
Meanwhile, somebody is getting paid. And deportations on the rise, illegally? Unconstitutionally?
On the matter of 'the shake-up', to drain the swamp of corruption:
For reference, by definition, this is one piece of evidence of graft.
In an email no less.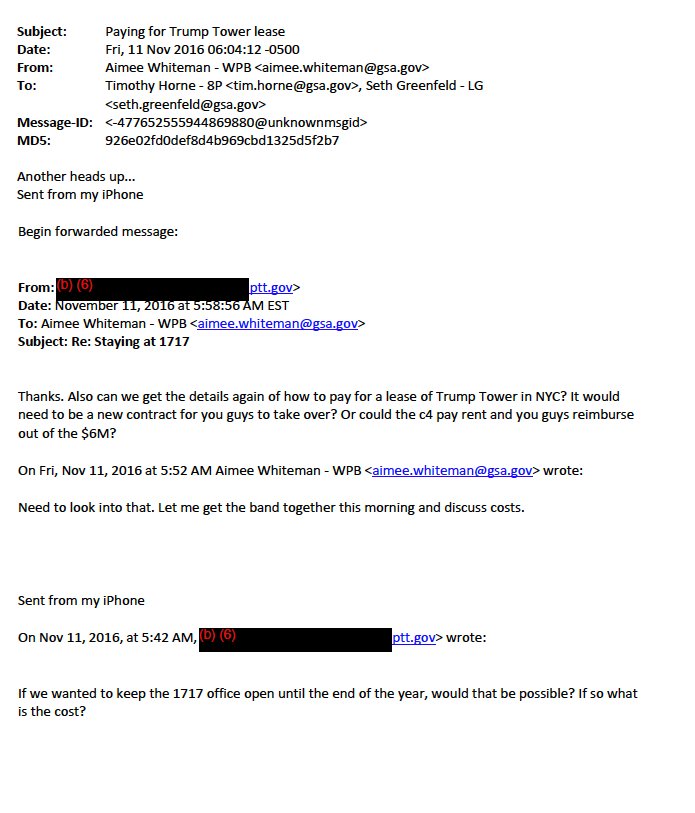 News today, for another example:
Mississippi is being asked to subsidize a new hotel to be managed by the Trump family business. DJT gets paid. Experts say it raises constitutional issues. Pedro doesn't get paid, but he loves the tree. The forest resoundingly disagrees.
https://www.nytimes.com/2018/02/09/business/trump-hotel-mississippi-tax-break.html?smid=tw-nytimes&smtyp=cur
There are many, many more. Betsy DeVos, Steve Mnuchin, anyone? The trees around already know about that.
Very quietly, said the tree, so no one else might hear: "Shhhh! Don't talk about Russia. They help DJT and his allies in Congress get paid."