cory1984 wrote:
Former U.S. president Donald Trump launches 'TRUTH' social media platform
Everyone has been expecting this for years, and now it's (apparently) happening. Donald Trump announced, late Wednesday, that he will be launching his own social media platform, called TRUTH Social, and a streaming service called TMTG+.
Assuming that the prototype images are accurate, then TRUTH will have a very familiar look: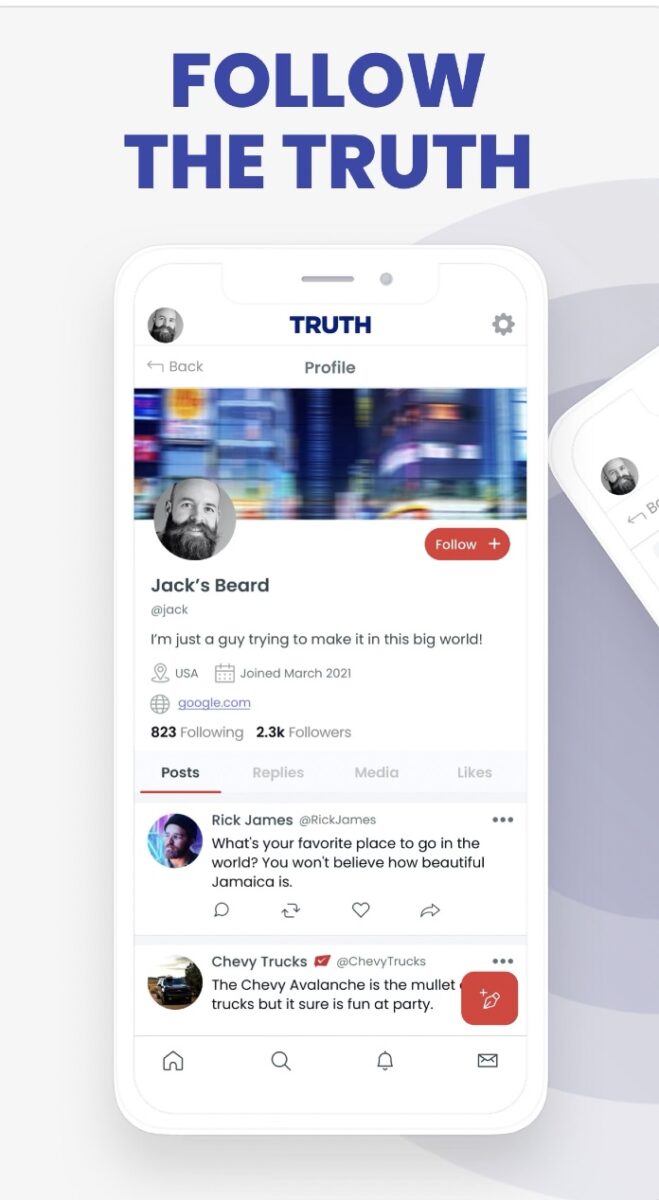 For those who are not clear what they are looking at, here is what the Twitter app looks like:
As you can see, Team Trump ain't exactly revolutionizing the game. That said, messages sent through the Trump service will be known as TRUTHS and Re-TRUTHS, and not tweets and re-tweets, so that's completely different, right? Meanwhile, Trump acolyte Jason Miller, who went all-in on GETTR, must be feeling like a real chump right now. Yesterday, he dejectedly declared that he and Trump may not be working together anymore, but "I'm still his number one wingman."
As to TMTG+, that stands for Trump Media & Technology Group Plus, since that is the company behind this new venture (guess who is president and CEO?). Reportedly, the platform will be a one-stop source "for 'non-woke' entertainment programming, news, podcasts, and more." When Trump first ran for president in 2016, people thought that a Trump-branded media network was his endgame, so the only surprise here is that it took as long as it did.
Of the two ventures, TMTG+ has far and away the better chance of succeeding. The streaming marketplace is jam-packed right now, but if the people who are actually running the service manage to get Trump to focus long enough to produce 3-5 rambling hours of podcasts a week, that would be a draw. If they are willing to spend some coin, they might plausibly poach a few stars from other platforms and services. Alternatively, they could just wait until conservatives get themselves fired from their current jobs and then snap them up. Former WSU coach Nick Rolovich is now available to do a sports show, and ESPN personality Sage Steele is likely to be available soon if he needs a co-host.
As to TRUTH, that has "epic failure" written all over it. All of the other attempts to launch a right-wing Twitter have gone nowhere: Gab, Parler, GETTR, etc. There is extremely limited value in being part of a platform that has limited reach, and where the audience is almost entirely an echo chamber. Further, a wild, wild west approach inevitably attracts a bunch of parodists and a bunch of truly awful people, forcing the platform to start cracking down, deleting content, suspending users, etc. And if you are willing to accept that sort of moderation, as a user, then would you rather be on a service that has hundreds of millions of users, or one that has hundreds of users?
One might argue that Trump & Co. will somehow do better than the others who have launched Twitter clones. Maybe so, but that does not mean that success will be in the offing. Further, the early returns suggest that, as you might guess, the people who are building TRUTH have no idea what they are doing. The platform has been accessible, off and on, for a few days, and even though today is just Friday, it has already been hacked and abused six ways to Sunday. There was nothing stopping people from signing up for accounts with handles like donaldjtrump or mikepence, with the latter quickly acquiring a profile picture that showed a defecating pig. There were security holes large enough to sail the
Titanic
through, and it's clear that the source code is just a reheated version of Mastodon, which is free software for people who want to run social-networking sites. Either the Trump Media & Technology Group is trying to do things on the cheap, or they couldn't find anyone to hire who has the faintest clue about how to build a social media site from the ground up.
At the moment, TRUTH is supposed to have a soft launch next month, and a full launch in February. We'll see if that actually happens, or if Trump loses interest before that. If it does launch, then we'll see how long the former president uses it for before he realizes he's not going to be reaching tens of millions of adoring followers. Probably his best-case scenario is that a bunch of reporters sign up and follow him, and it becomes a slightly more efficient way to send out the press releases he's been relying on since Twitter booted him.
Kevin Siers