we had a similar occurrence locally
Hamilton bar offering patrons cheap Corona beers 'while pandemic lasts'
asked by Lion Breweries to stop
Kirsty Lawrence·15:30, January 30th, 2020
A Hamilton bar offering Corona deals "while pandemic lasts" has pulled an ad labelled 'deplorable' by the Race Relations Commissioner.
The House on Hood Facebook page put up a post on Wednesday to promote a $6.50 Corona deal and said "mention your Corona loving mates to let them know about this great deal and you could be sharing a free one metre pizza".
The Corona virus, which originated in Wuhan, China, has so far killed 132 people globally and left more than 4500 sick.
The post has a picture of two men in boiler suits wearing masks and gloves holding the beer. "Virus or no virus, we still think Coronas are pretty great, so while the pandemic lasts, we're selling Coronas for just $6.50," it says.
Supplied
A post promoting $6.50 Corona's "while the pandemic lasts" is attracting mixed responses on Facebook.
Human Rights Commission Race Relations Commissioner Meng Foon slammed the ad as "absolutely bad taste".
"It's deplorable that this business is capitalising on people dying."
When he saw the picture Foon said he felt "sick to the core".
Using this situation to gain financial gain was just not on, he said.
When the Whakaari/White Island eruption, and the Christchurch terror attack, happened there were no such promotions, he said.
"People are sick in the mind."
CHRIS SKELTON/STUFF
Race Relations Commissioner Meng Foon felt "sick to the core" when he saw the ad.
​Lawrenson Group chief executive officer John Lawrenson, who owns House on Hood, told Stuff he thought the original ad was fine and had expected this kind of reaction.
"About 90 per cent of people react with a like or a laugh and about 10 per cent with an angry or sad face.
"However, the 10 per cent are very vocal and share and comment to express their displeasure and that seems to drastically increase the reach of the ad for us."
However, hours later the ad was taken down, and replaced with a toned down version, after Lion said said they did not condone it.
"We have been in touch with the venue and asked that it be discontinued," a spokesperson said.
Lawrenson said Lion had no clout to stop him doing the post, as he did not actually buy his Corona from them. But someone had called him and asked him nicely for a favour, so he said yes.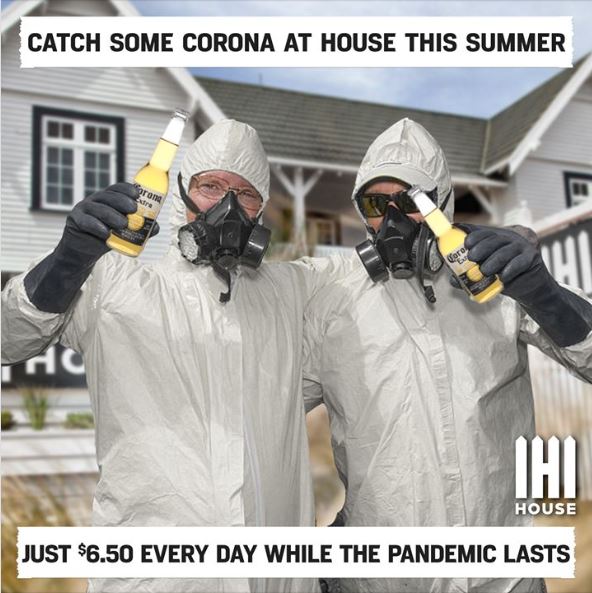 FACEBOOK
House on Hood has caused outrage again with their latest Facebook ad.
He had reworked the post and uploaded a picture of a Corona bottle wearing a protective mask. "Let's be honest, there are worse things you can catch in Hamilton. Coronas still $6.50 all summer long", it says.
King St advertising chief executive officer Chris Williams said he had been waiting for someone to do something like this.
While he said shock advertising could do well in the short-term, he didn't think it was right to cash in on this situation.
"It's in bad taste and just not right. People are dying."
CHRISTEL YARDLEY/STUFF
Hamilton Mayor Paula Southgate also thought the ad was really insensitive.
Williams said he didn't think the term "any publicity was good publicity" applied anymore and said this ad was no different to Otago cartoonist Garrick Tremain's cartoon mocking the deadly Samoan measles epidemic.
"That was terrible as well. This is no different in many ways."
Hamilton Mayor Paula Southgate also thought the ad was really insensitive.
"People have lost their lives and people are fearful of it," she said.
"I'm not a fan of what I would describe as poor taste."
CHRISTEL YARDLEY/STUFF
This isn't the first time House on Hood has used current affairs as an advertising opportunity.
The original post received mixed responses on Facebook, with some people calling it "shameful" and other "brilliant".
This isn't the first time House on Hood has used current affairs as an advertising opportunity.
They played on a crude joke Hamilton City Councillor Mark Bunting sent to freelance journalist Angela Cuming in 2017, but later deleted the post at the request of council.
When Metiria Turei was in trouble with Winz they posted a meme as well as when Bill English lost the Eminem case for copyright and NZ First and Labour formed a coalition.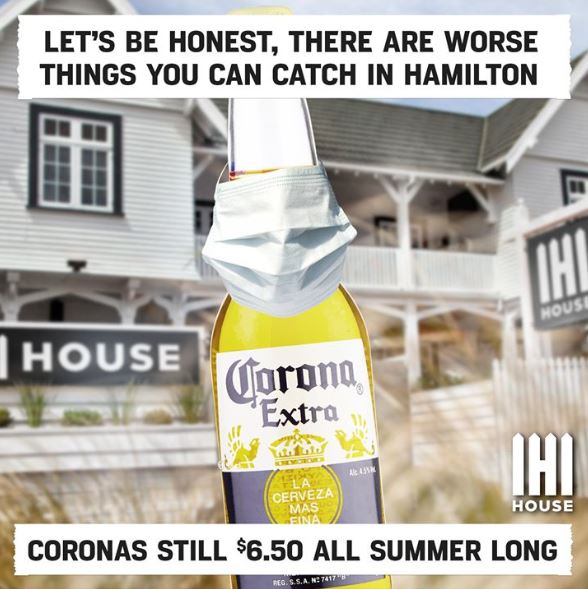 FACEBOOK
The second ad House on Hood posted after being contacted by Lion.
​Lawrenson said they had covered a range of topical personalities in the past, from Bill English, Simon Bridges and Israel Folau to Brian Tamaki, Greta Thunberg and Metiria Turei.
"It's unavoidable that some will disagree with the approach, but many others love it, and it has certainly been successful."
Lawrenson said the success of these ads was based on the fact in society there was a small per cent of the population that took it upon themselves to be outraged on behalf of everyone else.
"I guess I would say to them that just because they are offended, it doesn't mean that everyone else is. There are probably far more impactful things they could be doing with their time than frantically typing on their keyboards."
The Advertising Standards Authority said they had not received any complaints about the ad.
Stuff
https://www.stuff.co.nz/business/119139 ... emic-lasts