baddy wrote:
Plook wrote:
This is why I like the Indy 500 they sent it back to a time when anyone who can get a car on the track can attempt to qualify...the cars are built to specs that make them basically equal but like anything a team can get a secret sauce going that makes them faster...this does not guarantee a win on race day since the track and the distance can make a fast car go to shit and a crappy car win, Indy is a true equalizer...
We miss the secret sauce
Yes, formula is the purest form of racing, it also scares the hell out of me!
Every year the big three F1, Indy and NASCAR amaze me, their governing bodies create rules set parameters and even alter race tracks to slow the cars down and make them harder to drive and every year the engineers and drivers exploit these rules parameters and in F1 even the track limits and somehow for the most part the cars are faster the G forces are greater, lap times come down and the lap records fall.
One of these years, the high G forces will necessitate fighter pilot type pressure suits, after that it's robots.....
Locally NZ has a great little motorsport scene, there's a stock car track about 10k's from home and the fully fledged all purpose Manfield race track and drag strips galore within about 200k's of home all have regular well supported race meetings.....When I was young and dumb I was working in the motor trade which had a close association with the local car clubs and bike clubs who were all involved in motorsport, and before you know it your working on someone's team, I had the privilege of racing bikes at Manfield, and a little later on, not so young, but still dumb I got to drive a heavily modified saloon car in a couple of mechanic's races there. There's been a few demolition derbies over the years and even a weekend or two of drag strip action as a passenger doing standing 9.0 and 10.0 second 1/4 miles in the dodgiest hot rods on 4 wheels.....almost cost me my marriage when my wife saw those things going down the strip with me inside.....
In years gone by, before the fun police came along, the local motorcycle clubs would pay the council $100.00, close off and strategically festoon some streets with hay bales and hey presto instant motorcycle racing for a day. There was Lyall Bay, before it became a destination making it impossible to close roads there now, and Gracefield where the "track" weaved through an industrial area, there a double set of train tracks crossing the main straight, some of the best motorcycle racing I've ever seen was up close at Gracefield.
Recently there was some loose talk about racing returning to Gracefield, but in these days of the nannie state and environmental impacts and resource consents plus the trendy lets live in a factory brigade, I just can't see it happening.....
Also from the "good old days" department, there was the Wellington street race which ran along the Wellington waterfront and nearby streets, amazing layout, high speed bumpy straights including a bridge over a lagoon and hairpins that sorted the men out from the boys. The first race was an endurance affair all makes models and engine sizes.....won by a Volvo, nicknamed the block of flats.....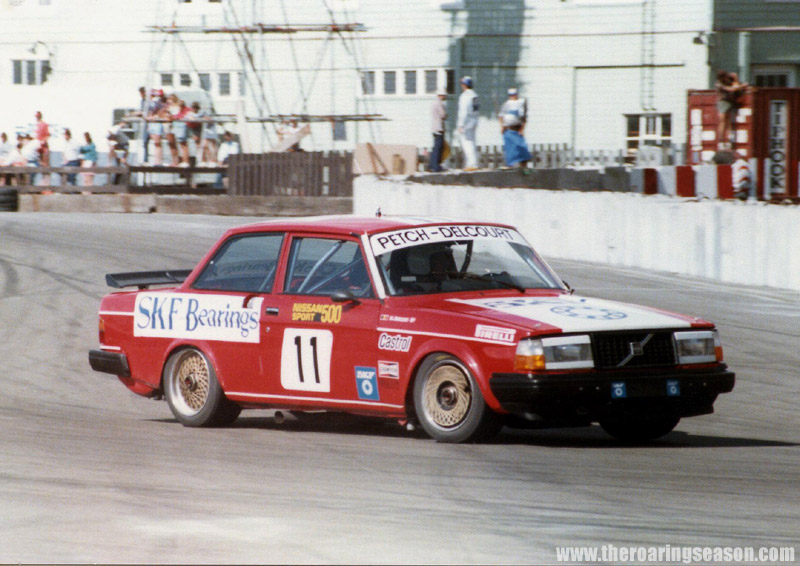 that thing beat out some amazing machinery factory and works teams just fell by the wayside.....
They held this race in various forms for a number of years and it was part of the Australian V8 series for a while. I loved it, one of my friends ran a garage situated on the course. We built a grand stand and invited the customers down for a trackside race weekend, each year it got bigger and better, "they" shut us down on bogus breach of booze law(s) but, the following year, coincidentally, Johnny had moved his garage one block up the road, and rather than having an "observable" forecourt to party in, we were now inside a building right on the track behind large windows and with a well appointed roof top garden over looking the track.....no booze laws to break there, they could smell us, but they couldn't see us.....oh the stories.....
Eventually the cost of shutting down some main city arteries for four days and the enormous machine that it took to make that happen became prohibitive. During the lull in races, a major museum was built track side and the main Wellington City Police Station relocated to a building that would be completely encircled by the track, which would never be allowed to happen. There has been various layouts proposed over the years, but the city councils appetite for a street race appears to have gone for good.....
I'm predominantly an armchair racer now.....