baddy wrote: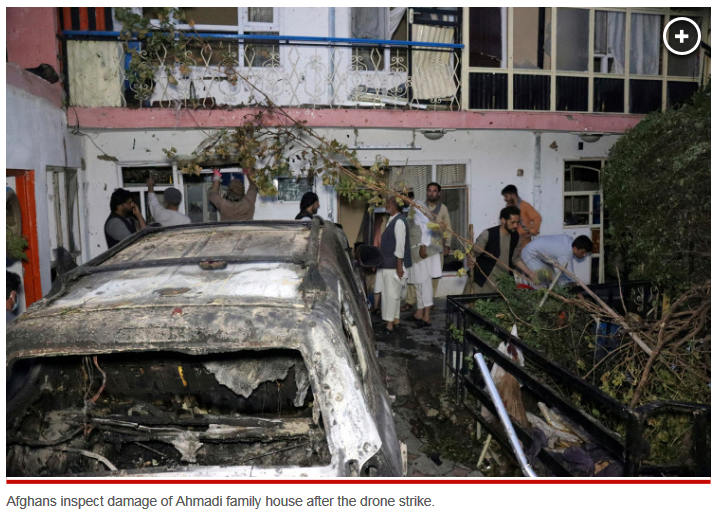 Biden droned the wrong guy, innocent aid worker killed in Kabul strike: NYT
By
Steven Nelson
September 10, 2021
A US airstrike in Kabul against a supposed Islamic State bomber actually
killed an innocent man who worked for a US aid group and his family
, according to newly published
testimony and footage
The reported case of mistaken identity also further tars President Biden for his chaotic pullout of US troops from Afghanistan, which left behind hundreds of US citizens and thousands of at-risk Afghans.
Zemari Ahmadi and nine members of his family,
including seven children, were killed
in the airstrike on Aug. 29, one day before the final US evacuation flights from Kabul, his brother Romal Ahmadi told the New York Times.
Ahmadi, who was the apparent target of the strike, worked for 14 years as a technical engineer in Afghanistan for the Pasadena, Calif.-based charity group Nutrition and Education International, which feeds hungry Afghans.
MORE HERE
___________________________
A few comments...
Seems to me if a foreign country sent drones in to the US (against International Law, the highest law of our land), and killed ten people in Boston, including 7 CHILDREN, then that would be on the elitist owned so called "News" 24/7 for a week...and Americans would be bawling, and rightfully
outraged at killing innocent kids
....So....
why wasn't this bombing that Americans did on elitist owned TV 24/7 for a week?
Why is it not on TV when AMERICANS bomb kids and weddings and hospitals, etc? And why does everyone stay silent and lay down for it, and then go out and vote for more of it....all the while maintaining they're a good people and they care? Do they not know about their bombing, or not care about their bombing, it has to be one or the other, which is it? Is there a connection between
secret bombing that Trump started, and Biden now continues
....and less informed Americans voting for more? Do the elites know that their TV has that much control over the minds of the 99%?
While I'm commenting, with this hurried so called "end" to the war. could it be that Michael Hudson was right and with the US being the "Mayor of Kabul" for 20 years with the Taliban controlling 90% of the rest for 20 years, that the Taliban got pissed at Biden for overstaying Trumps May 1st agreement for troop withdrawal and the CIA told Biden that the Taliban are coming, that they will overrun Kabul in 3 - 6 weeks....so we sent in
C130 gunships, B52 bombers
and
bought some time to get Americans out of Kabul?
"Questions, questions, questions, [hopefully] flooding into the minds of today's youth."
I tried to write a provocative post to get some caring zappa fans to comment, what does anybody think?
Is staying silent about trillions wasted on profit generation militarism, as well as handing over our wealth to the 1%, the same thing as laying down for it? Isn't voting for more and more of it in election after election, after election, the SAME thing as laying down for it?
To close the loop...
They did finally put this instance on TV, I saw the Pentagon apologizing for it Friday night, so I guess that makes it better. They said they were going to consider reparations, which typically is $5000 per person when they get caught...small price considering the Hellfire Missile that killed the kids cost $230, 000.00.
I read the Afghan war cost taxpayers 2.3 trillion dollars. The "they hate our freedom" TV campaign whipped Americans into a 94% approval rating for invading Afghanistan. And now thousands of soldiers lives lost, tens of thousands disabled, tens of thousands with lives ruined by PTSD and suicides from what they saw, and
countless
innocent Afghan lives lost and disrupted, the Taliban are back where they were before we started.
The TV generated 94% support for the war; the tail wags the dog.
So they got caught this time, Perhaps Americans killing an aid worker and his family downtown couldn't be kept quiet (like the killings from
Biden's B-52 and C-130 gunship tantrum in the weeks before
, the taliban were coming and there was nothing we could do to stop them), but as antiwar put it,
"US Bombing Wars Rage On - But Now In SECRET."
Which generates the most relevant question: Why has US bombing now gone secret?
Well...cuz they don't want us to know about it, obviously, but WHY?
Because we'd stop voting for it, for their representatives.
The 1% who own controlling share in the TV, and the expensive war industry, and all the other products they're pedaling...
...are afraid of us.
That's why the bombing now in secret, they need to control what we know, control what we think, so they can control us.
And they're doing pretty well, it seems, we don't even kick.