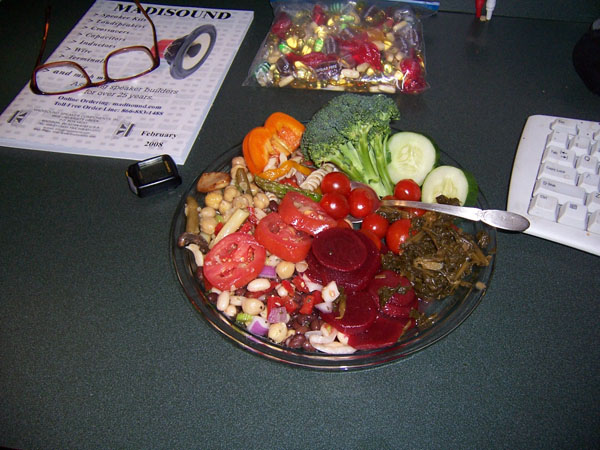 After realizing I've been payin' about triple for my chow by living off the Stop and Shop salad bar for years, and the periodontist telling me to cut refined sugar, (in three salad bar staples I ate almost every day), I decided to try to learn to make all this shit myself. The first week was a disaster, I tried and tossed three of the worlds worst beet recipies, (some with onion-garlic-feta cheese, it was horrid), but then I started gettin' the hang of it. The above is where I'm at. The beets I didn't make (anyone know any good beet recipes w/o sugar?), but the rest of the stuff is actually better than the ole salad bar, (all the beans and most of the other stuff are organic so they have more/better flavor).
The bean recipies are:
Northern, Black, and Chick Peas w/ bermuda onion, red bell pepper, small cherry tomatos, celery, and olive oil.
Chick Peas, Green and Wax Beans, cumin, garlic, and olive oil
Lol, the adjustment to cooking instead of the handy salad bar was like pushing a Taurus through a keyhole, but I'm getting the hang of it and can get 5 days of total shopping done for the same price as what I paid for just 5 salads before...I can't believe how cheap just buying the ingredients is. Just need to work out the beets (gonna bar-b-roast some tomorrow), and still hooked on the proprietary salad bar dressing, (for broccoli and tomato dipping).