. . . and the irony just keeps on a-comin' . . .
Pat Bagley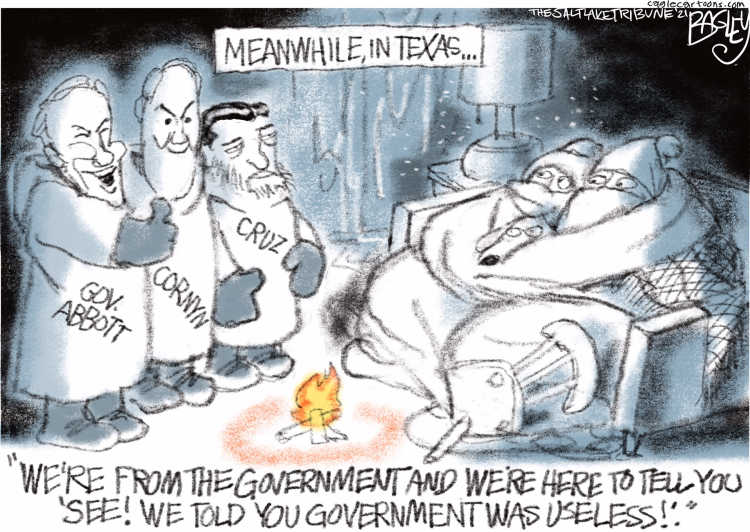 Dave Whamond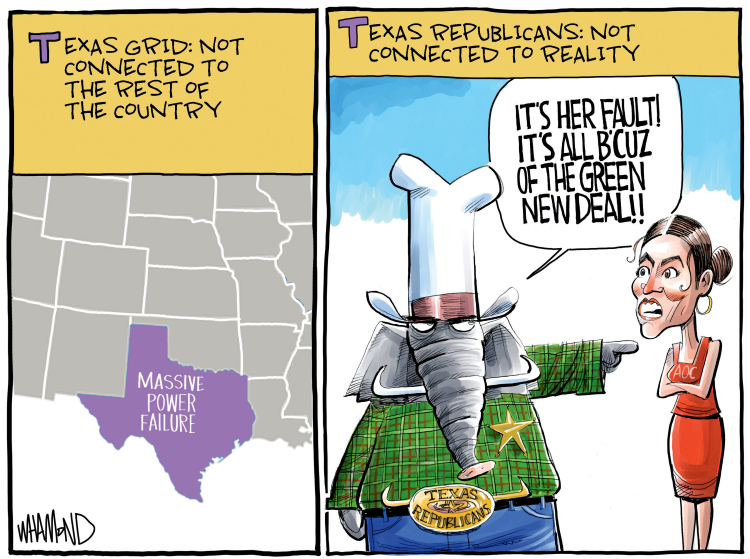 Winter storms have knocked out electric power to over 3 million customers in Texas. While Texans are shivering without power and heat, Gov. Greg Abbott (R-TX) saw this as an opportunity to knock the Green New Deal. He said that some of the state's wind turbines froze. Take that, Green New Deal. Actually, about 90% of Texas' electricity is made by burning fossil fuels and that's where the biggest failures occurred. The renewable sources actually did pretty well compared to the fossil fuel sources, especially since they are poorly maintained and regulated (in comparison to other states, like Kansas and Oklahoma, where the turbines are still humming along). Abbott called the situation "unacceptable." If he asks the legislature to pass a law requiring the power operators to be able to withstand winter storms, the lobbyists will tell them that the cost of electricity will skyrocket as a result and he will probably back down and it will happen again. After all, there was a similar storm in 2011 and in the aftermath, nothing changed.
Not content with Abbott's medium-sized lie, Tucker Carlson went for a full-throated lie. He said that Texas had become totally reliant on windmills. This is completely false. Rep. Alexandria Ocasio-Cortez tweeted: "The infrastructure failures in Texas are quite literally what happens when you
don't
pursue a Green New Deal."
Texas runs its own energy show, largely free of federal regulation. Operators are lightly regulated and didn't bother to winterize their facilities. So, when it got cold, everything froze. It is a policy decision that Texans made. The pooh-bahs decided that cheap energy is the primary goal and if millions of people have to freeze once in a while, it is a good tradeoff, although the people who are now freezing might not agree.
Talking about how hard it is to produce electricity when it is cold is nonsense. There is plenty of electricity in Alaska, northern Canada, Norway, and even Siberia. It merely requires the operators to prepare for the cold. As a result of the shortage in the South, the wholesale price of a megawatt-hour in Houston went from $22 to about $9,000. The spot price for March futures for natural gas in Oklahoma are normally $3 per million BTUs, but have hit $600 now because production went from 13 billion cubic feet per day to 7 billion now. One utility company, Griddy, which didn't prepare for the financial hit by buying megawatt futures, told its customers to go find another provider. How's that for service? In the middle of big snowstorms and power outages, your electricity company tells you to go find another one. And you can't do that on your computer because there is no power and in many places there is no cellular service because the cell towers don't have power.
If a spell of very bad weather had hit any other state, it wouldn't have been a problem because operators there would simply have bought whatever number of megawatt-hours they needed from operators in other states that were running normally. But Texas is the Lone Star State. They do things their way and don't need socialist agreements with other states. Texas is largely off the national grid, so even if a Texas company wanted to buy power from a producer in Nevada or Florida or somewhere else, it couldn't do it. Loading up a railroad car full of rechargeable AA batteries won't do the trick. Eventually it will warm up, power will come back on, everyone will forget this week's misery, and presumably nothing will change before the next storm. Then the cycle will repeat the same way, only with a different governor blaming the Green New Deal.