A cool thing almost happened...Americans almost got to see some truth on a debate stage...but not.
For the second time, the DNC has changed the rules after Tulsi Gabbard qualified to go on the debate stage.
What would it be if the March 15 debate had 2 war/Military Industrial Complex voters, and one antiwar, anti MIC voter on the stage?
Some might say she would win the debate again, and Americans might realize this gal is truth, this gal is for the people not the MIC, and they might flock to her after she exposes Biden's and Sanders voting records...
The truth would be so self evident, there wouldn't be a single thing Biden or Sanders could say, it just might be all over for the rich.
...but we can't have that, the DNC gets it's money-power from MIC donations... change the rules, keep the truth of what's really going on off the stage.
So the
DNC again changed the rules again to keep Representative Gabbard off the stage
...the rich can't have the people hearing that dangerous talk...and they're afraid of us...so get that Gabbard off the stage, don't let the people see her, that'll make 'em forget about her...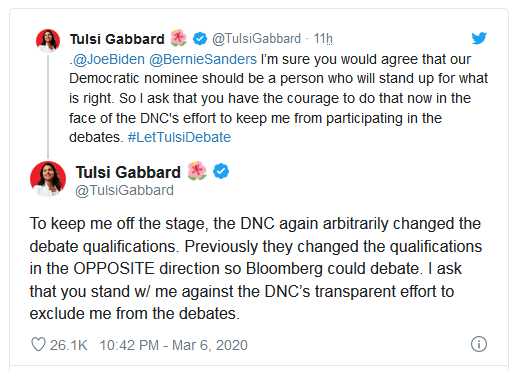 So the DNC and RNC have colluded so that no independents will ever be in the debates again...and down one level, the DNC keeps switching the rules after Gabbard qualifies so that only those who vote for the MIC will be in view of the American public.
So as I mentioned before, the elections are already over, although the people don't know it...the rest is a dog and pony show to distract our energy away from truth, and to make us think we have a choice in choosing which representative of the rich will represent us.
...and we are so dumb, we're lining up at their door.
It's already over, the people lost...have an icepick, you can get 'em free on TV
BTW...the people could win in this cycle if they were to become immune to the TV programming and rally behind a Tulsi, or another Party or independent....
...But as Frank said, stupidy is more common than hydrogen....so the rich are safe, it's too bad that Frank was right...IMO, because we keep going along with the elite owned TV programming messages and know nothing else.
One good option for truth is right in front of us and we don't see it, we're so caught up in the TV and the dog and pony show....we
could
instead bring to power those who would represent us, not them....but we vote for the rich, for the dogs and ponies they show us....keep us divided and conquered... maybe we deserve to lose everything we have and keep driving our grandkids into debt to the rich? Though possibly our grandkids don't deserve what we're doing to them ... the people we keep bombing overseas don't deserve it, they didn't ask for it?
____________________________________
BTW, for the record I like a lot of what Bernie says, it's just that his pro-MIC voting record makes it impossible to believe him...that and I consider it immoral to vote for someone who is a war voter like him.
I'm not really 100% for Single payer, I'd rather exit the NAFTA and WTO trade agreements that are holding our jobs overseas in sweat shops...if the jobs and prosperity came back, then employers would have to again compete for employees with wages and bennies*.... but since that is not going to happen with these rich creeps who rule over us, the jobs are not coming back,
therefore we need single payer
so we're not donating hundreds of billions of our health care dollars each year to insurance companies who have outlived their usefulness.
It also might prove out that single payer is the best way, even if we were to magically ignore the TV programming and vote for people who WILL exit the shit trade agreements and bring the jobs back.
So yes, we need single payer right now, maybe forever, but while we elect representatives of the rich, we're not getting it.
* Back when I was a young gun, before NAFTA and the WTO, employers had to compete with each other to hire us. You could literally quit your job and have another within two weeks that paid the same AND had full pension AND full medical.
Back in these days, 80% of moms didn't have to work, the father's job was enough to raise the family AND it had full medical coverage for the whole family, as well as full pension.
It's not the same these days, and it gets worse every election cycle as we go along with the elite controlled dog and pony show...
Shift in wealth to the rich...and it's accelerating...don't get excited as it crumbles and breaks, just play along with the dog and pony show on TV to make sure we go along with the propaganda and don't get any chances to escape....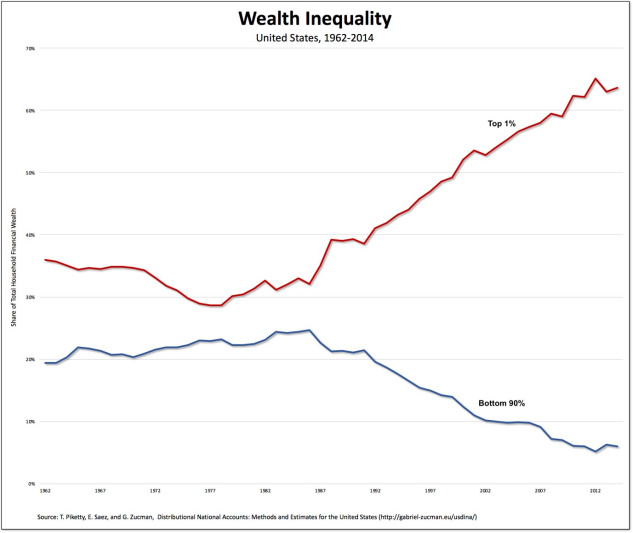 Recent Gabbard Interview...