In 1971 I bought what was to become the "main" amp of my life until the mid 80's.
Back in the day when we made our own stuff here in the US, the top line HH Scott amps
were in direct competition with the overseas Marantz amps.
The Scott Model 272 Laboratory Amplifier was top dog during it's production
from late 1960 through 1961, (it was $272 dollars, or about $2500 today's dollars).
There were very few made, so it's extremely rare, I've read posts from folks who
recondition tube (valve), amps, and all they say on the 272 is "I've never even seen one."
I've seen hundreds of midrange Scotts, but only one other 272.
So I was so lucky to shit into this amp on that summer 1971 day, sheer luck
The intermediate Scott models are more numerous, the 222 and LK 72's as they were more affordable.
So that gives me some measure of responsibility to take care of this 60 year old gem,
so that it will be running still for someone in another 60 years.
So I shut it off in about 1985, after tons of Zappa, Beach Boys, Yes, Steppenwolf, Led Zepplin,
Howlin Wolf, BB King, and the like...because it had a potentially fatal flaw:
Although it was vacuum tubes (EL34's), it is at the dawn of semiconductors.
It uses a selenium bridge rectifier in one of it's power supply circuits...Warning Will Robinson.
The selenium rectifiers tended to short out, sending high voltage AC down the DC lines,
destroying the main power transformers.
And since amps don't work like this anymore, you are not going to find another transformer,
the amp would be toast.
So I shut it down in about 1985, considering it irresponsible to turn it on again,
until I replaced the selenium rectifier with a modern silicone rectifier which is safe to run.
Because the silicone rectifiers are more efficient, voltages change, and resistors
have to be experimented to get the internal power supply voltages back down to normal.
This was a slow and careful background project, finding the right rectifier and resistors,
one wrong move and the 60 year old amp would be toast.
So I finally finished it this spring, it's safe to run, and is the main amp in my living room again(:
More could be done to it, although I was so lucky to buy it for $50 1971 dollars,
it's worth thousands now, rich people buy them because they think tubes sound better
than solid state (transistors, IC's), amps, I am not of that camp, high end is high end,
tubes or transistors.
Never the less, I would never sell it because it was the main amplifier of so much of my life,
I'm so glad to have it back.
It's also special because when I learned electronics in the 1970's vacuum tubes were,
still around, I had to learn both tubes and transistors, so it has another reason to be sentimental to me.
To me that's special because tubes/valves are such physical things, with gain adjusted
by gaps and metal screens and little filaments causing cathodes to emit electrons that
are attracted to very high positive voltage plates.
The ac audio signal is fed to screens between the cathodes and plates to vary the electron flow.
Since audio sweeps both positive and negative, and a tube can only conduct one direction,
tubes are mirrored with opposite voltage setup (bias), with a tiny bit of overlap.
This way when the audio signal swings positive, one tube conducts,
and when it swings negative, it's mirrored partner conducts.
They call it push - pull, each side working alternately, pumping out Zappa's licks(:
It's a very physical thing
Because the gaps in tubes are high resistance, and speakers are low (8 ohm),
massive transformers had to be used on the outputs to match the resistances
for good power transfer from the tubes to the speakers.
The power and output transformers make the amp weigh about 45 pounds, 20 kg's.
They the more powerful the amp, the bigger the transformers, they called it "big iron"
for the quality stuff.

The business end: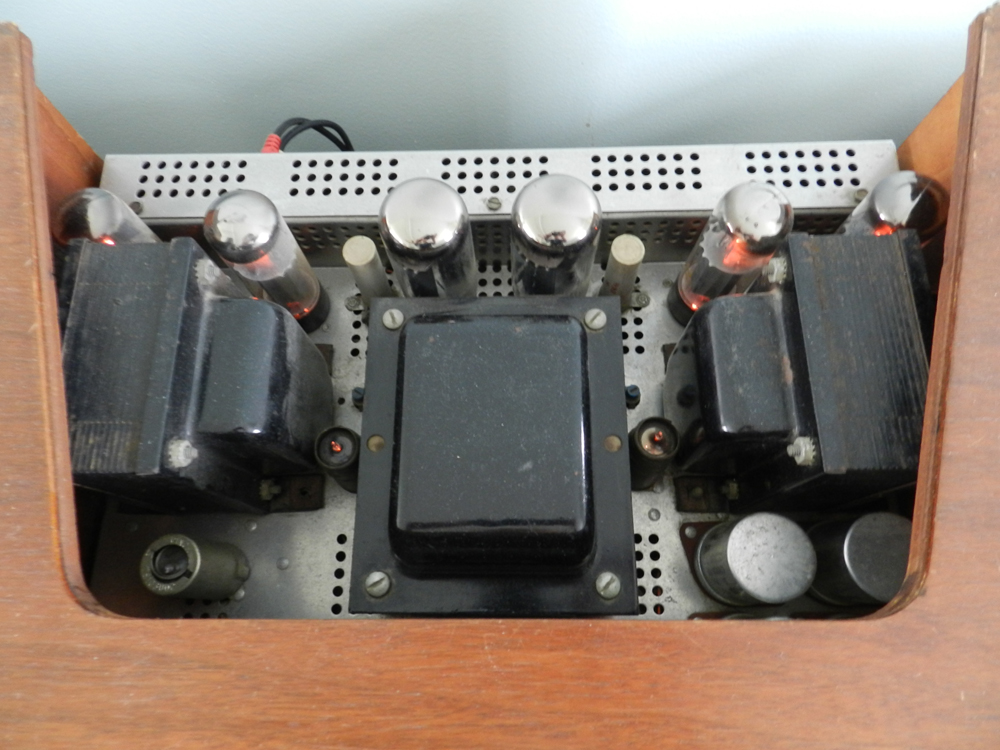 The center transformer is for power supply voltages (the one the selenium rectifier could destroy),
and the two outer ones match the high tube resistances to low speaker resistances,
(if this wasn't done, 99% of the power would be output on the tubes, not the speakers).
You wanted an amp in 1967, you had to have this in some form,
even cheap little record players were heavy with their smaller tube/transformer setups.
You turned them on and had to wait for them to "heat up."
Instant on, at the dawn of transistors was a big thing!
For us rrrrrrregular folk...

Front panel...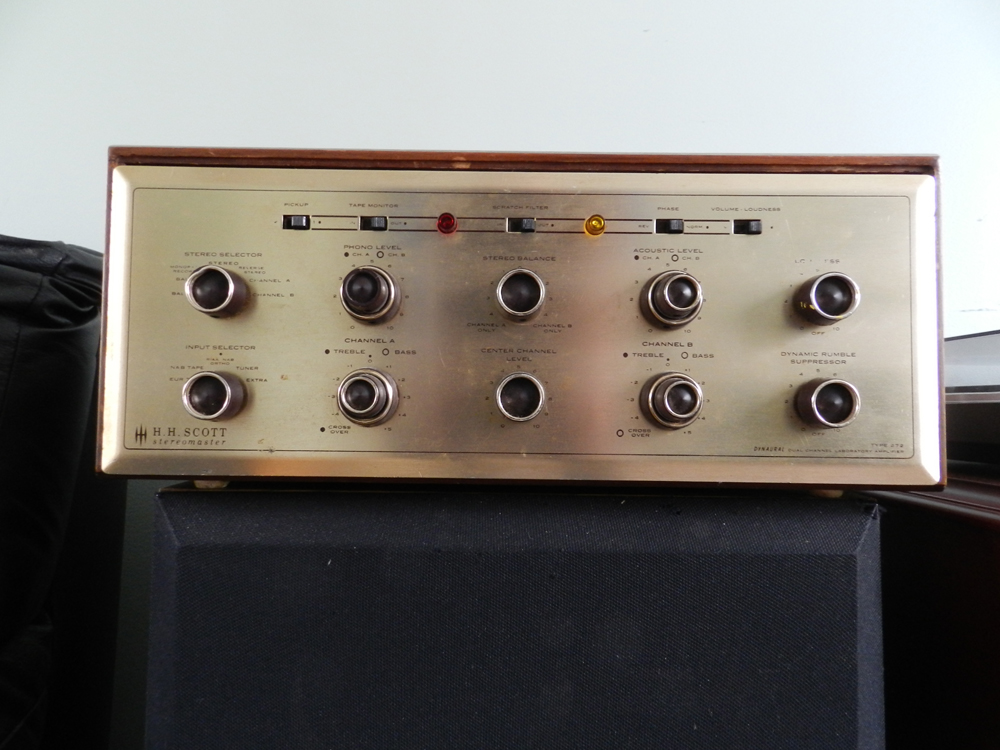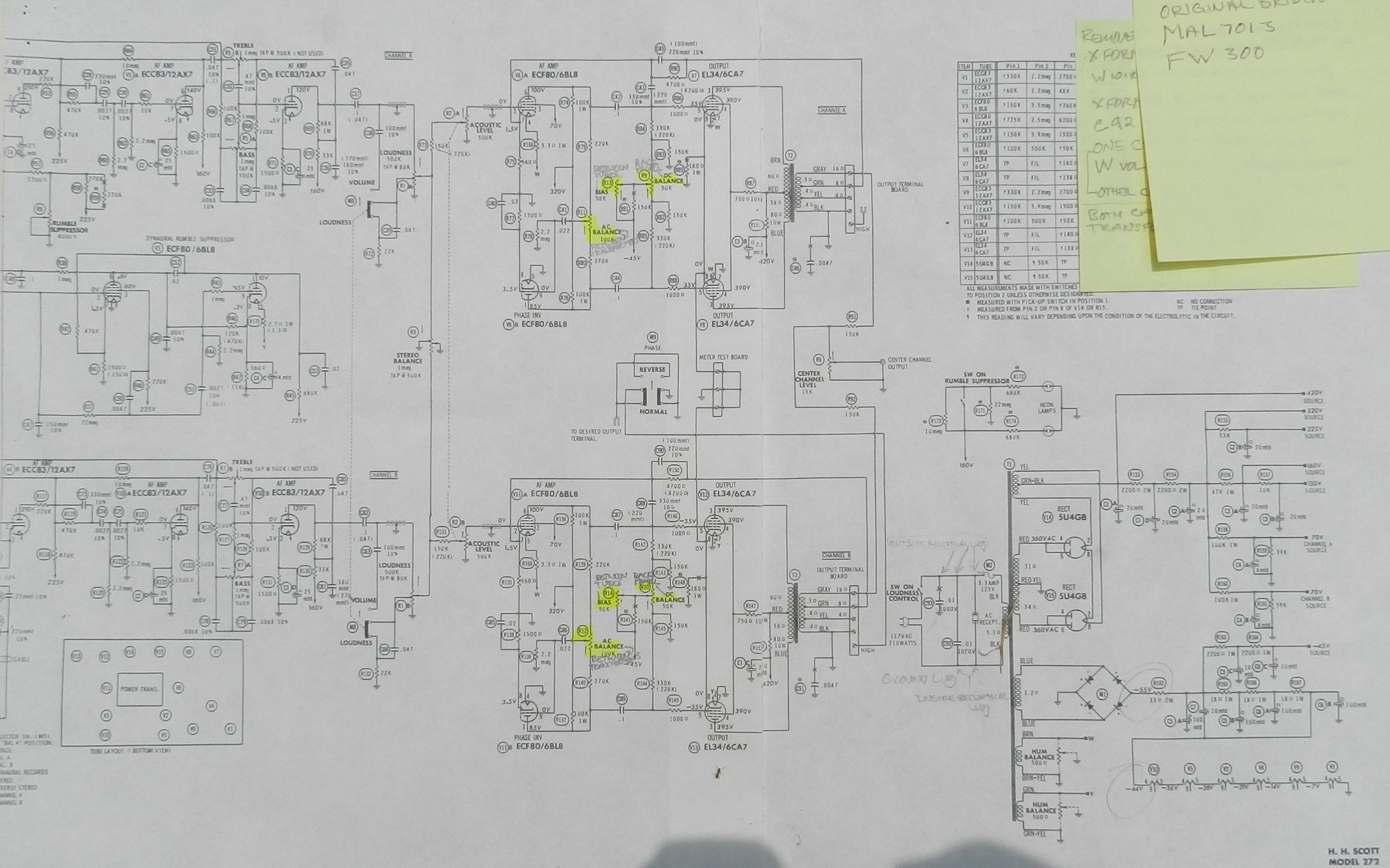 In lower right, a push pull pair of EL34's,
when audio swings positive, it's top half conducts,
when audio swings negative, it's mirrored (see photo), lower half conducts.
Look for two EL34's in the bottom right, you can see how they're mirrored,
feeding into their (curley lined/"T3"), output matching transformer, to feed on out to the speaker.
Same sort of thing going on in power section charging up the big capacitors (like batteries),
The 5U4GB's connected to the curly lines (center transformer in photo above).
As AC house power swings positive/negative, opposite ends of the curly lines "T1" swing pos/neg.
The two 5UGB4's alternately conduct, (electrons jump the gap, for example, pins 2 to 4).
But both 5UGB4 half's connect to same line,
so like pedaling a bike, each half pedal contributes to same line of travel;
sucking up electrons from ground, sucking them up through all those "C" capacitors,
("Sucky up 2/3rd's of it, suck, suck, suck!"),
charging them like batteries, as each half of the 5U4GB conducts on it's half of the house current alternations.
The little diamond shaped "M1" thing on the lower right is the selenium rectifier that had to be changed to silicon.
Changing its efficiency changed all the voltages below it to right, (-44, -36, -28, -21, -14, -7volts).
Experimentation adding the right resistor until back to -55 volts,
all the above supply voltages came down correctly together.
It's great to have the amp back, a piece of my life, especially age 17 through 30