JT wrote: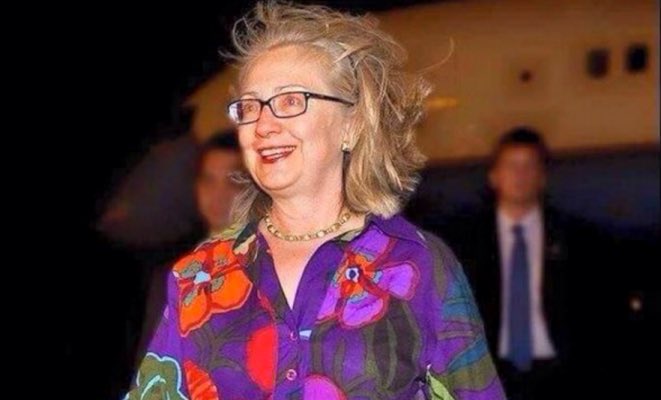 Johnny continues to post altered pics of Hillary Clinton. The one above is from 2011. Real fake news (pardon my oxymoron). Did he purposefully post a fake picture, or was he too stupid to realize it was altered?
Hillary Clinton on the Island of Photoshop
A long-circulating photograph of a haggard-looking Hillary Clinton is an altered version of the original, and Clinton has not demanded it be erased from the Internet.
For several years an unflattering photograph of a haggard-looking Hillary Clinton in a somewhat garish floral print outfit (reproduced above) has been circulating on social media, typically accompanied by the following caption: Hillary Clinton has demanded that this photo be removed, so what should we do? Make it go viral!
In its widely popular form, the image depicts Clinton with messy hair and a loud top. The image is indeed based on a photograph of Secretary of State Clinton taken as she deplaned in Indonesia to attend a summit meeting in July 2011:
However, as can be seen above and below, the viral form of the image has been blurred and color-adjusted to highlight Clinton's hair, redden her eyes and face, and enhance the tropical tunic she wore to make it appear louder than in the original photograph:
As well, Clinton has made no "demand" that the image of her be removed from the Internet, nor would she have any legal basis for doing so.
By 2013, social media users with image editing capabilities had spliced the image with an infamous DUI mug shot of actor Nick Nolte to create a mashup:
http://www.snopes.com/hillary-clinton-demanded-this-photo-be-removed/