MentalTossFlycoon wrote:
Since we're resurrecting this thread, we need to include
one of the coolest pictures ever taken
...
Yeah, huh
This one's not so beautiful, but it is interesting....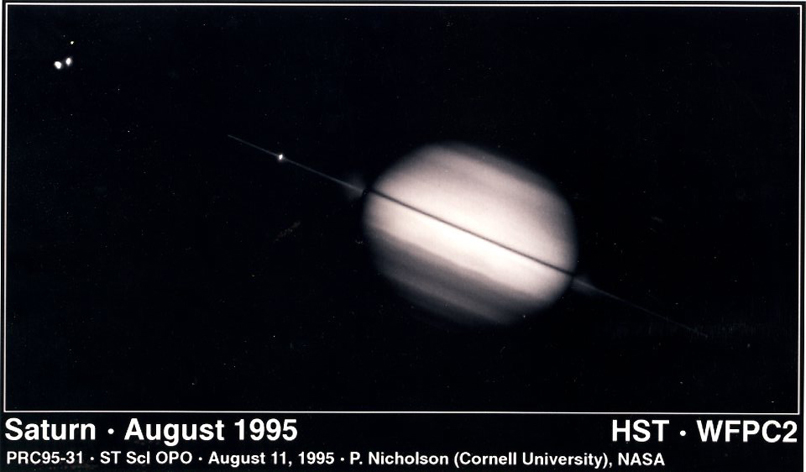 Saturn ring plane crossings occur every 14 or 17 years (i forget which), and offers a view of a "ringless" Saturn that lasts about two weeks. If you see in MTF's photo above we appear to be "lookin up Saturns dress." This will reverse after the next ring plane crossing, and we'll be looking "down" on Saturn's rings. This is because Saturn and the Earth dont orbit the Sun in the exact ssame plane.
Ring plane crossings are cool for backyarders because suddenly Saturn looks like something's very wrong. There's the serene bright yellw disk, but where's the rings! More fun than that is it allows backyard scopes a challenge to pick out 4 other satellites of Saturn, (besides bright Titan which is always around and easy).
Usually the very bright planet and bright ring surface area wash out all but Titan, but during a ring plane crossing, much of the brightness is gone.
The trick is to catch the satellites when they're on the same side
of the planet's disk, and then slide the disk just out of view off the edge of the eyepiece. With the bright glare of Saturn gone, the fainter satellites come into view, (I found 3 of 4 of these "lesser" satellites in the last ring plane crossing, 1 to go, lol). After you spot them you can try to slide part of the disk back into the view for the "full effect."
For a backyarder, the moment when the above photo was taken is the peak moment to look for satellites, 4 satellites over on
one side
of the disk, and
far
from the disk, (the satellites orbit Saturn at different rates, so they can be seen on both sides of the disk depending on when you look).
Lol, Hubble doesn't need to push the bright disk out of the view to see the fainter satellites as a backyarder must, it's optics can even make these fainter satellites appear as bright as the disk, (they are fainter, you have to "try" to see them).
Saturn out the window: