Disclamer: Most of the info in all my posts are from common consensus of:
Caldwell Esselstyn MD, Yale, 30 year prez of staff at the#1 Heart Hospital, The Cleveland Clinic
Colin Campbell MD, Cornell, Director of The China Study
Michael Grieger MD,
a leading expert who has given more than 1000 lectures at medical schools worldwide.
Mr_Green_Genes wrote:
baddy, recently I've been digging into the fish and cancer relation literature and, superficially, I thought they were not correlated with cancer (digestive tract, bladder, lungs and brain), and even negatively related sometimes...
Considering that the Western diet is the cause of 70% of our deaths, the resulting diet for life should prevent
all
these deaths, expenses, and
extreme
suffering, rather than to consider a food with an exception in one cause of death, while still causing death in the other major areas.
There's no sense in having extreme suffering and death because of something one eats.
Thanks for bringing up cancer Mr. Green Genes, it's our second leading forum killer, (behind #1 leading forum killer, heart disease). Although I've been writing in generalities going for all-cause mortality, I'll slant this post towards cancer.
It is worthwhile to note that that an anti-cancer diet, is also an anti-heart disease diet, is also an anti-diabetes diet, is also an anti-stroke diet, an anti-dementia diet, an anti-liver and kidney disease diet, and so on across the top 15 forum diseases. With pills you have different pills to fight (rather than cure) different diseases, in fact the #3 forum killer (killing ¼ million Americans per year), is medicine.
With regards to fish, like any other animal muscle we eat, it's still high fat, high cholesterol, too much protein, and no fiber, thus causes and contributes to the top forum killers. Depending on what type, and from what area, fish also have a special problem of concentrating pollutants like PCB's, Dioxins, and metals like Mercury.
With regards to cancer, our diets arguably should be feeding the system
all
the elements it needs to supply its natural tools for eliminating cancer cells, while at the same time not feefing it things that promote cancer growth.
The ingredients for cancer resistance are in the plant kingdom, while at the same time, ingredients that promote cancer growth (animal protein and fats, endotoxins, low fiber, and other key players), are in the animal kingdom.
Since eating nearly anything in the plant kingdom gives you exactly the right amount of protein
, fish with its other worries of animal fat, cholesterol, endotoxins, HCA's when cooked, and their associated increases in heart disease, diabetes (38% increase risk, fat induced insulin resistance and telomere shortening in the pancreas),and so on, means fish doesn't have much to offer.
When thinking about cancer and diet, there is a myriad of cancer fighting compounds in the plant kingdom, maybe the question on including fish should be, what does fish do to
fight
cancer?
With regards to plant based foods...
What happens if you put cancer on a plant based diet? Dean Ornish MD showed for example that the progression of early stage prostate cancer could be reversed.
If you take men on the Standard American Diet (SAD), and drip their blood on human prostate cancer cells growing in a petri dish, it will suppress their growth about 9%. But take the same men and put them on a plant based diet and their blood can inhibit cancer growth 70%, 8 times better. Which blood do you want?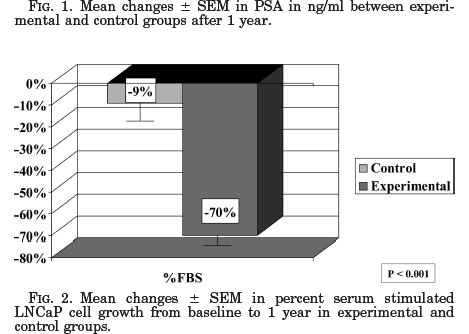 Similarly, if you drip the blood of women on the SAD diet on a layer of breast cancer cells, it sorta breaks them up a little into the "continents" in the left photo below... but if you take these
same women
, and put them on a plant based diet for
two weeks
and drip their blood on another layer of breast cancer cells, all you're left with is a few cancer cells as in the photo on the right. Who doesn't think that's remarkable (: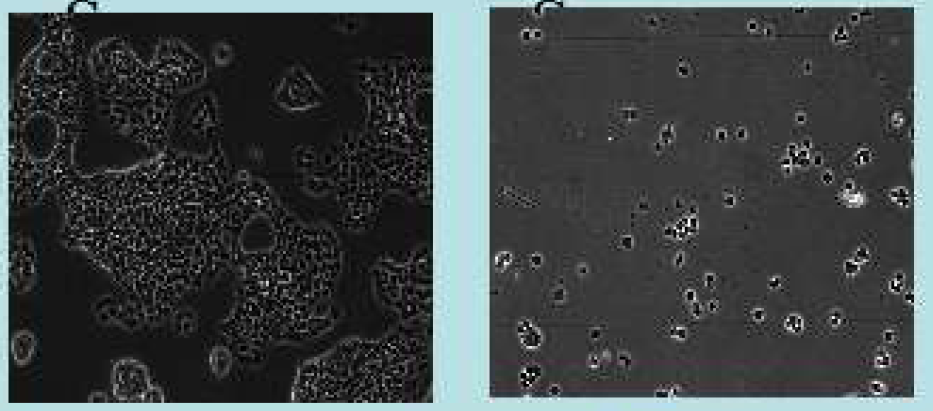 (Sorry I got shitty pictures, I couldn't get good ones off the study)
Their blood became that much more hostile to cancer.
Often cancer hijacks the programmed self-destruct of normal cells, enabling them to continue on and grow into tumors and spread...due to their immortality.
If you use imaging that shows DNA destruction (death), in cancer cells...and you take blood from these women and put it on cancer cells in TUNEL imaging, you can see women on the SAD diet were able to kill a few cancer cells as in the photo on the left...but if you put them on a plant based diet and repeat, their blood can kill a crapload more cancer cells as shown in the photo on the right. It's like you're an entirely different person.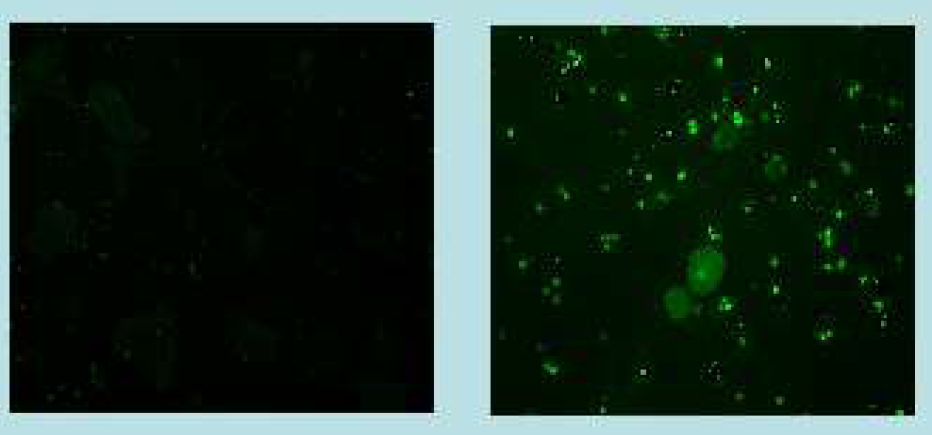 Effects of animal endotoxins, hormones, antibiotics, and pollutants aside, it is thought that the consumption of the animal (not plant), protein increases production of IGF-1, Insulin-like Growth Factor - 1, a cancer promoting growth hormone involved in growth of malignant tumors is the major culprit...but if you go on a plant based diet two things happen...
1. Your IGF-1 levels drop within two weeks...and (: 2. Serum levels of IGF-1 BP, binding protein, rises to put the brakes on remaining IGF-1, pulling it out of the bloodstream...benefits continue to accrue the longer you stay on plant based.
Drop your IGF-1's while AT THE SAME TIME, make your body more effective at removing them, a double whammy for IGF-1's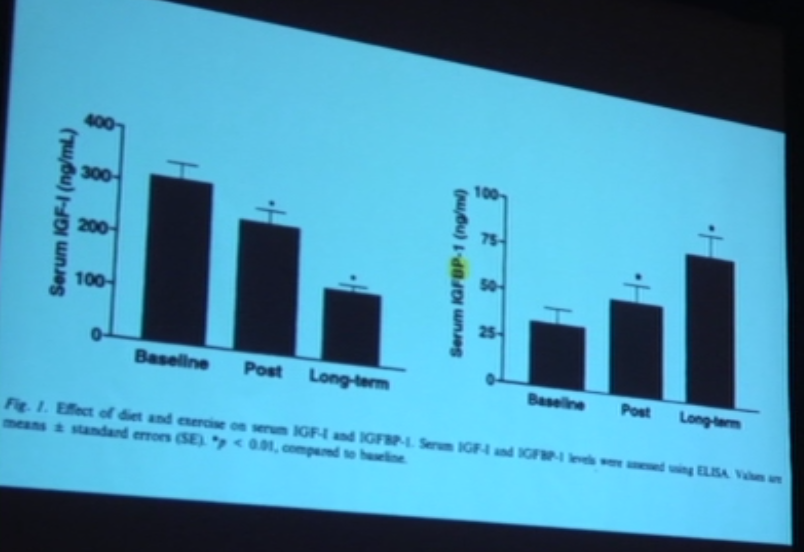 Eating more animal protein, thus producing much more IGF-1 is common in the SAD diet, high protein is associated with a
4x increase in cancer deaths, and a 75% increase in overall mortality
, (doesn't matter what animal, beef, fish, poultry, pork, interestingly though that at these same levels, plant protein has no effect on disease). Makes sense given the higher IGF-1 levels.
Quadrupling ones chance of dying from cancer from meats and dairy, is similar to quadrupling ones chance of dying from cancer from cigarettes, in fact, diet trumps cigarettes, (in 5-year mortality, going whole foods plant based is equivalent to quitting a 28 year smoking habit).
I'll put some additional info from pages in How Not to Die for more info on cancer, and more info on interesting things in the plant kingdom.
______________________________________________________
A VERY KEY RECIPE...
Before I do that I'll put a personal recipe for a daily "smoothie" that's lol, scientifically constructed and targeted, (and highly anti-cancer). First to mention it's really a "roughie," because chewing is important in introducing chemistry of digestion, and because it slows the inrush of fructose from the orange so it doesn't jazz the pancreas, (eating oranges is good, drinking orange juice is bad).
It's also heavy on fruits for their antioxidants (and fiber). For example it has blueberries for 350 units, blackberries for 750 units, but it also has a powdered indian gooseberry for something like 10 or 15, 000 units, I think it's the most powerful antioxidant on the planet.
Roughie, in a good blender, THIS MAKES TWO:
1 kale leaf and a few broccoli crowns.
Chop on low and let sit for 40 minutes for
sulforaphane
to form, (ps. steaming broccoli kills sulforaphane, but sprinkling on ground mustard brings it back somewhat if eating cooked broccoli).
Add:
~ cup of carrots, ¼ grapefruit, 1 orange,
couple handfuls frozen berries
(cheaper and much easier and as nutritious as fresh),
1 tablespoon alma
, ¼ teaspoon turmeric, pinch pf pepper to help release the curcumin in the turmeric, ½ cup water to help the blender get started.
Blend on low till it's well chopped, but stop before it's really a smoothie.
If you store some of this, fill the container so there is no air in the top to promote oxidation, you want as many antioxidants intact as possible.
______________________________________________________
OK, this was a lot of work, but hopefully worth in in keeping forumers alive...
...I was very surprised to find out the food my parents told me to eat was the reason Americans start getting sick at 50, and get increasingly sicker until they croak at 85…rather than to normally and healthily/functionally live to 102 and only be sick in the very end time of their lives…
…hope this was helpful; here comes some more of the book…
Enjoy,
-baddy
This first part was in a discussion on ciggs…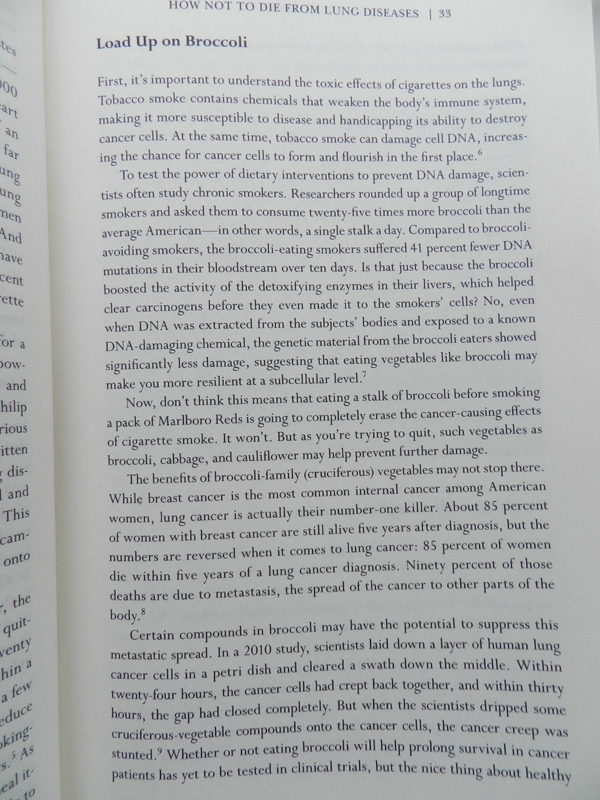 This one gets into why there's turmeric/pepper in the smoothie recipe…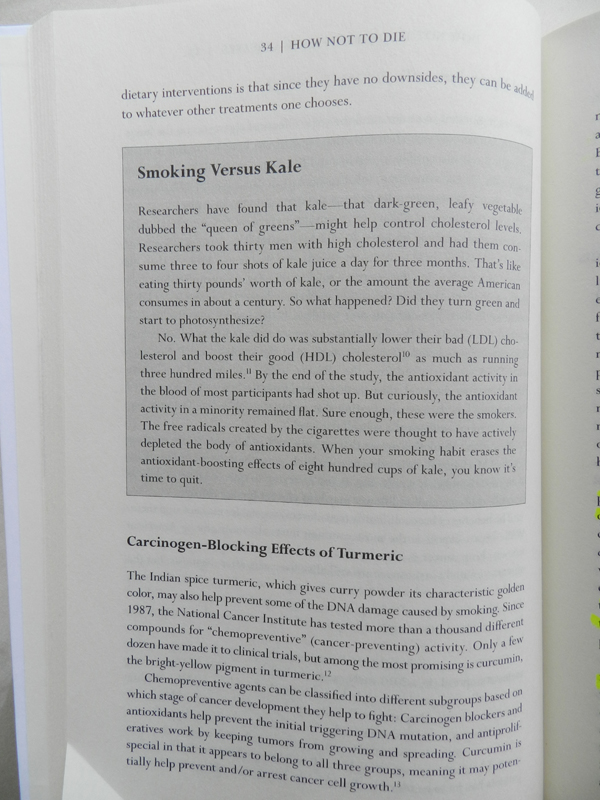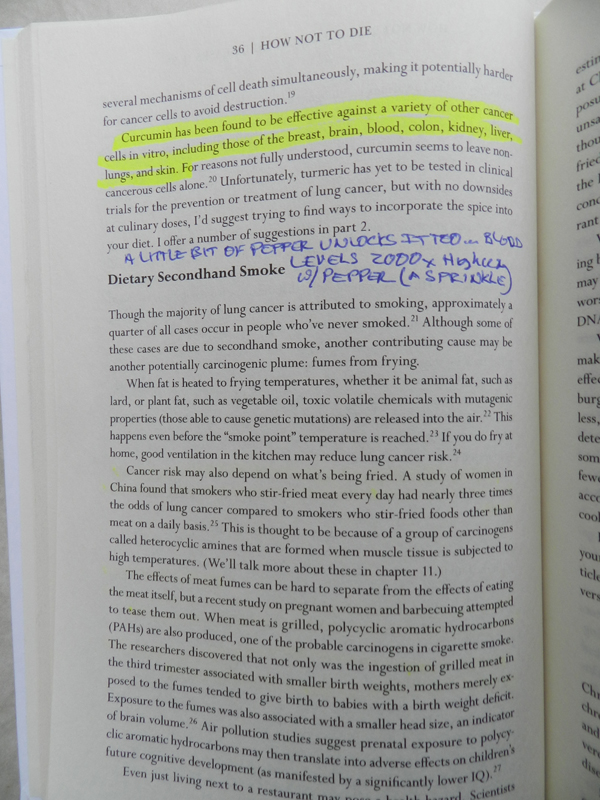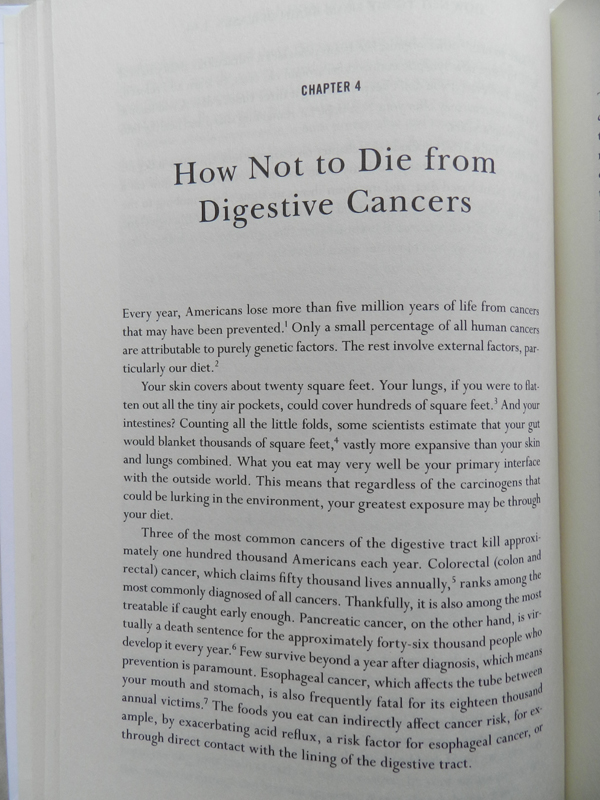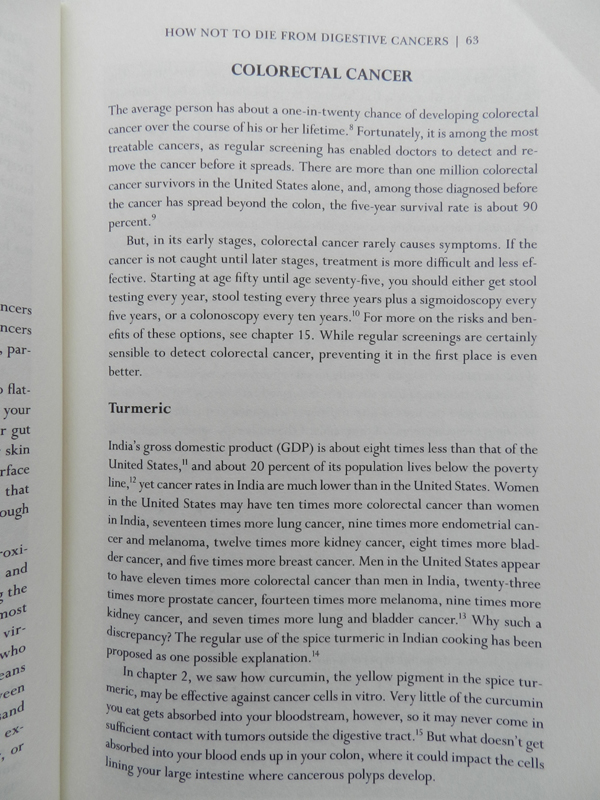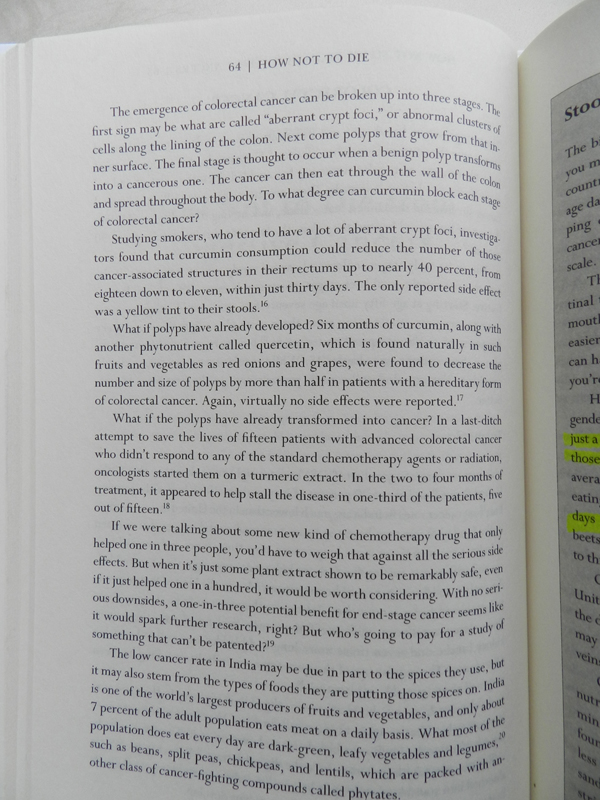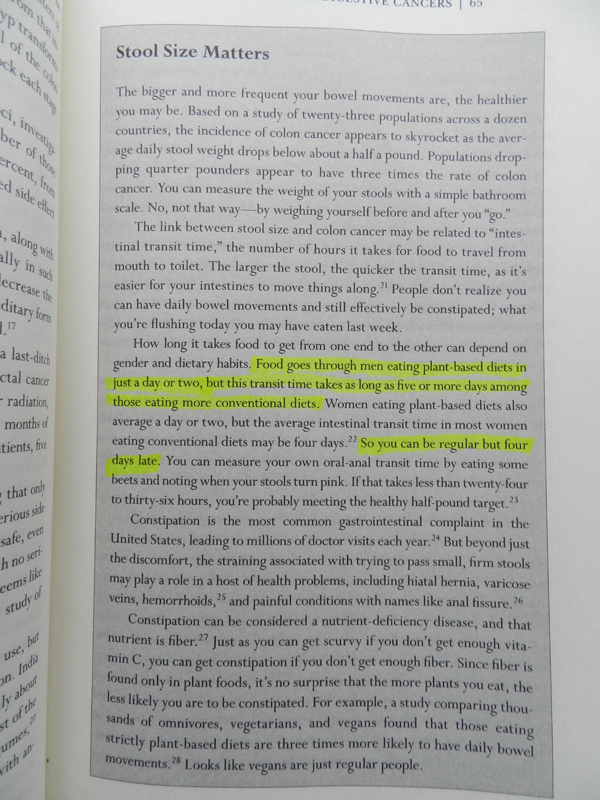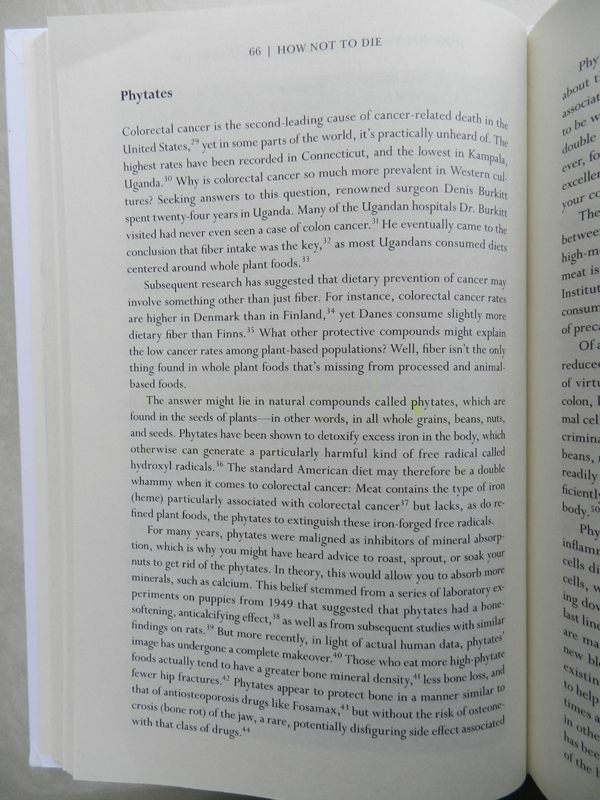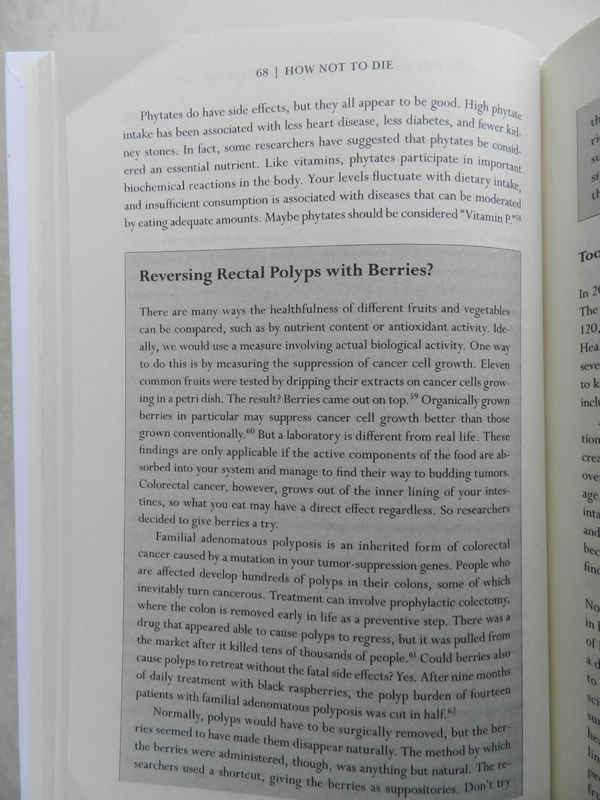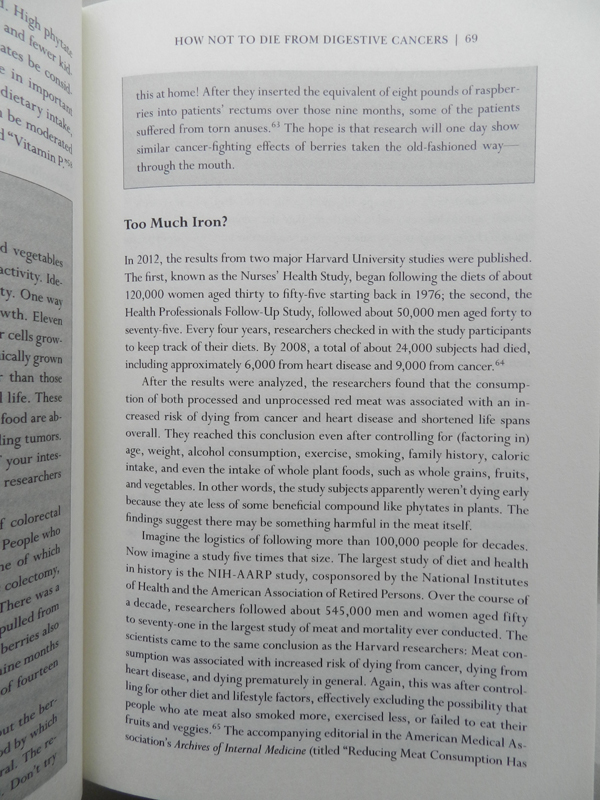 BTW, for those interested in "Green," Mr. Green Genes maybe?
Fast facts off the top of my head...
We're over fished, our oceans are undergoing serial extinction, some estimates is fishing will be dead by 2045.
We have a water shortage...
We're advised in the media to "save water," go buy yourself a water saver for your shower and sink, make sure the toilet's not leaking, and the average American can save 47 gallons a week...
But since meat and dairy money pays for advertising on TV, you'll never be told:
It takes 600 gallons of water to make a quarter pounder, 2400 gallons to make a pound of beef.
Trees are our planets lungs, our source of oxygen...91 % of Amazon deforestation is to clear land for raising livestock for slaughter.
We have a famine crisis, ~1.5 billion of our 7.7 billion brothers are starving... but we raise enough corn and soybeans to feed 8.4 billion people, more than enough food for everybody...problem is, we feed it to the cows so we can slaughter them and feed them to the western dieters.
Large portions of our waterways are now dead due to increasing poop runoff from raising cows for slaughter.
For those who believe in Global Warming...
18 % of greenhouse gas effect are from all forms of transportation combined, planes, trains, trucks, cars, ships...
On TV we hear about cars with better mileage being advertised, buy one and do some good we hear...
What we DON'T hear on TV (because of income from advertising), is:
54% of greenhouse gas effect is from raising livestock for slaughter.
We hear about the 18%, but keep quiet about the 54%.
50, 000 years ago, 2% of the biomass on the planet was man and his animals. Today, man and his animals (for slaughter), is 92% of the biomass on the planet.
So we're killing ourselves, and killing the planet for profits of a very few families.
"That's right folks, don't touch that dial." -FZ et al
...and we won't even get into the animal cruelty that's taken over in recent decades as the production of livestock has consolidated into 4 or 5 meat packers. The average American eats 79 animals a year.... their heart disease get's them though, people dying from heart disease is equal to 4 jumbo jets crashing every hour, of every day, year after year. If there weren't so much money in selling us beef, we'd be hearing about the 4 crashed jumbo jets every hour, we'd be fixing that, (actually, since the mid 2000's, there has been a first time drop in animal consumption, -10%, so people ARE getting the message, (through no help of commercial TV)).