Here's some info from
Michael Greger MD's
book "How Not to Die," in the chapter on medicine, statistically the third leading cause of death.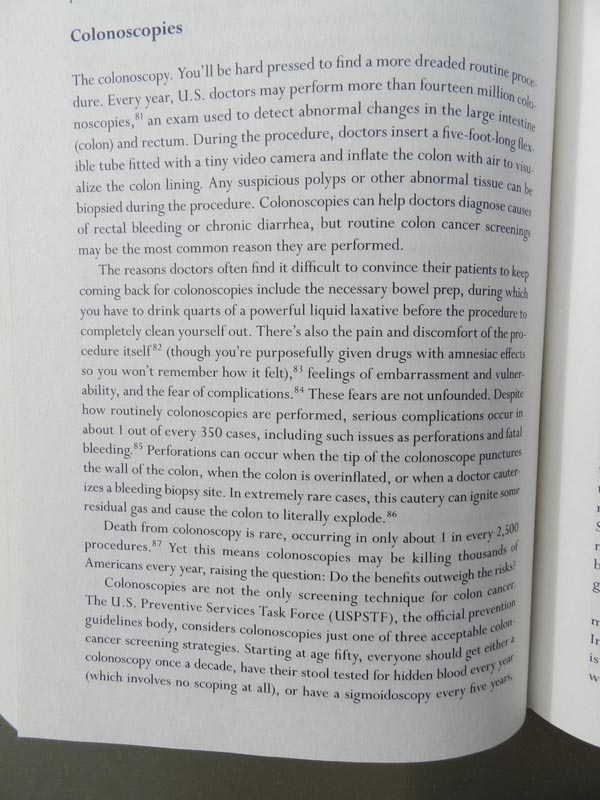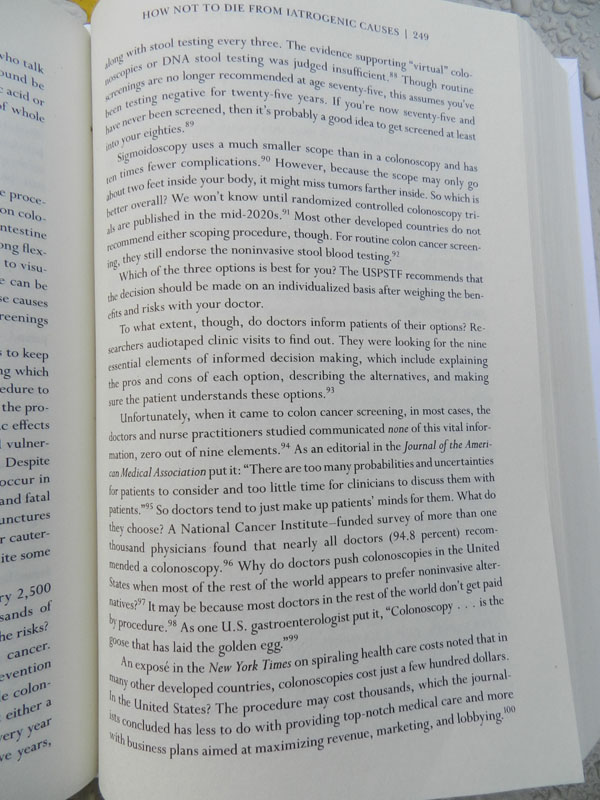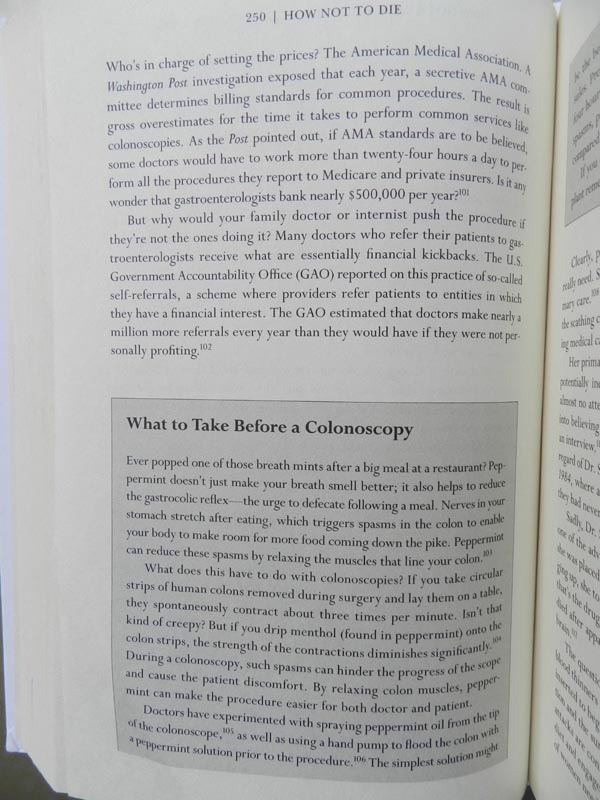 ...BELOW...just to finish the shaded area, the text continues on about else...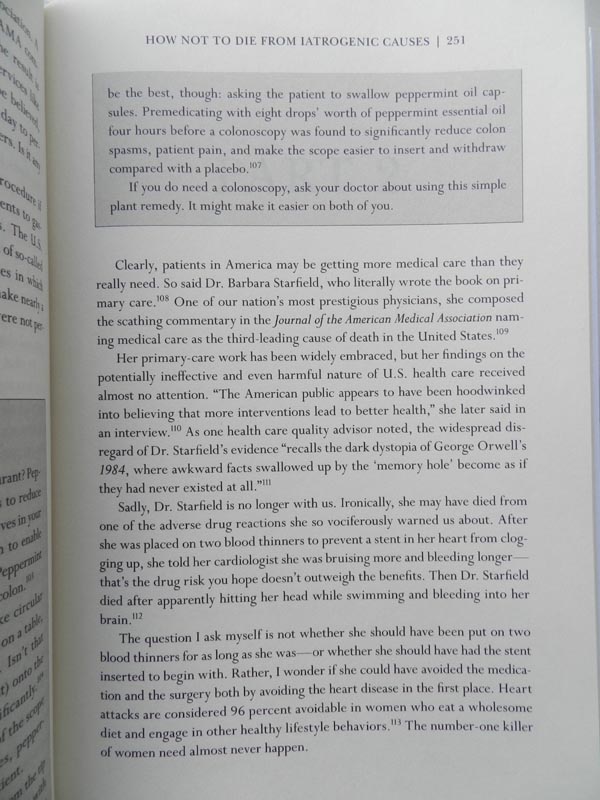 Edited later...SORRY,
I had missed Page 2
in the 4 photos above...
It was news to me that most US doctors don't tell the three U. S. Preventative Services Task Force recommended methods, my doctor knew them.
Here is an example of the test the rest of the world is doing, it's cheap, takes 5 minutes and you have your results. A positive here means you need a colonoscopy (though a positive here means you chance of cancer is still only 13%).
You can also do this test if you've been avoiding the whole scene, a negative here and you're done, a positive and avoid no longer.
It's called a Second Generation F. I. T., costs about 25 - 30 bucks at amazon, this one is by Pinnacle...
The above test is better than the advertised "Cologuard DNA test, Cologard produces slightly more false positives.
Talkin' 'bout your hemorrhoids, baby." - Don't use a FIT test if you have hemorrhoids, obviously, (it tells that too in the instructions).
BTW, Risk factors, in order:
1. Diet, (meat and dairy, "
Isn't that interesting, I can turn cancer on and off. There's something in meat and dairy that's very good at turning cancer on."
-Esselstyn, Forks over Knives where he also shows data turning current cancers OFF by switching to plant protein).
2. Smoking
3. Stress
Hope this helps
Edited later:
I think I screwed up a ratio I referred to, but didn't have time to fix it so I deleted it till later. Esselstyn had found in Japan in one year in the early 50's when their population was roughly half the US population, Japan was still plant based and the US was on the Western Diet, Japan had something like 18 cases of colon cancer, and the US had 14, 000. Campbell found roughly the same thing in the Philippines, I think he was looking at early childhood liver cancer, not colon cancer.
BTW's:
Here's a quick graph on Esselstyn's experiments turning early cancers on and off...chart needs a little explanation: He gave lab rats cancer with 20% dairy, then switched these SAME rats cancer off again by dropping them to 5%, their cancers turned off and reduced.
At week 9 he gave them cancer again and they seemed more susceptible to increased cancer from dairy, then he switched them to 5% and turned off the cancers at 12 weeks that he had just given them at 9 weeks
Processed meats are listed by the World Health Organization as Class 1 Carcinogen, right next to cigarettes, they would be things like hot dogs, sausage, all cold cuts, sliced turkey, etc. Regular meats and fish and dairy are still Class 2 Carcinogens, some are trying to get them changed to Class 1, but there is heavy industry pressure resisting.