Here's an intro post of for the rest of the thread; I hope some find it interesting to read and reply(:
Would you walk into a car dealer and ask the owner if you need to buy a new car?
Hell no, the owner is profit motivated and doesn't care about you, he only cares that he gets money out of you.
What if you just needed advice, maybe your car really is breaking down and you want to find out about fixing it, maybe getting another 50, 000 miles out of it, would the car salesman be the best place to get repair advice? You'd have to be crazy.
Yet that's exactly what we do with the 100% for-profit motivated TV. We ask the salesman, the authority, on everything from Trulicity to Ozempic for Type 2 diabetes, to wars we "need" that require trillions of our "defense" dollars to be shuffled to the rich, to selling us the bad politicians who are bought and paid for by the money structure who have been hard at work transferring our wealth to the rich. We check out the slime from the video.
Instead of selling these drugs that won't stop this debilitating killer diabetes, why doesn't the TV just teach us instead that the secret has been out for decades, Type 2 diabetes is easily and reliably curable in 96.4 % of cases (
Neil Bernard
). Why doesn't the TV teach us nightly the detailed "expert analysis" of the massive transfer of our wealth from the us regular folk to the hyper-rich through laws from a nearly thoroughly corrupt government?
Well, I think everyone knows the answer to those questions, so why do we keep coming back nightly for more slime from the video? Why do we use the profit motivated news SHOWS, on the profit motivated TV, as the AUTHORITY that 99% drives our conversations the next day at the water cooler?
Frank Zappa wrote a song about it:
MEDIA CONTROL & THE SLIME FROM THE VIDEO
Two lines from Frank Zappa's
"I'm the Slime," (on the Video).
"I'm the tool of the government, and industry too."
"Your mind is totally controlled, it has been stuffed into my mold."
Who can argue with Frank?
He prophetically wrote that song when there were still 50 different owners of news and media outlets, now there are four. The problem has greatly intensified; control is far more synchronized, complete.
(Old chart, it's now 4 companies).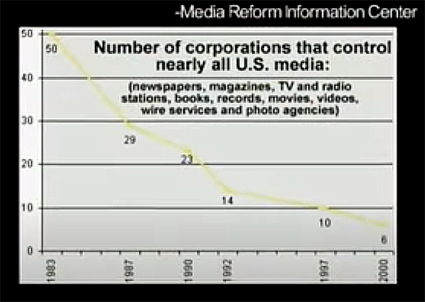 From
Amy Goodman
"The media can be the greatest force for peace on Earth. Instead, all too often, it's wielded as a weapon of war."
"I really do think that if for one week in the United States we saw the true face of war, [if] we saw peoples limbs sheared off, the kids blown apart, for one week, war would be eradicated."
Who can argue with Amy?
So, here's a thread about video slime, and especially about the so-called "news" shows, and how "the slime" is used to influence Americans into accepting permanent wars, and donating nearly everything we earn to the 1% owners of everything.
Oops, made a claim…if you don't agree we're giving nearly everything to the rich, or you feel it's the "other party" that is giving it all to the rich, here's a graph comparing wealth of the top 1% to the bottom 90%, also please notice also there are no turnarounds in the trajectory when either party controls Congress or the presidency, both parties are on the take now…it's all one direction for us.
The graph begs the question, how long can this continue if we don't vote it around, we don't have infinite money to keep giving them, look at the bottom 90% line, we're going to run out.
IMO…
We have to be aware of what we're looking at when we watch the rich owned news shows. When you know who owns the news (and what else they own), you can begin to ask natural "car dealer" type questions such as, what would the rich TV owners show us so they can make more money from us? More importantly, what would they
keep us from seeing
in order to make more money off us? And MOST importantly,
how could they keep us

distracted

away from looking at them
, and how they've hijacked our government and our wealth for their own enrichment.
They're not doing this for us, they're doing this to make money, as Frank might sing: "You ain't even number two."
I'll start with who owns the TV news shows…
WHO OWNS THE NEWS
Disney News – owns ABC and FOX
Viacom News – owns CBS.
Time-Warner News (kinda like Looney Tunes, maybe Sylvester should be the anchor), owns CNN.
GE News (a leading military contractor), owns NBC / MSNBC.
IT GETS MORE INTERESTING
There was a company called News Corporation that the majority of the cable networks and other media got their news stories from, from Wikipedia,
"News Corporation had become a media powerhouse since its inception, almost dominating the news, television, film and print industries."
With restructuring, News Corp then was bought by 21st Century Fox in 2013, and then 21st Century Fox was bought by Disney in 2019 for $73 billion dollars. We're going to need to watch a ton of ads to make that $73 billion dollars back for the rich investors, don't even touch that dial!
We truly all watch
Disney News now.
Two subdivisions spun off,
News Corp Australia
, and
News UK.
Worldwide consistency of message, with the rich 1% owning it and in control, the authority knows what they're doing.
This single focal point of source gives the news stunning agility in controlling stories, in instantly getting the same message across all channels to everyone. This agility is especially visible when stories need to be heavily altered in a consistent fashion and instantly sent across all channels, or news needs to be simultaneously switched off on all channels because it became harmful to profits, (see the amazing,
switch to the complex lie that's OPPOSITE the facts, simultaneously on all channels, that starts 4 minutes in).
SO, WHO OWNS THESE FOUR ENTERTAINMENT GIANTS?
The rich are the rich because they own everything. Their wealth is spread through the market, indeed the market IS their wealth, (and it's why taxpayers have to keep bailing the market out, I mean bailing the rich out, you can't make this up). The rich lose money on their real estate scams and the market (their money), drops, and we poor taxpayers bail them out; the coronavirus hits dropping the market, and we taxpayers bail them out again…if you notice, the Dow is back over 30, 000 now again, the rich are all set…but "we're starving man, this fucking band is starving."
You can estimate how much of the four remaining media giants the 1% own by looking at the distribution of wealth photo below: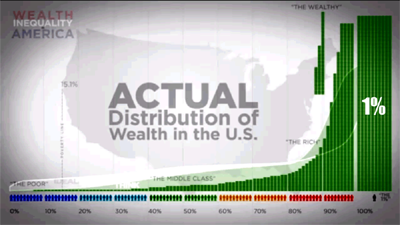 That's pretty much the ratio, it's how much the rich owners control what we see and don't see, how much of our water cooler conversations the 1% control. We see it on the news at night, we talk about it at the water cooler the next day, it's as simple as that. The rich get us to work against ourselves, and for them, in fact many "politically concerned" are ADAMANT to work for the rich, although they truly believe they are working for the good of the many…and the rich are laughing all the way to the bank. That's reality, in fact that's the REAL news story.
Of course the stock market goes further than the four entertainment giants, the 1% also own controlling share in banks, defense contractors, drug companies, insurance companies, manufacturing companies, food giants, oil and energy companies, all the things they're selling on TV. In short, the rich are the rich by definition because they own most of everything, (and therefore no TV programming info can be allowed that can damage sales of any of these companies they own and advertise…they've got Lipitor, Tyson chicken wings, and cars to sell).
But the 1% need our help in one crucial thing…they
need
us to vote their representatives into our government,
everything
depends on that. Conversely, electing representatives of the 90% would end wars, bring our manufacturing back which would cause employers to have to compete for employees again (as before when jobs were easy with raises, and FULL medical, and pensions, and one parent working was plenty). It would be very detrimental to the rich if we suddenly elected representatives of us, we'd get back so much so fast; it makes sense they'd use their news shows to control us.
IS TV NEWS REALLY THE NEWS?
No, because the news would be on if that were the case. We'd headline the most important stories first, stories such as the takeover of our government by corruption, the permanent wars and people getting hurt by our votes for the rich detonating US bombs overseas every 12 minutes, (we Americans detonate 26, 000 bombs a year since Obama /Biden escalated from Bush II). We'd see feature stories detailing the widespread hardship endured by all Americans caused by our outsourcing our manufacturing with the WTO. We'd see HEADLINES that we could have all our jobs and prosperity back
immediately
). If it were real news reporting, the headlines would be the suffering of the vast majority of Americans, is all unnecessary in this most richly resourced and productive land. We'd see headlines detailing exactly how "the news" leads us repeatedly into voting for representatives of the rich; we'd all know better than to do THAT again. Those are some of the real top stories, but they aren't on, so we're not watching the news, it's something else: it's programming.
In fact the most important news stories would cause us to start acting contrary to what we're doing now, contrary to what the owners of the news need us to do; the news
can't
be on, the rich would lose control.
WHAT'S THE PRODUCT OF THE NEWS?
Well, what is the purpose of these four entertainment giants that produce the so called news?
To make money for the people who own them, largely the 1%.
What is the product of their television productions?
High viewership numbers to maximize advertising prices to sell to their sponsors.
What is the product of their
news productions
High viewership numbers to maximize advertising prices to sell to their sponsors.
That's why the news has trumpets and cymbals, (at least I've never heard 'em outside).*
It's also why slime is impossibly loaded with ads.
Seventy-three billion dollars for Disney's purchase of Fox and its News Corp, that's a lot of money to recover from ads, "Friends, don't touch that dial!"
Obviously we won't get nightly headlines of each days hurt caused by US bombings, weapons sales would drop and people would touch the dial. How many deaths from the 26, 000 bombs we dropped last year did we see on the news? However, let one homemade bomb be detonated in Boston, and it's on 24 x 7, viewers are glued for weeks, that's real media control. Such a story can even fill the dual purpose of engineering support for more "defense & security," weapons sales. A bomb in Boston will get serious graphics and music indeed; their research shows emotion is key to control.
How the purposes of the 1% change what we see on the news shows.
How does that change us?
THE GENERAL CONSENSUS
It's natural for us to talk about what we saw on the so called "news" shows last night, and if we didn't catch it, our friends will be happy to fill us in on what we "missed." That's a powerful gift to give to the rich. More powerful is the practice of omitting
critical
information, information that would make us act in opposite ways, ways that would benefit us and hurt the 1%.
And if it's not on the news, it's not in the general consensus, (think about it to see if you agree).
I'm going to use the devastating problem of Black Lives Matter to show how this "safe to the rich" problem is used by the rich to distract and control the general consensus away from the root cause problem of our consistently transferring our wealth to the 1%. It's a shame that such an entrenched, unfair, and debilitating problem is used as a distraction by the rich TV owners, they know what they're doing, see if you agree:
In recent weeks the news shows has been composed of:
1/3rd the elections (which side you are on, there are only two, more on this control point in a later post).
1/3 by the Coronavirus, and
1/3 by Black Lives Matter.
…and what do we hear on the street? "We're such a deeply divided nation now," even driven to violence about it, could it be from months of "Which do you choose?" "Who's side are you on?" "Which one will you vote for Biden or Trump?" Pounded into us for months, driving in the wedge…and with the purpose of shuffling away and marginalizing the GOOD candidates the rich owners of the media (and everything else), DON'T want us electing.
In Wisconsin they polled people who had just voted and asked them what was on their minds, (hint: it was not corrupt government, chronic expensive bomb detonating, or the transfer of wealth to the rich)…
Exit polls in Wisconsin reported voters first concern was Coronavirus (fair enough, but I might have picked the takeover of government by money corruption, or the likely end of humanity from climate change, deforestation, drought and disease, or accidental nuclear war), but the SECOND biggest concern to voters in Wisconsin was
Black lives Matter
, Just like on the news shows.
Coronavirus IS a news story. I plan a post to show just how convoluted our slime on that one got; remember Coronavirus is for profit.
So ya don't have to scroll up to see it…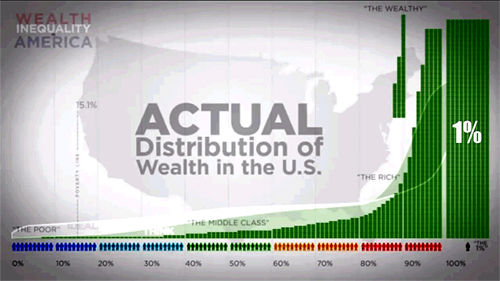 Does that chart look like a Black Lives Matter problem, or isn't that more like a "nobody's lives matter except the 1%" problem." Doesn't it look like we have a much bigger problem that's
not
on the news, and
not
on the minds of Wisconsin voters?
How could this be?
Although you can't legislate love (Oh No I Don't Believe It), what would it be if EVERYBODY's standard of living tripled across the board…what if our land were filled with opportunity and high education investments…what would THAT do for Black Lives Matter? Think about this one on your own, things such as both parents not needing to work like it was before. What would it be if we didn't have to worry about money, way less tension from fight for survival, hell, time to be friends. Productivity doubling every 20 years means exactly that our standard of living should double every 20 years. Who's keeping the money? "Follow the money," they say, well, there it is, I followed it for you(;
When was the last time you saw expert analysis of this chart on the "news?"
Recovered from a bike wreck since I started this…in that time, the news shows moved on from BLM to other stories. No longer 1/3rd of the hour, Black Lives Matter is only occasionally mentioned now. Cops have been discriminating on blacks for decades; recent murders are but showcased tragedies in a river of tragedy, they suffered in vain unless we start working on root causes.
Compared to 1975, the average American is now paying an extra $1144 dollars [i]every month

[/i]
, month after month, year after year, to the hyper-rich. Did you pay your extra $1144 rich bill to the rich this month? Yup, such is the price of consistently getting led into electing their representatives, (therein lays the answer to most woes too).
Tax shelters & cuts, taxpayer bailouts to the 1% when the stock market drops (their wealth), or when the big banks fail, and through supporting the elite owned military complex, every taxpayer has also now gone from $21,000 in debt to rich owners of the Federal Reserve (a private, for profit bank), to now $235,000 in debt to these rich bankers (from
The Top 1% of Americans Have Taken 50 Trillion from the Bottom 90%

)
.
Recent economic disruption from Coronavirus has no doubt accelerated our race to the bottom shown in the two line graph. Millions of Americans have lost their jobs,
and it's not featured every night on CNN that European and other nations furloughed employees instead of shit-canning them as they did in the US
. We see long food lines with both black and white people because the distribution of wealth to the rich is the overarching problem, and through it all, the rich are all set. We just bailed them out again with the coronavirus CARES stimulus, to be leveraged through fractional lending into another 7 Trillion dollar giveaway package to the rich…and that's not on the news either. Thanks to us, their stock market is back up to 30, 000, they didn't lose any money…we still are fucked, but thank god the 1% are safe.
Some people think something is going to get better in this race to the bottom with Trump ousted and Biden installed (they can't see the 90% line going down in the 8 years Biden was Vice President). None people who think like this know Biden's voting record, or recognize the military and "too big to fail" people Biden is now putting around him. Some might wonder if they've mis-used their vote on a war mongering, representative of the 1%. I know, but Trump was so bad; we were led away from the good options again by the TV, we weren't involved enough and didn't support them in the primaries, again. (Another future post).
I do wonder if there is enough money left in the domain of the poor to make it another four years, in the situation we're in now, for another chance for elections, or if we will crash before the next 4 years is up.
It is highly advantageous for the 1% to have us distracted and
fighting each other,
whites against blacks, democrats against republicans, divide and conquer, because that way, no one is looking what the owners are doing.
The real news story is we're still so richly resourced, it weren't for this massive transfer of wealth to the 1%,
everyone
would have plenty and be living in the promise of a secure future, instead of living in a fight for survival, and fear.
What would it do for BLM if everybody's standard of living tripled (productivity doubling every 20 years means exactly that), and one parent working was plenty as it was before. We could raise our kids again.
We might have a lot less racial tension and infighting everybody had plenty, and plenty does exist on the graph. Look, there it is, right there in the 1% column.
How did we come to nominate two sleaze balls again, while the good ones got away, again?
We lose the presidential elections in the primaries every time.
The corrupt party leaders move those who don't bring big corporate money to the party from our eyes. Of course the news shows have the same boss as the two parties, so they're happy to help out and they promote the bad and shuffle the good ones away from our eyes.
For a latest in the run of many examples, we had Hawaii's Democratic Congresswoman
Tulsi Gabbard
removed from our eyes. After Super-Tuesday Tulsi qualified and would have been on the debate stage, appearing credible in the now narrowed field, and with time for her unifying, deeply resounding message to contrast her to the others. So the
DNC changed the qualifying rules a few days before the debate to get her off the stage and keep their bosses happy.
Plato commented, "The price good men pay for indifference to public affairs is to be ruled by evil men."
He's right, it works!
We have to be aware of what we're looking at when we watch the 1%'s news shows, we're watching what the 1% want us to be thinking about.
See some slime on your video? Post it here!
____________________________________________________________________
* Thanks Amy Goodman
** Thanks
Noam Chomsky