Ever had troubles dealing with lower back pain? If so, read on
I used to have regular bouts back pain when I was heavier, but after I lost a bunch of weight around 15 years ago I thought I'd beat the back pain...lol, until a few days ago...
This time my doctor (a new one I chose because he is a DO, which is like and MD+), sent me to physical therapy. From Lauren who works there, and the below book she gave me I learned that not only was I "asking for it," but after it occured I was my own worst enemy.
I used to recover from back pain with every morning being barely able to walk, hanging on to things as I went. I thought stiffness came just because I slept...not so...morning stiffness was from sleeping on my back on a soft waterbed. This curled my lower back outward (instead of the desired inward curl), and let my disk move out more, and further stretched the injured tissue that was supposed to be holding my disks in. I thought I was resting, but really during sleep I was returning the injury to the max. After learning this I moved to sleeping on my stomach on the living room floor and the difference was immediate and huge. No more mornings from hell, and only steady gain on recovery, (I think I'll be able to return to my waterbed if I put more water in it...but for now I'm gonna hang out on the living room floor).
The other thing I learned is being an old fart of 55, I'd gradually lost range of motion to curve my spine inwards, which means I became not so good at holding my disks in place. This became evident to me due to my jealousy at the girl in Exercise 3 below, (I hate her). See how her elbows are locked but
her hips are still on the ground
? When I lock my elbows my hips are a foot off the ground and my legs are up in the air down to my knees. There is not enough flexibility in my back (yet), to allow my hips to sag to the ground as in the photos of exercise 3 below. This speaks volumes about my backs ability to hold it's disks in place.
If I had not discovered this, I probably would have continued to lose range of motion, and probably would have been in for more frequent bouts of "classic low back pain."
Cuz there's some other old farts around the forum, and cuz lower back pain is so common, I thought some might like to see some selected excerpts from this book (they gave me at PT, they're using this method), the whole book is chock full of good stuff and is available cheap at amazon.
One thing to mention, if you have had any back pain recently, DO NOT DO Exercises 5, 6 or 7, if your tissue is presently recovering, 5, 6, and 7 hold potential for very serious re-injury. However Exercises 1, 2, 3, and 4 are safe and very effective in dealing with the most common forms of back injury, (from slouching, or a sudden incident of forward flexing, as a lifting injury, etc).
There's even a little bit on what to do in those first moments after you've thrown your back "out," Exercises 1, 2, and 3 can even get you out of the sudden trauma BEFORE it turns into a prolonged recovery situation. Now I know what to do in those first critical moments
After I get flexibility back, all that's necessary is a couple of minutes of stretches in the morning, then again in the evening to maintain the flexability.
So anyways, here's some of the book, enjoy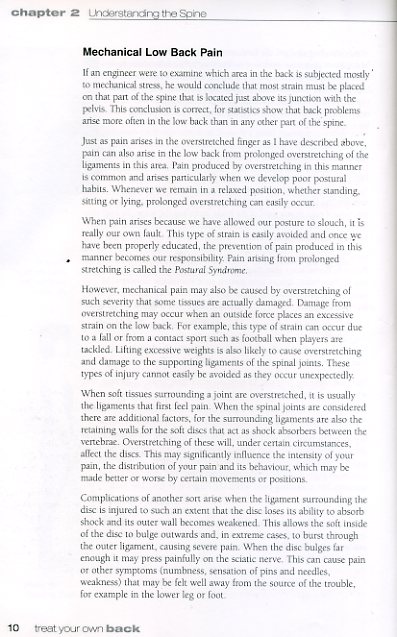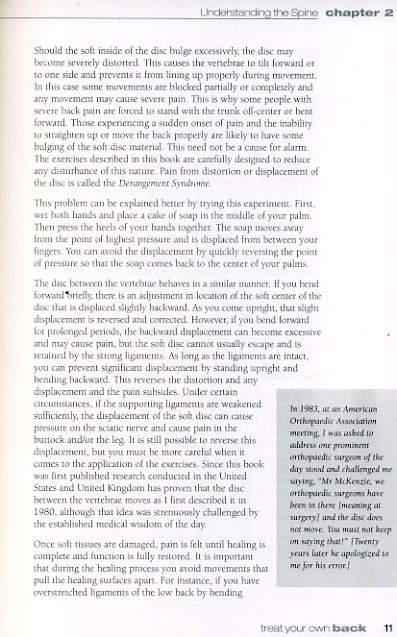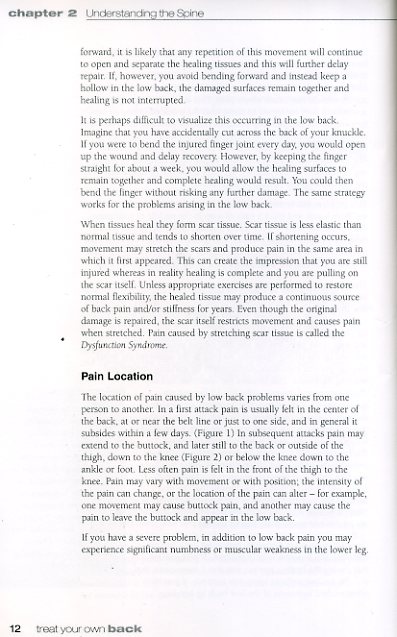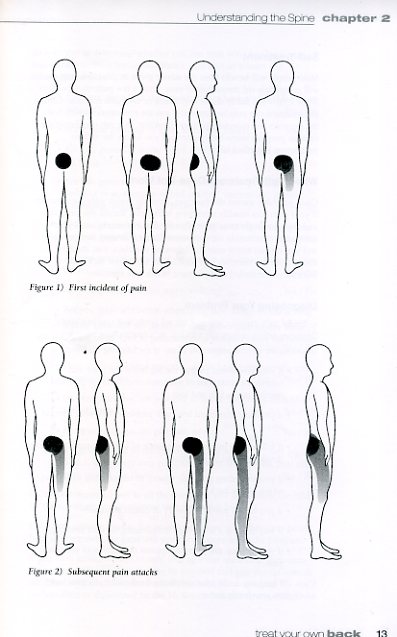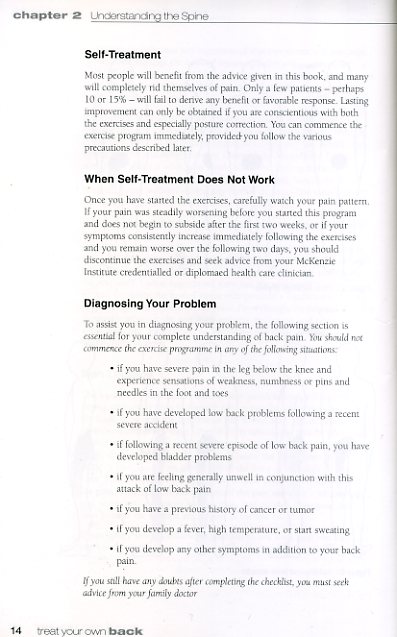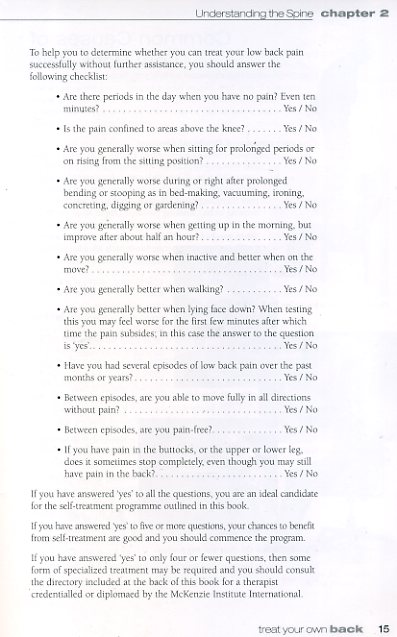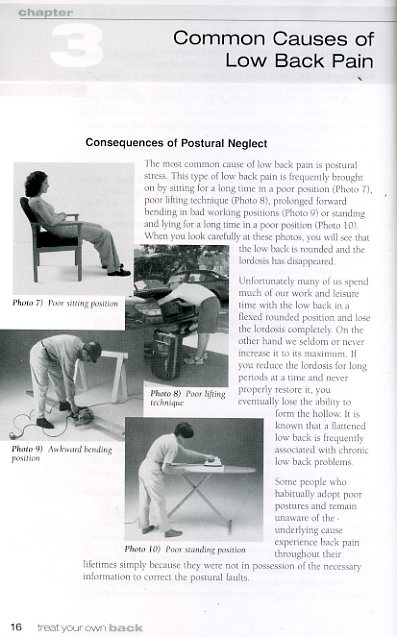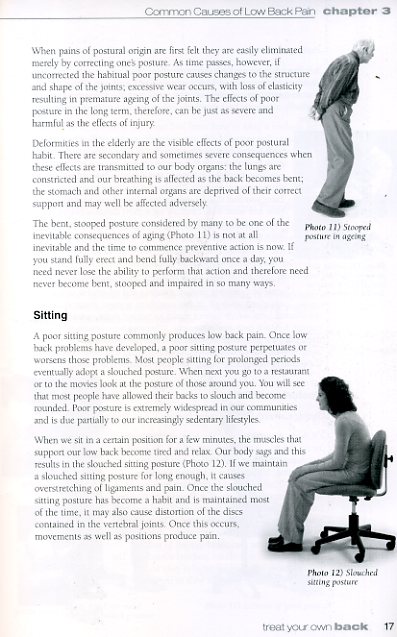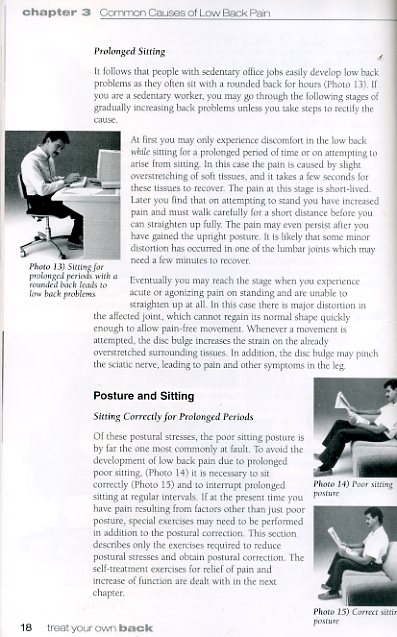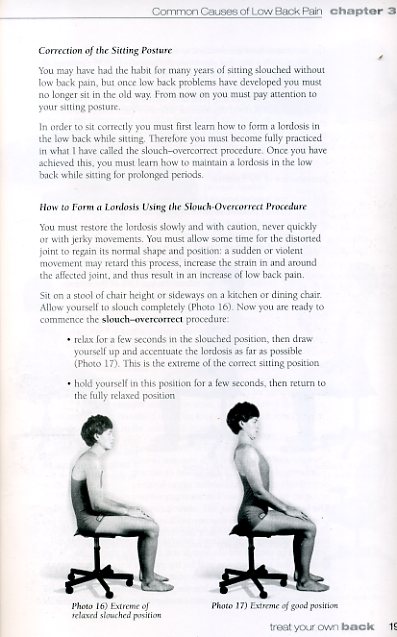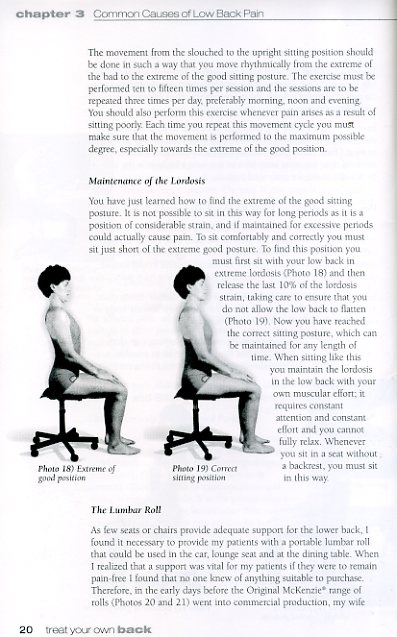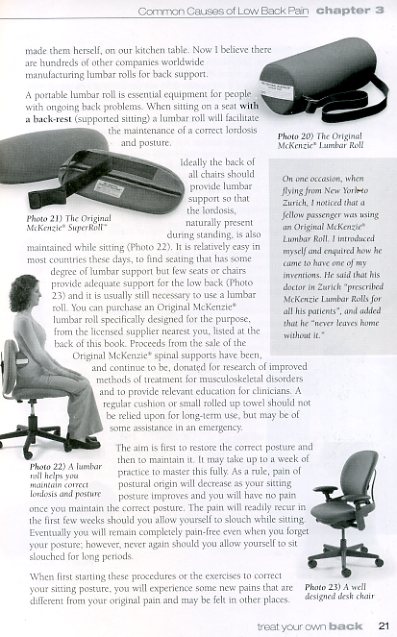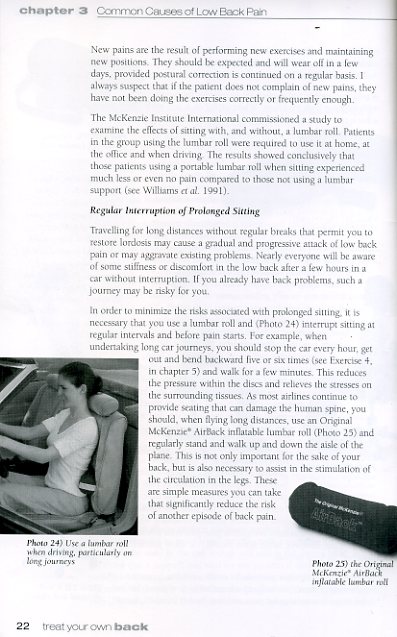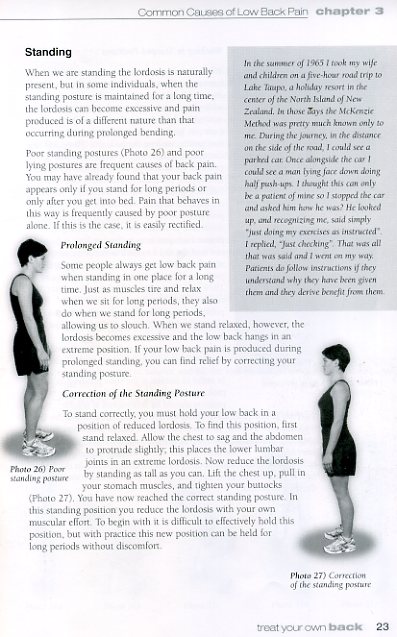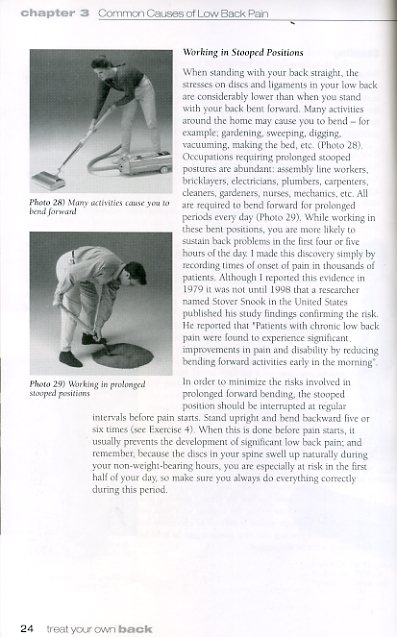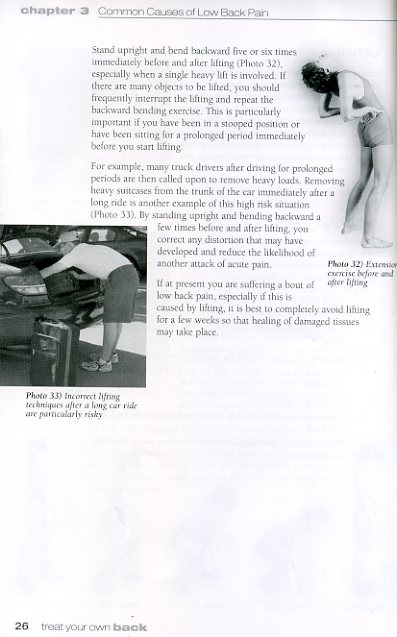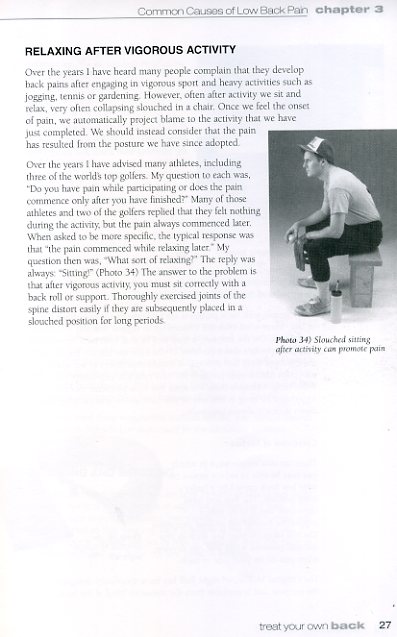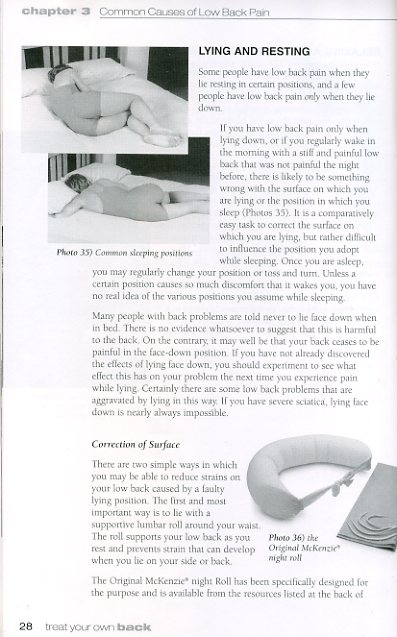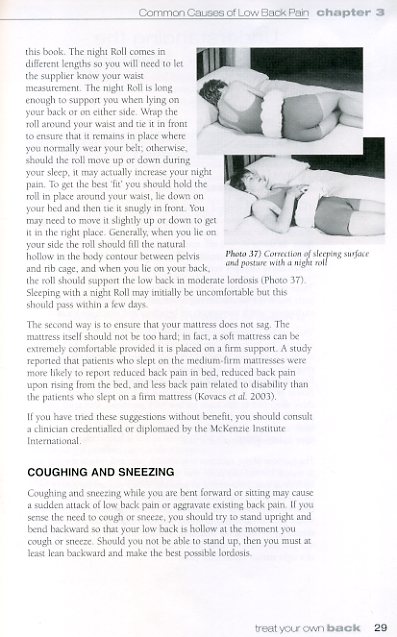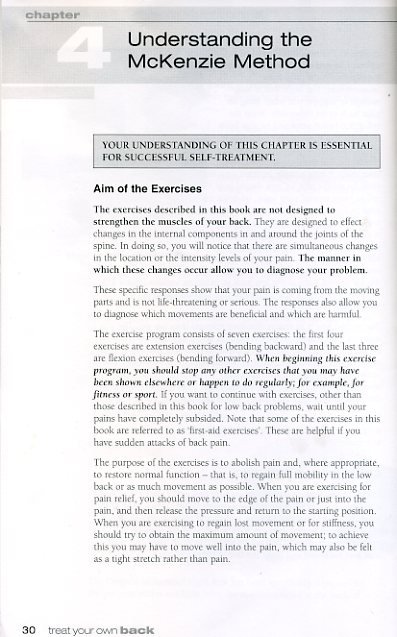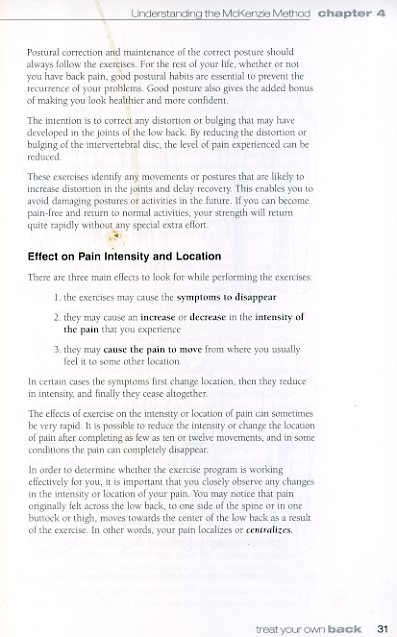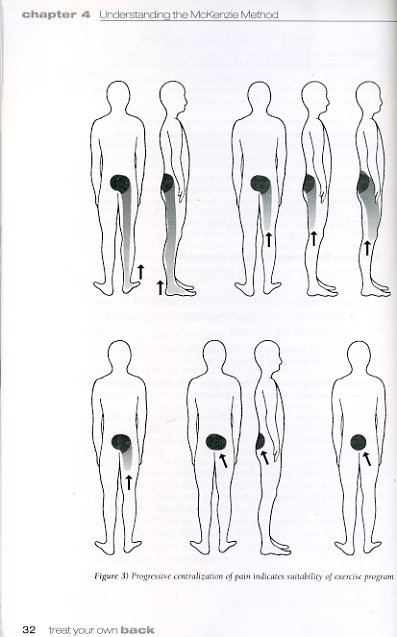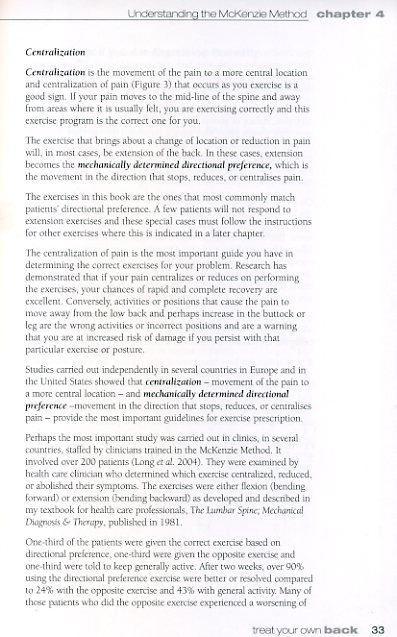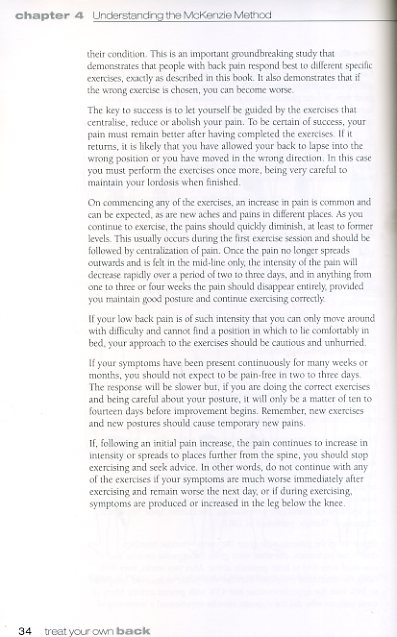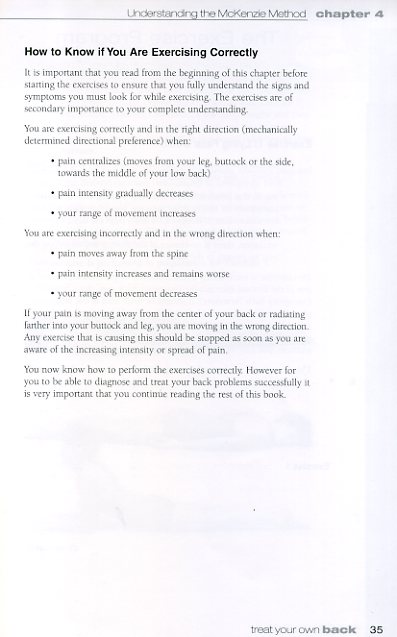 This is the good part, Exercises 1, 2, and 3.

Lol, 3 looks easy doesn't it...lol, try it!