So you buy the good one right? A little more expensive, but works better, sounds better, last's longer, etc...
Well, I always thought that, and maybe it's usually true...but it appears batteries are an exception, or a scam...
This guy tested batteries with six identical fans, which he also swapped around during the testing to factor out if any differences in the fans.
He put them in 2 groups, cheap-o batteries, and expensive batteries, (the CVS ones omit from the results as they were way overpriced which he explained in the video).
As expected, the expensive batteries lasted waaaay longer....
BUT their cost per hour was waaay more
than the extra time you get out of them.
You'll have to change cheaper batteries more often, but they are waaaay cheaper to run.
I use an MD player on my bike every day, so natch I bought the expensive the Energizer lithium...big mistake I need the cheapo Sunbeams ...preferably in a 92 pack, or 'specially if they have 'em at the Dollar Store...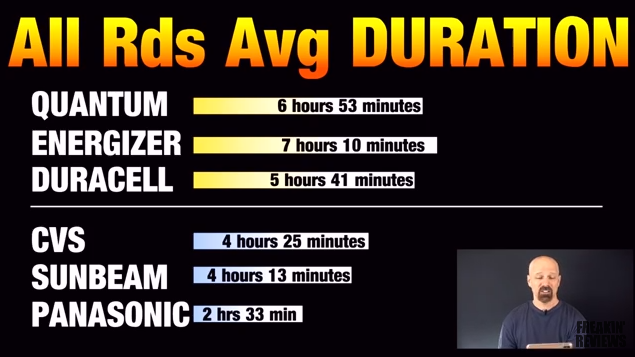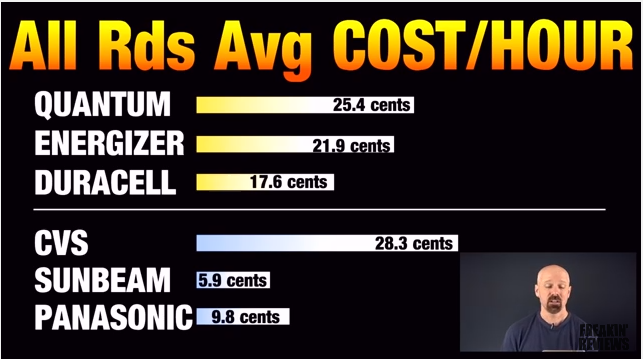 https://www.amazon.com/s/ref=nb_sb_ss_i ... XZGRB6HYK7
MORE..
Here's also a really good page:
http://www.batteryshowdown.com/results-hi.html
mAh vs mWh – the difference
The majority of batteries which have a rating (such as rechargeables) are rated in milliamp-hours, or mAh. 1000 mAh represents the equivalent energy load of 1000 milliamps applied for one hour. However, the issue with mAh is it fails to account for falling battery voltage. In general, a digital camera will use a switching converter, which will get more life with a higher mWh battery. But a torch, toy or similar device is fairly independent of voltage, and will last longer with a higher mAh battery. We provide both in the results tables so they can be compared.
Analysis
Discount and OEM cells perform very well
Surprisingly, as in the 200mA test, the clear winner in this test was the Ikea alkaline, followed by other discount store batteries. The Ikea scored over 1200mAh, and costs just 10p per cell (sold in packs of 10.) Other discount shop cells did surprisingly well, with ReadyCell from Home Bargains (TJ Morris) doing very well too. Even at higher cut-off voltages of 1.1V, they still represent excellent value for money. The general conclusion is that
most alkaline cells behave similarly
to each other, though under higher drains some more significant differences become apparent.
Duracell PROCELL and Energizer Industrial are very good batteries for the price and compare well to their retail cousins. However, they are only available from online resellers in boxes of 10 and are intended for OEMs.
Lithium cells really shine under high drain
The Energizer Ultimate Lithium and VARTA Professional Lithium cells performed very well, achieving more than 2800 mAh each with the Energizer beating the VARTA cell by approximately 150mAh. Clearly, these batteries perform very well under high discharge current - they only lost around 250mAh capacity due to the higher current. At this discharge current these lithium cells seem like better value for money but still cost more than the cheaper alkalines. They could be useful in a digital camera application as changing batteries may cause the photographer to lose a shot. They are much cheaper per Ah and Wh than many premium alkaline cells.
Highest energy alkaline in both tests
Like in the 200mA test, the VARTA High Energy Alkaline was the best performing alkaline cell and bore its claims of being very long life. However, it provided only marginally more lifetime than the Energizer Industrial cell for 2x the price.
Notable disappointments
Zinc cells did very poorly, but this was expected as the chemistry is not optimised for high drain applications. The JCB cell didn't even manage 20mAh. It would probably not power anything demanding any significant current, due to its discharge characteristic, which rapidly falls past the 0.8V cut-off point. However, it is marketed as "Not suitable for digital cameras or motorised devices." Interestingly, self-heating of the cell lead to an increase in voltage as the discharge progressed, but data below 0.8V is not included in the mAh calculation. The Kodak cell has a similar disclaimer, although it did do a little better, it's still unlikely to work well.
The Poundland Duracell (genuine Duracell batteries; Duracell Standard in the below data) performed poorly (they are sold in twin packs for £1), and you would be better off with the Kodak Xtralife that Poundland also sell in 6 packs.
It's hard to see how Duracell can market their Duracell Ultra Power battery as being the best they have made, especially at the price it is sold at, because it performed worse in both 200mA and 1000mA tests than their own Duracell Plus Power - which is 31p a battery cheaper! Like in the 200mA test, the Duracell Ultra Power is the worst value for money alkaline battery we tested.
Similar to the last test the major disappointment was the Panasonic EVOLTA. It claims Panasonic's own "Platinum Award" (for unknown reasons), and previously claims to hold a Guinness World Record for "Longest Lasting AA Alkaline Battery in a Wide Range of Devices", but it was the worst alkaline cell we tested. We can't account for this dreadful performance: the cells were new in the retail packet, with an expiry date of Feburary 2018 (test conducted October 2012), and were purchased from a reputable dealer. Is it all marketing hype?