Very interesting day today, learned about two things...
1). Took Rose in for lasik surgery, It was really neat cuz I got to watch. Everything was so easy to see magnified because the microscope camera thing made a magnified image of Roses' eye on the screen. The actual laser process took only maybe 40 seconds on each eye, the prep tool 3 minutes. In 20 the whole procedure was done, both eyes. She was a little nreved, but didn't feel anything and although here eyes were mega dialated, she could instantly walk around without her glasses, (and man, she had some heavy duty glasses before). She has to heal up now, especially the first day, keeping her eyes closed as much as possible, (to keep dirt out while the flap heals), and by tomorrow her vision will be very improved.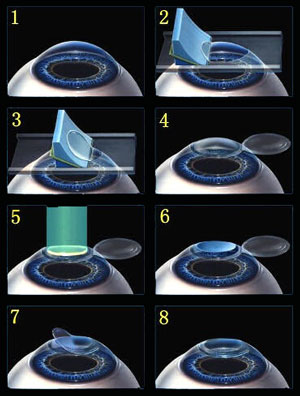 2). The other thing I learned today is my job just got saved. My whole divisionhas known the end is coming when the contracts run out. Most at my company have been outsourced, personnel dropping from 125, 000 to now 25, 000. It was all over.
Then I heard something and just got confirmed that I would be one of 4 from my group who is going to work in a pilot program for another business unit. This is a really hot new product that's gonna kick ass, it networks together and manages images and workflow for machines used in the prepress steps of the printing industry. It's a division I used to be in so I know the industry and there is huge room for growth.
I went from knowing I was getting canned to "my job is saved" for however long I want it. it's gonna take a few days to sink in, we've all known our days were numbered for so long (we started a 5 year countdown 2 years ago), that I dont yet know how to think another way. A weight's been removed and I'm really excited, this shit turns me on(:
I never thought anything like this would happen, I knew we were all gonners...you never know when things will change dramatically for the better.
Here's a web page on the product, "Prinergy," The Prinergy system is the server in the middle that ties everything together.
http://www.creopod.com/data/Products/Wo ... nergy.aspx