32shortfilms wrote:
Pedal power, Baddy. I just bought bikes for myself, the wife, and our grandson about a month ago. Nothing fancy, just 7 speed "comfort" bikes for me and the wife and a cheap Huffy for the 9 year old grandson. There's a nice bike trail not far from our house called the Rock Island Trail State Park that runs for 26 miles from Peoria to Toulon on an abandoned railroad ROW. It's perfect for us "older" folks as it is flat most of the way, yet there is still some nice scenery to be had.
We also enjoy riding at Spring Lake State Park and the Hennipen Canal State Park, both of which are about an hours drive away, for the same reason - flat with nice scenery. Hennipen Canal is where we wanted to go today.
We have other plans for late this afternoon so tomorrow is looking much better - supposed to be sunny all day.
Here's our new rides:
Awesome 32shortfilms, that's a nice way to go. I sold my roadbike with the drop down handlebars in favor of a Marin hybrid with straight handlebars and medium width tires (700-35C's)...I love it for the long hauls, (lol, I call it my geriatric bike because of it's upright riding position, it's sooooo comfortable for the long hauls, it's even got GPS). It's older, so it's steel and about 10 pounds too heavy...but man is it comfortable. I have a skinny high pressure tire road bike now too, but it's got the straight handlebars which I love. It's ok for long hauls but not too many days in a row, I call it my "sport bike" cuz it's like a little MG, it goes like hell
Here's my geriatric bike, (it's this model, but mine is blue), it's a little different, but very similar in idea to yours: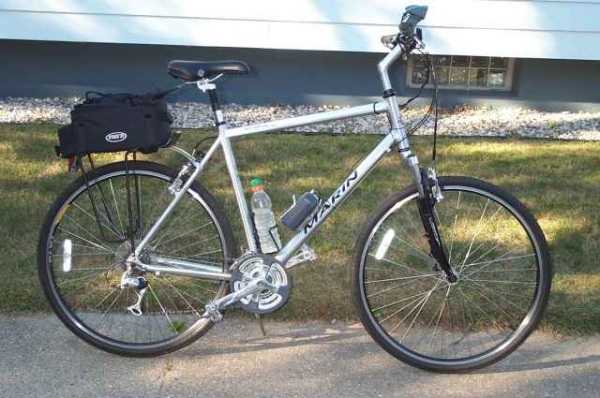 ...and here's my road bike, it's aluminum, so it's really fast:
Lol, I had a mountain bike too, but I sold it after it cost me $6000 in dental bills over and above $3000 the insurance paid...it took 15 months to recover my smile from the last trail wipe out..I'm gettin too old for that shit, lol!
Happy Trails 32shortfilms, sounds like you have some nice scenery out there...
BTW, this is incredible awesome software (if you don't already have it), it logs rides and can do seperate people, seperate bikes, and even seperate routes....here's a free download that expires (unless you buy), after 30 days. It's super-awesome software, I can't say enough about it
http://www.cyclistats.com/