WHO warns world faces 'dangerous phase' of coronavirus
The World Health Organization (WHO)
issued a sobering warning late this week
about the status of the coronavirus pandemic, saying that the virus that has killed more than 460,000 people worldwide is still malignant.
"The pandemic is accelerating. More than a 150,000 new cases of COVID-19 were reported [on Thursday], the most in a single day so far," WHO Director-General Tedros Adhanom Ghebreyesus said in a press conference Friday.
He added: "The world is in a new a dangerous phase. The virus is still spreading fast, it is still deadly and most people are still susceptible. We call on all countries and all people to exercise extreme vigilance."
The U.S., which leads the world in confirmed cases and deaths, has seen a spike in cases in several states the past couple weeks. States like Texas and Florida both set records for single daily cases, while California officials called on all people to wear masks amid rising cases.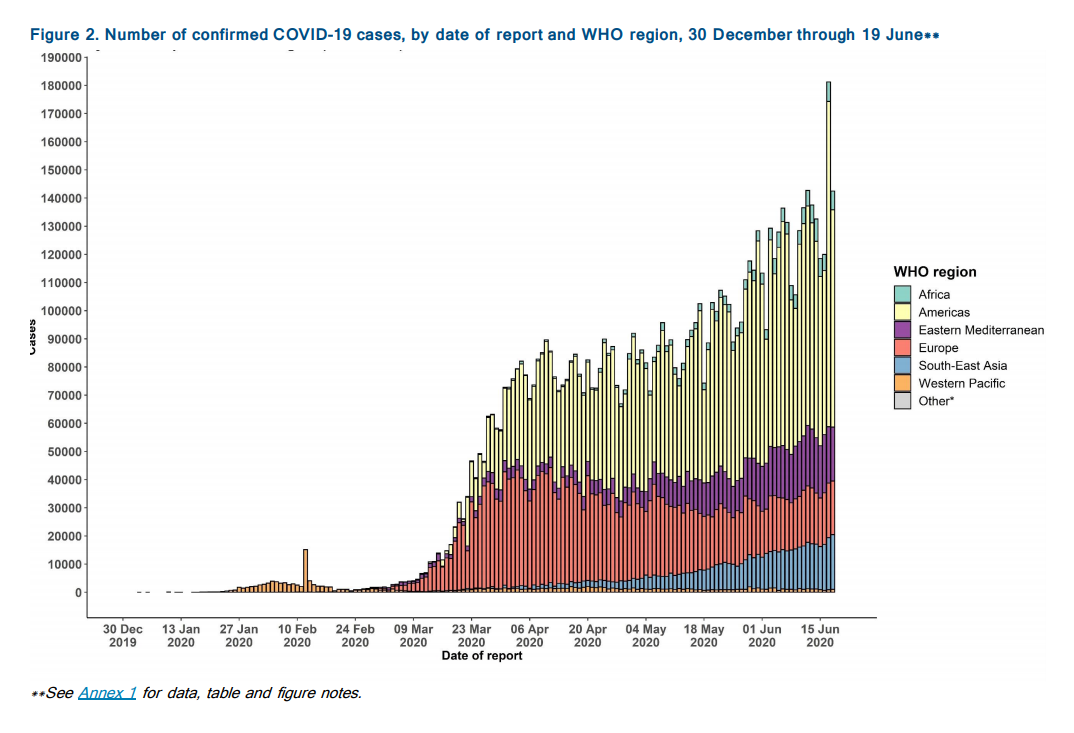 ---------------------------
W.H.O. Warns of 'Dangerous Phase' of Pandemic as Outbreaks Widen
CHICAGO — The world has entered a "new and dangerous phase" of the coronavirus pandemic, a top official from the World Health Organization said on Friday,
a stark warning that came as the United States struggled to control spiraling outbreaks
and as business leaders signaled growing unease with the country's ability to effectively contend with the virus.
Coronavirus cases spiked sharply across the American South and West, particularly in states that loosened restrictions on businesses several weeks ago.
In Florida, Oklahoma, South Carolina and Arizona, daily counts of new coronavirus cases reached their highest levels of the pandemic this week. Texas, which has seen known cases double in the past month, became the sixth state to surpass 100,000 cases, according to a New York Times database of cases in the United States.
--------------------------------------------
Here

in the US Northeast, (my state of Connecticut
), the isolation was huge on our death rate, down from hundreds of people dying a day, to sometimes single digits. This time, we're depending on masks, and the kids being off school for the summer.
We will see.... we opened more on June 1st, outdoor seating restaurants and such...then more intimate settings, indoor dining and such several days ago.
At 10 deaths today, using a conservative US 1% death rate and 20 days average from infection to death, then there were 700 cases 20 days ago on June 1st, and with the 5 days to double, there are 11, 200 active cases
today
, or 1 in 312 people in Connecticut are carriers
today
.
I prefer the epidemiologists method to use number of deaths as that's the only number that's known accurately. The "number of cases," or "number of confirmed cases" on they broadcast on TV is only
tested
cases, so it means very little due to incomplete testing. For example they say there have been 45, 000 cases in Connecticut since March, but it's more like 450, 000 since March going by actual deaths.
It's interesting they don't tell us the accurate epidemiologists method of calculating cases on TV, with the actual active cases, and actual ratio of people outside currently infected each day, maybe they don't want to scare us.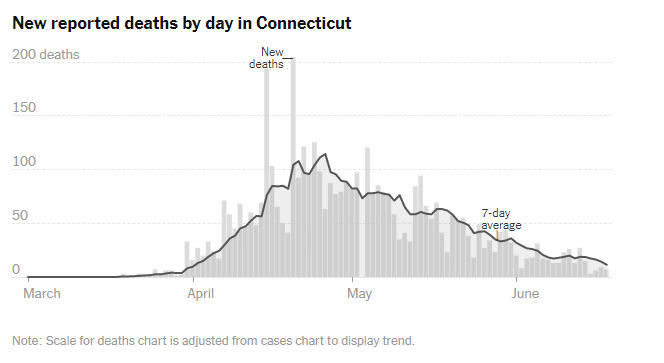 I guess the thing to keep in mind is there's been three deadly coronavirus' in the last 20 years, and the animal husbandry conditions that generate this "snowflake to avalanche" environment are continuing to accelerate, (not reverse). It's just science that the next one will be along in another 5 or 7 years or so...how infectious will it be, how deadly will it be, will immunity come, or how fast can we make vaccines are all things we'll find out.
SARS, MERS, Covid-19... next one's coming soon.